The three episode hurdle for Tari Tari is cleared, with some room to spare.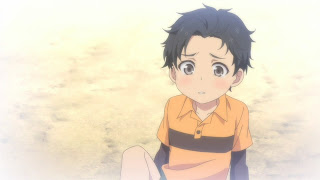 Of all the series I'm watching at the moment, the formula for this one may be the most straightforward. Five kids at a school (yes, all five were actually involved this time) trying to make their club a success. A nasty vice-principal, some cute girls doing cute things, musical theme. It's all very safe and simple – but so far anyway, Tari Tari makes it work. The stuff that's supposed to be funny is usually funny, the characters are mostly likable, and the pacing is such that the episode feel breezy and hold your interest. In short, it's a good show that isn't trying too hard to be anything else.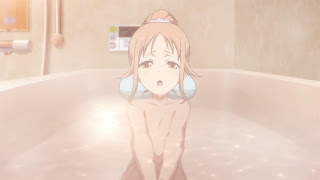 The funny thing is, there's really nothing in writer/director Masakazu Hashimoto's résumé to suggest that he has the talent to take played-out material and make it feel fresh and lively. But that's the fun of it, finding new talents breaking through and surprising you – and it's all the more fun in anime because it's such a small and self-contained artistic community at the top levels. There are no big names associated with TT as there with were the show it's often compared with, Hanasaku Iroha, but it may just benefit from not being burdened with too much ambition (and a galling lack of focus). There's still time for all this to blow up, but at 13 episodes I see no reason to think the series' charms can't hold up.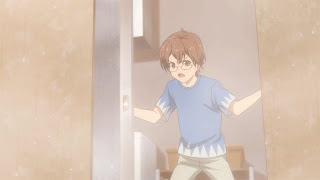 One thing that I'm really enjoying about TT so far – and this reminds me of Seikimatsu Occult Gakuen, actually – is that the writing has a real gift for situation comedy. Take the scene where Wakana's bike chain falls off (boy, today was a bad day for bikes) and she meets the odd Spaniard and his potbellied pig. This could have been awkward (well – it was, but in a good way) or stilted, but the timing of the scene was perfect – and it was a nice touch when she lapsed into bad Engrish to try and get rid of him (Japanese people in anime always default to English whenever any European language is spoken, apparently). His role in the story is still to be determined, but he certainly has a strong interest in Wakana.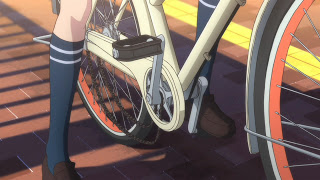 Another positive this week is that the Y chromosomes finally got to step out of the chorus and share center stage, and it was long overdue. Wien has been likeable from the beginning with his twisted take on Japanese customs, and he seems to be an all-around softie – always smiling, and even trying to befriend the local rodent population. I'd like to learn a little more about him beyond the pleasant exterior, but hopefully that's to come. As for Taichi, he's still fighting to keep the Badminton Club alive – another one on the snippy V.P.'s termination list (where it's joined by the Choir Club after Makoto and his first-year friends all quit). All along here I was thinking – why is it that Taichi's dream is any less important than Konatsu's? If anything his is even more valid – because as he said, he actually plans to try and pursue badminton through college and as a career.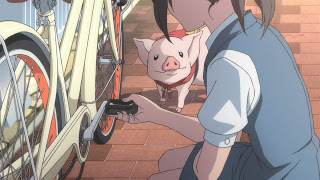 So I was prepared to be really pissed off when Konatsu blatantly cheated in their playoff for club membership – three birdies at once? Yeah, that's fair. But fortunately the series didn't go there, instead taking the route I thought it might – with each kid filling out the required minimum for both clubs (though it's still pretty bogus to make it the "Sometimes Badminton Club" based on an unfair match). I still haven't really warmed to Konatsu, to be honest – she just doesn't come off as an especially nice person. But the others are all fine to very good characters, though Sawa is just a bit too perfect. And there seems to be a pretty good chemistry between them as a group, which is obviously vital to a show like this succeeding.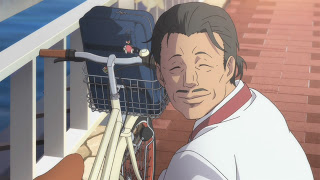 Speaking of chemistry, the question of where the series goes from here can't be asked without at least considering the possibility of romantic entanglements. They're less obvious here than in, say, Kokoro Connect – perhaps Konatsu and Taichi have an osananajimi vibe going, and there might have been a little spark between Wien and Wakana – but it seems very possible that Tari Tari will be that rare high school series with no romance at all. We still have the music to drive the story (I hope badminton gets to play a part, too) and the new wrinkle there is the upcoming "World Music Festival" – and the possible role of the aforementioned Spanish dude with the two old musicians who ended up accompanying the club's "audition" at the Beach House. I'm also interested in the dynamic between the Principal, V.P. and Wakana's mother – all of whom seemed to know each other back when he was a teacher and they were students. I wonder if we might end up with a full arc devoted to that part of the story, told in flashback.
You might have noticed the change in the ED – the other three kids were added (with Wakana off by herself).