Oh – was there a new ep of Sword Art Online today?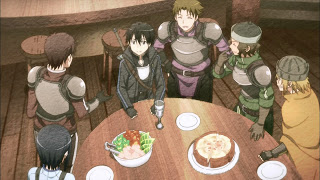 Before I move on to the current episode of SAO, I just want to vent for a minute about how depressing and tiresome I found the entire online debate about the series after the second ep. People seemed to turn on the show savagely after a positive response to the premier, and some of the invective I saw against the anime was preposterous to the extreme. I didn't think the second ep was as good as the first, but that in no way justified the hyperbole I was seeing. As far as I can tell, a big part of the negativity came from two groups: those who love the LNs and hate any changes, and those who hate SAO generally because it's some kind of twisted male wish-fulfillment and literary self-gratification.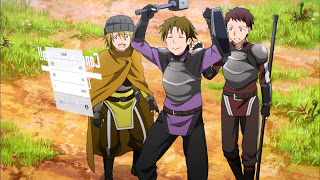 I have no horse in this race – I want the series to succeed because I think one little corner of the world is a better place with more good anime than bad ones, but I bring no preconceptions either way. If you're one of those who dislike SAO, duly noted – but please stop repeating it every week and let us decide for ourselves. If you're an SAO fan who hates the changes, get past it. It's not just an LN or MMO anymore, it's an anime – and anime are different from LNs and MMOs, changes are inevitable and not inherently bad. SAO will either suck, be great or (most likely) be somewhere in between – and I can decide for myself which one I think it is. In an effort to avoid all that noise I've completely avoided any discussions of this ep from blogs, forums or Twitterville – not easy with CR's 5-hour "simulcast" delay now in place – so I go in having absolutely no idea how this ep was received.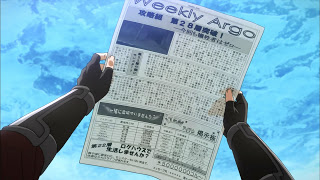 With all that grand pontification out of the way, what did I think of the actual show this week? I liked it. Better than the second episode, for sure, and maybe just a half-step below the excellent premiere. For me the primary emotional selling point of SAO is that it's real – all this counts, and it's nice to be reminded of that as a viewer. No, it's not a wholly original idea and no, this is not a story that seems to feature gloriously subtle writing. But played out on a big canvas with big emotions and big events, it's working for me so far. I feel as if I'm getting a grasp of who Kirito is, and I feel as if the paranoia and desperation of the souls trapped in this sick experiment is coming across loud and clear.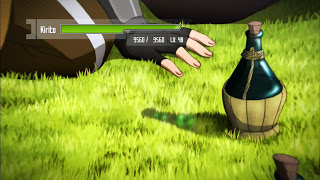 Things could be said to be moving quickly, I suppose. We have Kirito as a 48th-level player, and some of the top guilds having already reached the 28th level of the dungeon. That's not the case for the Moonlit Black Cats, the small guild who invite Kirito to join after he does them a good turn. I was a little surprised he accepted to be honest, but clearly, Kirito is lonely and craves the company of others as anyone would. I think it helps that this is an easygoing bunch – likely a pack of geeky kids who belong to the same "PC Research Club". They're non-judgmental and as importantly, they need Kirito.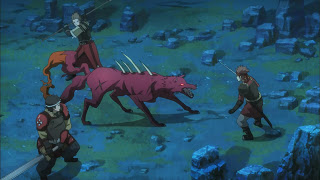 Of foremost importance in this group for our purposes is Sachi, a noob who's pretty helpless by any standard. She's played by Hayami Saori, a young seiyuu who I'm growing to admire very much, and this is as perfect a job of casting as you'll see. Hayami-san can play the vulnerable and gentle soul as well as anybody, and her role in the story is an important one (if short-lived). She serves to remind us that yes, many if not most of the players trapped in SAO or just ordinary people (and often kids) who more than anything are simply afraid to die. She provides a stern test of Kirito's self-imposed isolation, and in-fact he lowers his defenses and becomes her protector and shoulder to cry on. And she gives SAO its first real dose of tragedy that hits close to the bone for the audience. The downfall of the Black Cats – most jarringly the suicide of distraught guild leader Keita – is conclusive proof that even people with names, faces and personalities can die here – and that they aren't coming back.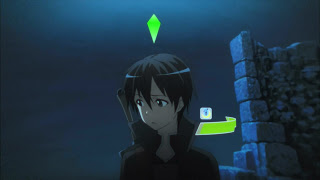 Of course Kirito is going to blame himself for what happened to the guild, who set their sights a little too ambitiously after a little run of success. He's guilty of no more than not trying hard enough to dissuade them, but of course he won't see it that way. I thought Sachi's "Gift Box" was a nice touch, if a bit sappy – whether hearing that message, including her last words, made Kirito feel better or worse is hard to say. One thing that's not hard to say is that the man who dreamed this all up, Kayaba Akihiko, is one sick bastard – I've already come to loathe him as I have few anime villains lately, and he's barely appeared on-screen. The "Nicholas the Renegade" stunt especially irked me for some reason – this grotesque parody of Santa Claus as an avatar for a sicko toying with 10,000 young lives for his own amusement seems like the height of arrogance and sadism, even if the "resurrection" artifact was real.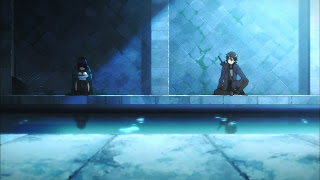 There are those who've managed to connect with Kirito besides the Black Cats, of course – Klein (to whom he gives the artifact, only useful within 10 seconds of death) and Asuna – but for now he's definitely in the "once burned, twice shy" camp when it comes to human contact. Even new viewers know how this will go to some extent – obviously Kirito will end up teaming with Asuna at the bare minimum – but it still has the makings of an interesting character journey. I hope we see more of Klein, too, not just because of Hirata-san but because I appreciate his emotional openness, and my sense it that it's much needed in this show – and the underappreciated role of mentor would be well represented by Klein. I think he and Kirito would have much to teach each other about their own areas of expertise