If "less is more" is your mantra, I imagine this episode of Space Brothers was right up your alley.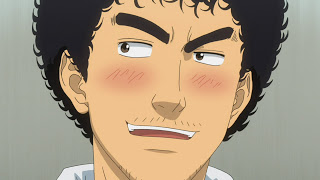 I'm very pleased that Uchuu Kyoudai seems to be drawing a very good audience in it's Sunday morning timeslot (the manga is also selling phenomenally well) but I'm quite sure it's drawing a non-typical anime audience. I wouldn't think either kids or otaku would be the main demographic here – there's plenty for kids to enjoy, but the subtlety and bittersweet notes are surely targeted at adults. It's an undeniably slow mover, usually a death knell for anime popularity, but I appreciate the way it takes its time to savor the small moments in life that make it worth living.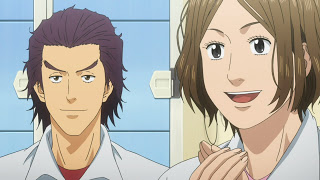 Nanba Mutta is, among other things, a very good liar. Even then I knew damn well he'd looked at the dashboard clock last week (why bother to animate it otherwise) he almost had me convinced with his elaborate cover story. The air abacus was a nice touch, but it's not to hard to believe that an auto designer would have noticed such things as engine revs and speed. "Ozzyitis" or not, Nanba seems to be on a bit of a lucky streak, and whether JAXA knows the true reason why he knew the time was 3 Am or not, the point for me is that he still knew it either way. It was his crush on Serika that (mostly) was the cause of his making up a story, but it was his obsessive curiosity that caused him to notice the clock – just as it caused him to notice and fiddle with the loose screw in the chair (not surprising, really, that Serika and Kenji were the other two to notice).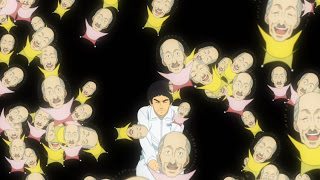 If any of the other candidates are JAXA plants they sure aren't acting like it, and the internal monologues we're privy to seem to suggest that everyone is legitimately in this to win. Team A seems to consists of the odd socks in the load, big personalities that don't quite blend in. Team B looks very professional and on-point – though it was Tomii's oddball Rubik's Cube habit that allowed him to calculate the time using a method almost as impressive as the one Mutta made up – and Team C is still pretty much a mystery at this point. Every team has someone thinking ahead to the endgame already, which I'm not sure is such a good idea this early in the process. Team A seems the most laid-back about it, which will probably serve them well in the end.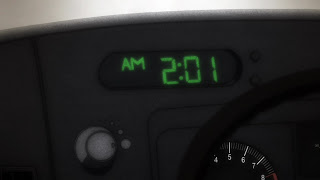 Mostly this was an episode to flesh out Serika's character a little more. She's quite the charmer in her odd way. I loved the way she drew a rice bowl on her journal to try and stem her hunger – the same hunger were kept her stomach growling all night, which the others blamed on Mutta (and I notice she didn't own up to it the next day). I'm not sure the further background on her name and relationship with her father (Takashina Toshitsogu) was strictly necessary to the story in any way, but it's the sort of luxury only a long series can indulge in – just that little bit of extra color that makes the character seem more real. It also serves to strengthen the bond between she and Mutta, although him repeatedly reminding her of her father might not be the healthiest basis around which to build a romantic relationship. That prospect continues to hang over the exam, because honestly, I can only thing romantic feelings between two candidates – or astronauts – can only be a problem. At the very least it should serve to guarantee than they never serve on the same mission, should both of them be selected. Well – it was still pretty hilarious when Mutta's afro did the wave when she said he could call her "Serika"…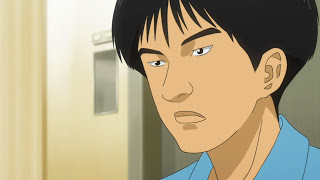 And that was your episode – Mutta's lie, Serika's name, stomach noises, making breakfast. It's a lot like the Exam Arc in Hunter X Hunter if Netero weren't quite as much a sadistic old bastard – just a little sadistic. This whole exam is obviously about relationship dynamics, and who might be best suited to survive being confined with each other without going crazy. If these guys weren't materially qualified they wouldn't be here, though obviously those qualifications are varied (chimp researcher, sports medicine expert, mechanical engineer, doctor, etc.). It's small stuff that will make the difference – stuff like Mutta's obsession with trivial details, and Kenji's calm demeanor and analytical detachment. Next week should be a good one, as we're going to have an appearance (as himself) by the real-life Noguchi Souichi, a JAXA astronaut who's been both a shuttle crew member and visited the International Space Station.