If you distilled pure happiness into 22 weekly minutes of sight and sound, you'd have something a lot like Tsuritama.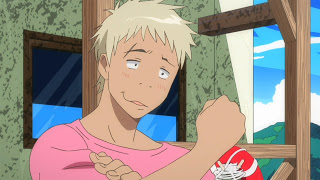 There was an interesting moment during a Twitter Q & A today where someone asked the Tsuritama staff if they had any belief that the show would be commercially successful. The answer: "Pretty much nothing." But the conversation eventually turned to how much everyone involved with the show loves it, and how proud everyone involved is to be a part of it. Quite revealing about the state of anime today, I think – and a ringing endorsement of NoitaminA as an institution that allows anime to be art for art's sake, whether it's going to be commercially successful or not. You can see the love of the product in everything about Tsuritama, right down to the behind the scenes videos at the show's website. It's obvious that everyone involved knew they were working on something special here, and they had a great time doing it.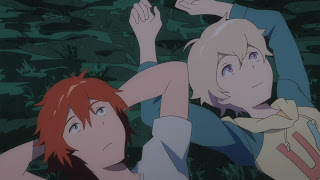 I haven't totally given up hope that Tsuritama could surprise and do pretty decently by NoitaminA's meager standards – nothing huge, but maybe 3-4 K discs. But in the end it really doesn't matter, because as a series it speaks for itself and doesn't need that kind of validation to prove its worth. I've been singing the praises of the show for 12 weeks so there's surely not all that much I can say now that I haven't said already, so I'll repeat the part that really matters: I love Tsuritama, and I don't think there's been a series that's made me smile as consistently as this one has. It's one of the most joyous anime of all time.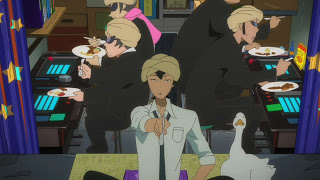 Nakamura Kenji-san, I didn't know you had it in you. Nakamura is a big talent with some terrific stuff under his belt – most notably Mononoke. But in taking in his career as a whole, two things make Tsuritama a surprising development. The first is that Nakamura has tended to have trouble closing the deal with plot-driven series – they sometimes lose their drive and fall victim to too much ambition. The second is that all of his work so far has been basically dark in tone, often moving but generally quite focused on the uglier side of existence (and human nature). I'd also add that his greatest successes have come with more episodic material that doesn't rely heavily on a plot that runs through the entire series.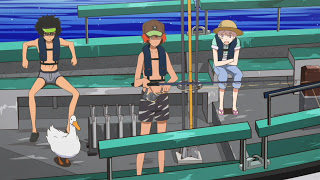 Tsuritama is so different from all that – it's a show that's had a plan in mind from the start, and executed it almost flawlessly for 12 episodes. Consistency is the hallmark – I can't think of a single down episode in the entire series. It took the brilliant approach of spending the first half with character development in overdrive, giving us only hints about the larger plot, and a result when the plot kicked into high gear we were so much more invested than we would be if we didn't understand the characters so well. It's so simple, and it reflects my preferred approach – build around the characters, and let them drive the story. And while there's pain and danger here, fundamentally Tsuritama is all about the good we can do for each other if we let our defenses down and let others in. How much of that reflects a maturation of Nakamura's vision and how much comes from series composer Oono Toshiya I can't say for sure, but the two of them seem to make a fantastic team.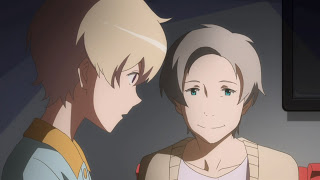 If you'll bear with me to repeat myself, I think praise needs to be be heaped on many aspects of the series. Starting with the cast, Miyu Irino delivers a risky and gutsy performance as Haru which is totally vindicated by the end of the series. He's The Little Prince, and he's alien – and Miyu gets just enough of that otherness across without making Haru less sympathetic. Ohsaka Ryouta takes a star turn here as Yuki, perfectly capturing his anxiety and vulnerability at the beginning, and the growing but fragile confidence that builds in him as he matures. Sugita Tomokazu is hilarious as only he can be, and Uchiyama Kouki stamps himself as a name to remember with a subtle and intense performance as Natsuki. The supporting cast is top-notch as well. As are the looks of the series, which is always a hallmark of a Nakamura work. Tsuritama is a storybook come to life, an animated pop-up book full of surrealistic seascapes and great visual humor. And the soundtrack – OP, ED and perfectly in context BGM by Kuricorder Quartet – is in a close battle with Sakamichi no Apollon for the best of the season.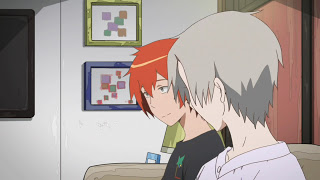 NoitaminA is going to struggle to top this season, I suspect – and whether it meets with commercial success or not, it's definitely going to be remembered by anime fans as one of the finest – if not the very best – in NoitaminA's history. Tsuritama is certainly going to be in my top ten of 2012, and as of this moment it's looking like a contender for one of the top spots. It's rare to see a full-length anime, even of a single cour, that never sets a foot wrong. There will be shows that sell more Blu-rays in 2012, but I doubt there will be many that ring so emotionally true and bring so much joy to those who love them. DUCK-U!