"Defensive Universal Confrontation Keeprs". The more you know.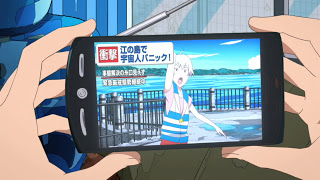 Every season (if I'm lucky) there's one show that I totally and unreservedly love, and no matter how much I admire and enjoy the other top series, that feeling is always unique to that one show. Chihayafuru, Cross Game, Ikoku Meiro… For me, all of these series conjure some variant on that feeling. And this season, it's Tsuritama. Whether or not I can objectively call it the best show in a season this strong is a hard question (especially with Sakamichi out there) – but there's no question it's my favorite. Tsuritama is an expression of pure creativity and pure positive emotion the likes of which I rarely see in anime, or any art form for that matter. It's as close to unique as any show you're likely to see this year.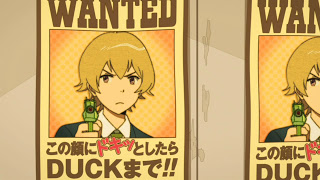 This was one of those episodes that did so much right that it almost feels as if it's not even necessary to discuss it at all – it stands on its own, needing no explanation or interpretation. I mean – where to start? In the first place, there are quite a few shows in any given year that establish strong characters that totally connect with the audience, and several more than have elaborate and well-constructed plots. But exceedingly rare is the series than can do both. Specifically, character-driven shows often go through the same cycle – somewhere around the 2/3 mark, they try and make the transition to a plot-driven finale, and generally fail to a lesser or greater extent. The magic goes out of the show somehow, and you still love the characters but wish the series had just stuck with showing them going about their lives and not tried to be anything more.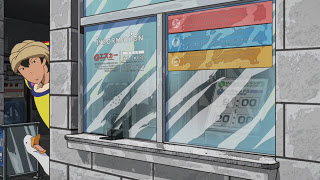 But not Tsuritama. It ambled along at a pace that was somehow both relaxed and frenetic, irresistibly lovable but revealing only small hints of what its "plot" would ultimately be. But in a tribute to the writing, it's pulled off the impossible switch – the plot kicked into high gear and started to drive the narrative, but the show lost none of its magic. Why? If I'm to venture, because the plot ended up as a perfectly logical extension of the low-key setup, which in hindsight was revealing more than we realized. It's at this stage where any flaws in construction usually present themselves, but Tsuritama's foundation proved rock-solid. At least as importantly, the plot reveals itself to be driven by the characters – it's all the emotional buy-in we have with them that makes the larger events in the last third of the show meaningful. Everyone is behaving very consistently with what we expect, and no one is being twisted out of character for plot convenience.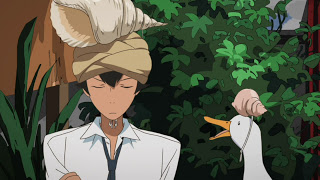 The unfailingly excellent performance by the cast (especially Ohsaka Ryota) is a big contributing factor to all this success, but increasingly it's becoming clear that it's Miyu Irino's performance as the little prince, Haru, that was the lynchpin. I'm not sure which is more true – that no other actor would have played Haru this way, or that no other actor could have – but thank goodness we'll never know. I can't imagine anyone else at the wheel during Haru's dramatic scenes this week, especially his confrontation/reunion with Yuki. It's a performance that's both flamboyant and totally real, a double as hard to pull off as the plot/character coup for a series, but Irino-san does it. I can't praise that whole scene with Haru and Yuki highly enough – in many ways it was the emotional payoff for the entire first 10 episodes, and all involved – Irino, Ohsaka, the director and writer – got it exactly right. This was a classic example of coming through in the clutch.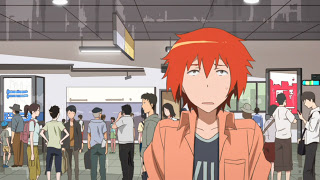 Another thing I especially love about Tsuritama is the way it continually manages to combine realistic emotional interaction with absurd situations and surreal visuals. As an example, Akira's moment where he subdues the squadron of DUCK agents, then strikes a pose and hisses "Yoga!" in Sugita Tomokazu's best martial arts voice as they fall to the ground with rubber-ducky squeaks. Or Misaki pretending to be pregnant with Tapioca and our orange cat friend under her shirt, and the way the cat wipes his brow when it's over, or DUCK's Wild West wanted posters. Meanwhile the imagery of the typhoon gathering strength and bearing down on Enoshima is like a beautiful storybook come to life, layers of flat backgrounds moving across the screen with increasing vigor. Nakamura Kenji will seemingly never settle for visually doing something the same way it's been done before, but while that can sometimes come across as a little busy and distracting, in this case it marries with the writing seamlessly. Meanwhile the emotional moments are unerringly spot on – like the taxi driver doing Yuki a random act of kindness, or Natsuki finally trusting Mariko-san with Sakura's care. And Haru giving up the last of his precious water to feed Keito's flowers.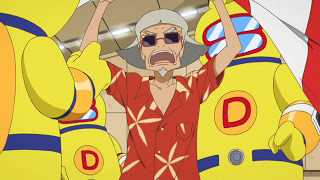 It really does feel as if all the elements are being brought to bear exactly as they should be. Everyone is confronting their own demons and coming together in the end to face their fate, as the elements themselves are bearing down on Enoshima. And indeed, things are looking dark – not only has JFX apparently found a way to control others without getting them wet, but in doing say has incidentally caused Hemingway to be destroyed – and possibly Ayumi too (though I don't think so). Still to be revealed is just why Yuki needs to be the one to fish JFX out of the sea, though I suspect he is just that. But the sense is that as long as the four leads are willing to put their fates in each other's hands, it'll work out somehow – though that might also include the very sad prospect of Haru and Coco (part of JFX's "horde" now) going back to their home world. We're not going to get out of this without shedding a few tears (or a few more, in my case) but I think they'll be bittersweet ones. Tsuritama is many things, but I don't believe it's a tragedy.