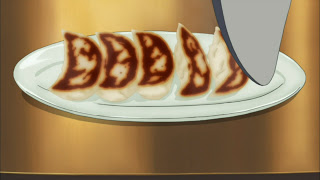 A little change of pace this week, with the entire episode taken up by one chapter – "Mr. Handa's Group Blind Date" (apart from a tiny segment about pot stickers at the beginning). Actually, the pot sticker mini and the blind date chapter did have a common thread, trolling Penguin-San. I thought it was downright rude of Panda-kun to just eat Handa-san's "brown lunch" like that, to be honest. What interested me this week was seeing Panda-kun's keen interest in human social interactions, and the involvement of he and Polar Bear in same – we haven't seen much of that, really. Some highlights of the episode:
The BGM switching to a minor key (for the first time) when Handa's social life was being discussed. Very clever.
Handa-san's diligent insistence on cleaning his bathroom.
Penguin-san's "So it's not me" when Panda-kun invited Shirokma-san to the group blind date.
Shirokuma-san's "My hobby is capturing seals."
"Can I bring seals from home?"
Super slo-mo of Panda-kun masticating.
The girls finding "Pandas poop smells like lemon" kawaii.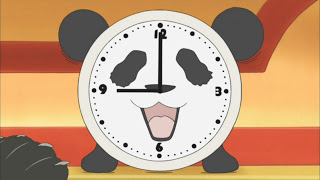 There's a lot of fun little social commentary in this episode – gently mocking without being too cruel, as is this series' wont. I kept worrying that Polar Bear was being ignored in the group date, but he didn't seem to mind – he was happy to devour the snacks and showed very little interest in the girls. And the girls come off as sort of affably daffy – office girls as kawaii obsessed as middle schoolers. As for that new ED, I can't quite see what connection it has with the show – pretty random even by Shirokuma standards.
ED3 Sequence: