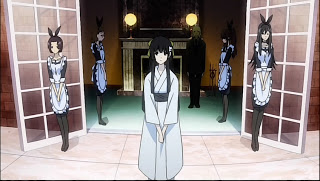 There's no Sankarea on TV this week, courtesy of the UEFA Tournament going on in Poland and Ukraine. But we do have this OAD, which acts as a sort of prequel to the series. And given the sizable detours the show has taken over the last month, this release wouldn't have felt out of place as a TV episode by any means. I sincerely hope we get another season of Sankarea, because all these rabbit holes we keep falling down are fascinating, and give the impression that we're barely scratching the surface of what this series has to offer.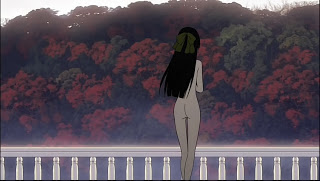 Like most of the TV eps, this OAD is beautifully directed by Hatakeyama Mamuro, full of lovely visuals, interesting shot composition and virtually reeking of the sadness and fear lurking underneath the placid exterior. There's not a lot of comedy in this episode – the word I'd choose to describe it is "somber" as it cuts between Chihiro and his family (including Ranko) and Rea and hers on a visit to Tohoku seven months before the events of the series proper begin. There's not a lot that's new with the latter group, really – Danichiro is still a sick bastard, Aria is still an angry and frustrated drunk, and Rea is still dreaming about leaving the world and being reborn a different person. If anything the scenes are even more tragic, as the format allows Hatakeyama to display Rea in the fully nude poses Danichiro forces her to take (not erotic at all, just sad) and to depict Aria as even more violent in her resentment of Rea.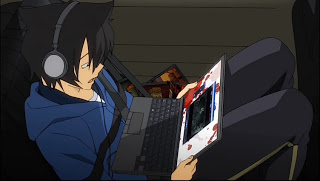 As for Chihiro and his family, they're in Tohoku to visit a relative and help him sort through his (preposterously) massive collection of old books – what to donate, what to restore, what to discard. The family dynamic isn't new but I always enjoy watching it, especially between Mero and her brother. She's quite a devoted little sister, and even Ranko is refreshingly low-key by her standards. The main thrust of the episode is clearly to show us beyond any reasonable doubt that Chihiro and Mero's mother, Yuzuna, was a zombie. There are many hints that something terrible happened in Tohoku – a familiar-looking disused bridge, a look from Doon, a comment from the relative that slips out.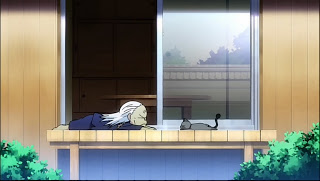 What's interesting is that Doon abjectly refuses to discuss his later wife – in fact, he says that Yuzuna specifically told him not to talk about her with the children. When Chihiro tells Doon that he can't remember anything at all about her except that he loved her and she was kind, he says "that's fine". But in the old storehouse where the books are kept, Chihiro has an experience that strongly implies that Yuzuna's presence wants to be felt. He dreams of her (or of some woman, anyway) who's quite clearly dead – in fact, she seems to have been cut in half and hung from a roof beam – and when he wakes, finds a picture of a woman with her face mostly obscured, which he immediately takes to be his mother. A "tiny wind" blows it into a hole in the floor, and as Chihiro searches for it he finds the book which contains the recipe for resurrection that shows up in the premiere.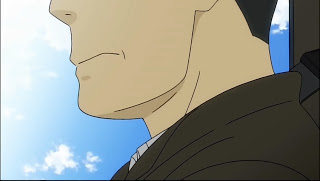 The implication is obvious, though the explanation is not. Perhaps the implication is also that it was Yuzuna that caused the chance meeting between Chihiro and Rea in a hot spring high on the mountain above the village, near where her father's (presumably) rented house is. I hope this isn't all a tease, because I'd really, really like to know just what happened with Chihiro's mother. But it seems very unlikely that could be resolved in the couple of episodes remaining in the season. There's no question of Sankarea deserving a second season – it straddles the line between tragedy and comedy as well as any show I've seen this year, and always (apart from when Wanko is involved) manages to tell its story in a subtle manner that suggests much that's just out of our field of vision. Deserving is one, thing, getting is another – and I suppose, like anything else, it will depend on the BD/DVD sales. DEEN is good about sequels – it's one of their more redeeming qualities as a studio – so there's reason to hope, at the very least.