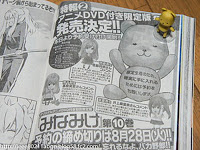 After the fold.
UPDATE: Studio Feel will be animating. Ugh.

As you may know, Minami-ke was confirmed for a fourth season a couple of months ago. At last, the details are in – Winter 2013 is the air date. Director will be Kawaguchi Keiichiro (Hayate, Mayo Chiki, Sket Dance) and Series Composition will be Kouno Takamitsu (Ayakashi, Kyo no Go no Ni).
Fundamentally, I'm disappointed that Ohta Masahiko won't be directing – he's the key piece that made the first season the best, in my view, and one of the best anime comedies ever. Kawaguchi-san has done some high-profile work, but I'm not a fan. Kouno-san I feel better about – there's some excellent composition work there, and he worked on the first season, and in addition to being the head writer for the Class 5-2 TV (same mangaka) worked on the excellent OVA. Of course there's still the question of studio, which has not been announced.