List of people not to piss off: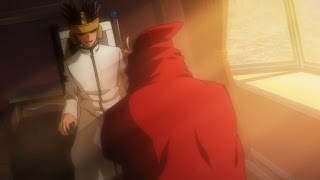 It's interesting to muse on just who the scarier character is, Gon or Killua. On the surface it's easy to say Killua. He's an assassin by training, with what can only be called an erratic moral compass. He's a master of numerous ninja-level techniques, basically impervious to pain and damaged enough by his twisted family life to kill anywhere and anytime he deems it necessary – or when he loses his temper badly enough. This is definitely not the guy you want to piss off – as the unfortunate (but deservedly so) Sadaso found out last week.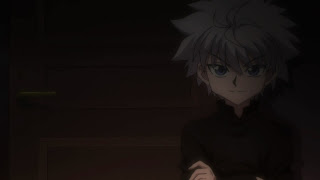 I'm not sure he has anything on Gon, though. Superficially it might be easier to say Killua is the more cold of the two boys, but Killua is actually driven by his emotions quite a bit – be they anger, fear or protectiveness (for Gon, naturally). Gon plays the role of the smiling, mischievous scamp to a "T" – but in him I see a cold detachment rear its head sometimes, and for me it makes him more frightening than Killua. Gon has little of the training Killua has, in how to kill and otherwise, yet he's almost as adept at destroying men in battle. It's this instinctive ability to read the field, the innate talent to execute a strategy based on his instinct, and his smiling indifference both to his own pain and that he inflicts that makes him a more mysterious beast than Killua is. Ultimately Killua is somewhat predictable, where Gon is more of an enigma. I wouldn't want to face either one of them in battle though, to be certain.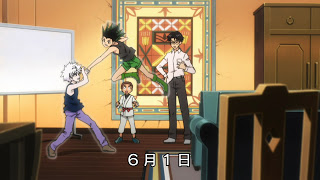 In that context, it's all the more chilling to see Gon truly pissed off. We've seen him terrified and thrilled (sometimes simultaneously) but I don't recall seeing the outright anger he displayed during his matches with Gido and Riehlvelt (Ai Ichitarou). Gon doesn't go out of his way to make it personal when it comes to fights, but he seems to approach the ones that find him with unnerving dispassion. He simply watches, then acts – only this time, when he got the better of Gido by ripping up the floor beneath his prosthetic there was genuine rage for what his opponent had done to Zushi. This is Gon when he feels he has something to protect, it seems – we've seen that mode from Killua already, of course – but where Killua dismantles the enemy with technique, Gon simply applies his senses and the brute strength he gained in accessing the Zoldyck mansion. There was no quiet warning to Gido – just seething rage and over threat. And with Riehlvelt, playful yet cruel mockery and two broken arms – and an opponent passed out purely from fear.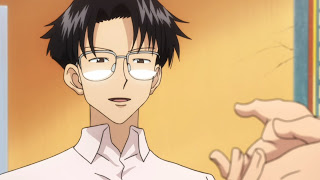 Of course Killua had some work to do himself, though Gido was too damaged by Gon's attacks to face him in the ring. Before fighting Gon Riehlvelt took on Killua, and actually managed to provide him a bit of resistance – escaping his initial attacks and even managing to send a million volts of current racing through Killua's body. However Killua certainly is, as he says, "not a normal person" – and all that jolt managed to do was piss him off. Killua relies on his training to get him through, and dispatches Riehlvelt with a little mockery of his own. Meanwhile Gon learns all he needs to know from the match to destroy Riehlvelt with ease a few days later. Killua plays the role of the master assassin with these lesser opponents, whereas with Gon the impression I got was of a cat toying with its prey. The assassin and the animal.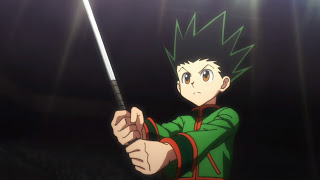 All of this of course is leading up to the moment the entire series has been leading up to in some sense, the long-awaited formal confrontation between Hisoka and Gon. As always, Hisoka is watching Gon and Killua with great interest, delighted with the diversion they provide him. And he's apparently seen enough from Gon to piqué that interest, as he tells the boy he's done everything Hisoka asked, and he was ready to fight anywhere and anytime. It's early in the series for this to take place, but I assume it's going to be just the first of many battles between them – I certainly can't imagine Gon turning down the opportunity when the mere sight of Hisoka gets him trembling with raw adrenaline. My guess is that Gon is still no match for Hisoka – I doubt he'll land that promised blow and give Hisoka his tag back. But I also doubt Hisoka feels Gon is "ripe" just yet – just far enough along to provide a good afternoon's entertainment, that's all, so he won't kill him. In order to get Gon and Killua where he wants them to go, I think Hisoka sees himself as an educator – providing hard lessons that will propel the boys along the path that will eventual make them worthy of fighting with his true strength.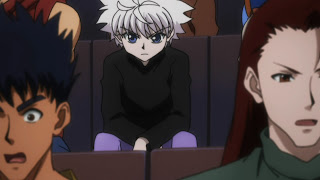 I keep hearing that Madhouse is in some financial difficulty, but you wouldn't know it from the quality of the animation in the fight sequences. The level of background detail and fluidity of the animation continue to be impressive, so it's clear that the studio isn't skimping on the production. If the price to be paid for that is a recap episode every cour or so, I can live with it. I wouldn't mind a new OP sequence with a new song and not just a remix, but that's nit-picking – this continues to be a really impressive production on all fronts (including the great work by the cast). It's nice to see a classic shounen treated with the respect it deserves (are you listening, DEEN?) and I hope this adaptation continues for a long long time.
Gon & Killua's Hunterpedia: "Coco"