That definitely would not have been my guess about who that guy was…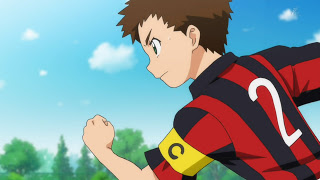 Before we blog episode 11, a brief word about an interesting poll from Sankaku Complex. I normally don't put a lot of stock in the particular site but then ran a poll this week – "Top 20 Anime You're Wasting Your Life by Missing" – that yielded a surprising result. Among the obvious and the distressing, the odd show of the bunch at #19 was none other than Ginga e Kickoff. For the record this was an "all-time" poll, not current series, and I was pretty shocked to see our little soccer anime was registering strongly (indeed, at all) with what should theoretically be an otaku-dominated readership. Is it possible that in Japan, "Ginga" is being recognized for the gem that it truly is? I can think of few things in anime that would surprise me more, but I suppose anything's possible.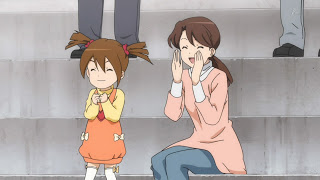 All I know is, Ingerland could seriously have used Shou at the back today shouting out "Big Tri!" and "Build!", because that display against Italy was pretty disheartening to watch. You would have thought it was Spain, for how little the Brits possessed the ball. I thought it was quite appropriate that Suguru-kun made a "park the bus" reference because that's exactly what England has been doing for most of Euro 2012, and today they made the normally conservative Italians (just watch how they play against Germany Thursday) seem like at attacking swarm of hornets. Negative football almost always produces a negative result and though I was still rooting for them, it would have been an injustice if England had won that PK shootout. They should have let Joe Hart take one the PKs like he wanted.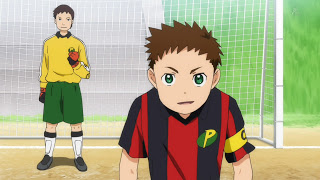 So Murayama vs. Tsubaki was definitely the best soccer match on my TV today. The wait was long, but the reward was another infectiously fun episode of Ginga, and the Tireless Terrier back in fine form and full voice (I especially loved his Mom's "I've fallen for you again!" What a troll she is). While Megane-san sat in the bleachers tapping on his laptop the Predators assumed full control of the game, with Shou directing traffic and Ouzou once more proving that he's nothing short of a football genius – certainly the most important member of the triplets to the team's success on the pitch. We saw a little of everything, including a fine nutmeg and goals from Uematsu and Erika. It was a second-half domination as thorough as in their first-round game, to the point where Tsubaki even degenerated the match into dango soccer yet again until Ouzou shrewdly broke it up.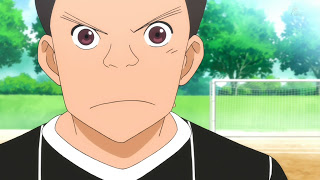 That's where (as it so often does) Ginga took a bit of a surprising turn. While the ugliness from "Owner" Kinzou (who I've neglected to mention is played by Nakamura Koutarou) on the sideline was expected, what was interesting was that the referee seemed to be taking a dim view of some of the Furuyas' tactics – like Ryuuji intentionally causing an own goal and Ouzou's giving Tsubaki the ball to break up the scrum. Even more, he seemed to imply that Hanashima-sensei's teams had a reputation for soccer than "lacked class" – not only weren't his kids playing the beautiful game as the ref saw it, but it might not have been the first time. Personally I didn't see too much that really bothered me apart from the own goal, but when Ouzou said "This game is over – let's have some fun" that didn't sit well with me. Suguru is a good player and a fierce competitor and he didn't deserve to be humiliated. At least Kota had the grace to say a few kind words to him after the match, but Masaru seemed to take the ref's worlds pretty hard.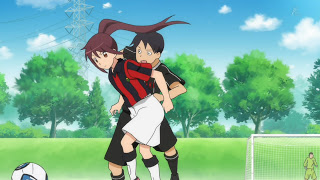 The other big development of the episode was the revelation that Megane-san was in fact Rin-san, and none other than the father of the triplets. I see much, much more to come there – we have obvious tension between father (a university math professor applying his knowledge to soccer) and sons, and he also seems wary of not displaying class on the pitch. And we have Reika Ojou-sama's secret finally out of the bag – her Mom shows up at Shou's family restaurant where Kin-san has sprung for a victory party. The understanding housekeeper was acting somewhat suspiciously earlier – did she betray Reika-chan to her mother for some reason? In any case next (last) week's episode 12 looks to chronicle Reika's attempt to sell her mother on the notion that soccer is a good thing for her little girl.