I can only paraphrase the words I used for Watanabe Shinichiro and Sakamichi – why does everyone else make this seem so hard?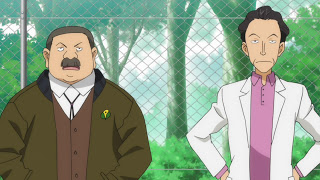 There's a reason why all of the sports shounen I've blogged the last couple of seasons have fired and fallen back, and it's not because I don't love the genre. It's that none of them quite gets the essence of it the way Ginga e Kickoff does – and that's the reason why this one is still on my blogging schedule while those others aren't. In many ways I think this was a perfect sports anime episode – fast-paced, exciting, emotionally involving, in-character – with very realistic on-field action too. Of course the truth is, it isn't this easy to be this good or else everyone would be – but the problem is usually that those other shows get clogged up with too much nonsense, and what should be a fairly straightforward genre becomes distracting and unfocused.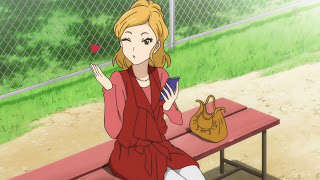 Of course Ginga is an all-ages series and a good-hearted one at that, so it's not as if the social commentary here is savage – but it is present, and the politics of youth sports have been gently tweaked a few times. The obnoxious "owners" who think the fact that they pay for the uniforms gives them the right to call the shots on the sidelines are a very real problem. While their verbal sparring was sort of fun ("She looks like someone you met at a bar…") the best thing here was watching Zach the dog really start to earn his keep, primarily defending Shou from "Owner's" taunting and threats. It's also interesting to note the difference in the way he treats the kids vs. the way Hanashima does – once the game starts Hanashima pretty much stays out of the way. Even when the Predators changed to a 4-4-2, it was the Furuyas (well, Ryuuji and Ouzou) who made the decision, not Masaru-san.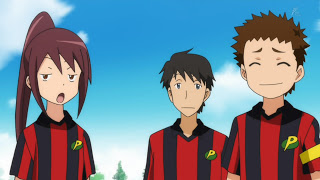 The on-field drama was the main event of the episode, of course. Tsubakimori's ace, Suguru-kun is certainly a hothead (the two-fisted handshakes are a bit much) but undeniably a talent and a fierce competitor – a fiercer one than the Furuya Triplets in the first half, in fact. He's integrated with his team much better than they are, and his "Suguru Specials" effectively use his entire team and the entire field. The weakness of Maurayama all along would seem to have been the defense, and both goals come as a result of lapses – the first when Shou has to leave hos center-back position to cover after Reika-chan gets a nutmeg from a Tsubakimori attacker, and the second when Shou surrenders a PK – and gets a yellow card – for knocking heads an inadvertent elbow with a Tsubakimori player on a cross. Ouzou drops back to a second central defender role to cover for Shou's poor play, and the half ends with the Preds trailing 2-0.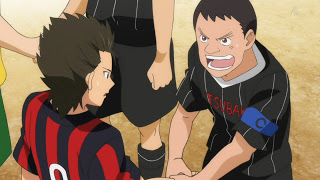 For Reika things at least are looking up a little – she helps cover for another defensive lapse by Shou and prevents a goal – but for Shou, it's pure depression. This is where it's very interesting to watch the Triplets, who continue to emerge as distinct personalities. Both brothers show real anger at Kouta for letting Suguru goad him into trying to turn the game into a one-on-one battle, but again it's Ouzou who steps up as a leader both on and off the field. As a player he's filling the crucial role of all-field generalist, racing back to cover on defense, and leading the counter and setting up Maurayama's attack. But he also speaks his mind to anyone concerned, including Kouta and Shou, and he seems to have the surest strategic sense of the three. He's a sort of link between Shou and the rest of the team on the field – the primary device for carrying out Shou's directions – and he's the one who calls out Shou at halftime, not for his defensive lapses, but for his lack of leadership as Captain.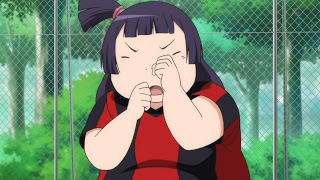 It's harsh, but something Shou had to hear. Of course it's hard seeing the normally indomitable and fearless Shou beaten down and depressed, but in classic shounen fashion the team rallies around him – Masaru-san, Erika, Reika, even the Furuyas – and let him know it's not just his organizational skills and loud voice that put that armband on him, but his field generalship and positioning – and only if he steps up and takes command of the team can they come back and win. If you're buying into this show at all, you must have gotten a little swept up in the moment when Shou made a perfect sliding tackle on Suguru, then started Ouzou off on a counterattack, shouting commands all the way. Those are the sort of scenes that every sports shounen builds up for, but only the real good ones can pull them off like Ginga did here.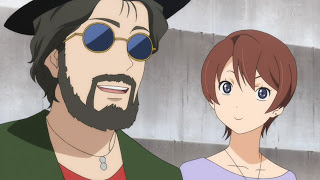 It's all about building buy-in with the characters, at least for me. That's why I was especially pleased to see that Ginga has been confirmed for a second cour at least (episode titles through #14 are now posted on the official website and Syoboi) because this is the sort of show that gathers a momentum to itself and just gets better and better. Ten episodes in and I'm totally sold on the premise and characters, but it feels as if we've just started the journey. Sports anime that really focus on character need a year to do the job the way it needs to be done – it would certainly have been wonderful to see Giant Killing have that opportunity – but in the current "one and out" climate in anime, I'm pleased to see that Ginga will be sticking around for another few months at the very least.