Perhaps the greatest honor of all in a Urobuchi Gen series is to be allowed to die with dignity.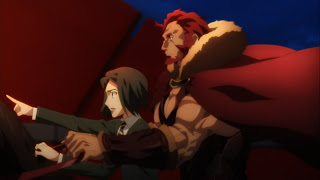 The good news and the bad news is plentiful here. We had one of the very best episodes of either season, full of GAR and martial spirit and pathos. But the bad news is, it was mostly because of the strong presence of Rider – who tends to be prominent in most of the best episodes of Fate/Zero. With Rider finally gone, I have to wonder if we're going to see this sort of epic quality again as the series settles on mopey Kiritsugu, villainous Kirei and omnipotent Gilgamesh. And we mustn't forget our Kariya, still insane and being tortured by his demons as Berserker does battle with Saber. But it's hard to really take him seriously as a character.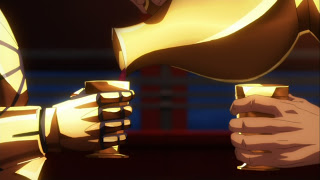 Yes, Berserker is after Saber again, only this time we know why. The episode was so full of epic that the massive reveal that Berserker is in fact Sir Lancelot doesn't even get top billing – it's squarely in the backseat as Le Mort de Iskander takes the wheel. Berserker's identity certainly explains why he was so obsessed with Saber, although I'm not sure if there's deeper meaning to his being the insane apparition that he is. It's safe to say the legend of Arthur and Lancelot didn't end well for either, but I haven't seen a version that lands Lancelot as an insane and raving gibbon (indeed, he lived out his days quietly as a Priest). It's really closer to Lancer's Diurmuid tale than anything – betrayal through adultery, with tragic consequences. Perhaps there will be more exposition on this in the final episodes.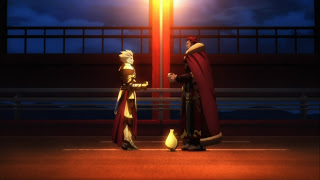 As for their battle – the undercard happening concurrently with the main event (fittingly, in an underground parking garage as Rider and Archer duked it out gloriously on the bridge) it was certainly interesting to see Arthur confronting the same type of despair some of her castmates have faced in this series. Yes, it's sad but true – the rice rocket is no more. Saber is left to confront the reality that Rider might have been right about her naïve little girl ideals all along, and that she might be the cause of Lancelot's insanity. Again, perhaps we'll get a better grasp on the background next week – for now, their actual combat is inconclusive, with Saber's heart clearly not in it – though Berserkers' choice of weapons is certainly interesting.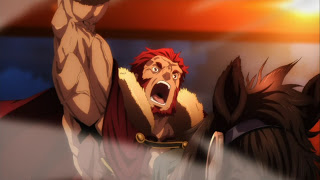 I knew with moral certitude that Rider was going to die, and probably this week (as Kerry flashback #2 aired on Mother's Day, this ep aired on the day Alexander the Great died) so there wasn't too much emotional impact for me even though he was by far my favorite character. I was steeled to it, in other words – and I must say, given the author, even satisfied with the result. For Rider died as he lived, as a hero, the King of Conquerors – he deployed every weapon in his arsenal and went down swinging, quite literally. He even used his final moments to force Waver into committing not to throw away his own life – quite cleverly so in fact – and that just shows how much his bond with Waver has grown. This relationship towers so far above any other in the series as far as depth and progression that none of the others really bear comparison, in truth. Iskander, ye shall be terribly missed.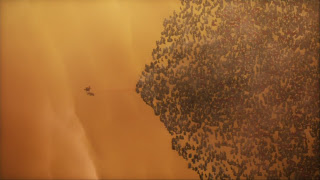 The most astonishing element of all this was really Gilgamesh, for me. I can't recall another instance where we've seen this side of his character – not only does he show profound respect for Rider, but mercy to Waver as well (though this too is ultimately a question of respect). The King of Heroes, the one who epitomizes the very definition of arrogance – but for Rider, it was nothing but respect. He drank with him before their battle, he referred to him only as "King of Conquerors", he brought forth his best weapons, including the fearsome Ea (for which Rider's Ionian Hetairoi was no match). While he rebuffed Iskander's offer of alliance, stating that he has and shall only ever have one companion (Gilgamesh and Enkido at Uruk) he never shows the merest hint of disdain. True, he shows the great dramatic flaw of omnipotent characters – his victory is never in doubt and he looks positively bored in achieving it – but he does it with a sobriety we've never seen from him before.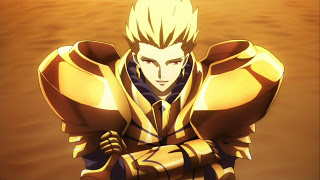 Those last moments on the bridge were certainly some of the best in F/Z so far. Gilgamesh even shows respect to Iskander as his foe's life is draining from him, telling him that he'll always be a King, and that the world will always be Gilgamesh's garden until the end of time and that Iskander will never find it boring. He gives Waver a chance to sacrifice himself in what he sees as a retainer's duty – avenging his King – but when Waver reveals the final command Alexander gave him, Archer doesn't press the issue – even praising Waver for his loyalty. It's nice to see Waver survive the battle – that was the great unknown – though I don't know if he'll survive the Grail War altogether. In any case he ended him time with Rider with a lot of dignity and courage, riding into hopeless battle with him (complete with waver-ing war cry) and doesn't flinch or turn from Archer, but faces him directly. He was the other half of the best relationship in the show, and Waver will be missed too – one way or the other.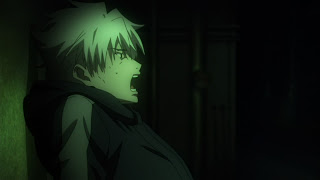 With two eps left, it appears the stage will be left to Kirei and Kiritsugu, as has seemed very likely all along. With those parties as the main combatants, I don't really have a lot of rooting interest in how this comes out one way or the other – I think it's going to be much more interesting to see Gil's role as the final act plays out. I'm not as convinced as I was that he's the worst possible being to be left standing at the end. Saber has become increasingly irrelevant as the second season has progressed but there's still the matter of her personal battle with Lancelot to sort out, though what her role is after she kills him I can't quite see yet.