No complaints here – that was non-stop fun from beginning to end.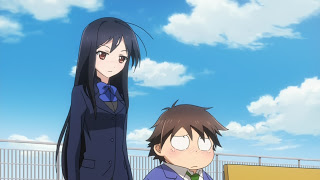 Whatever malaise came over this series for a few episodes – I don't know if it was the show or me – seems to have lifted, because the last couple of episodes have recaptured the briskly entertaining spark of the first few. No doubt a lot of it is the presence of Hidaka Rina as Scarlet Rain – yeah, that type of character has been done to death but she has the effect of immediately bursting (no pun intended) the bubble of self-seriousness that can tend to form in Accel World at times – slowing things down to a crawl when it does.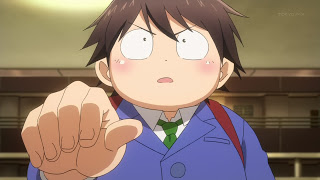 Of course it's a bit of a mystery to me why Kuroyukihime should feel quite so threatened by a ten year-old, even the ten year-old is taller than her boyfriend Haru. Of course the real reason is because it's entertaining as hell watching the two of them go at it in Haru's apartment. No, "So black I wouldn't be able to see you in the dark of night" and "It's be fun to hang you from a traffic light and watch the cars stop" isn't exactly the stuff of the Algonquin Roundtable, but it's stupid enough to be hilarious, which just about describes most of Yuniko's ("Call me Niko. No –chan or –tan!") killer loli act. She's a force of nature, this one, both inside the Accel World and out.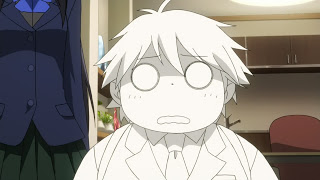 Of course Niko does have a larger purpose, and the episode isn't entirely about watching she and Snow Black go at it like rutting elk. And her little subplot is interesting, in that it takes us deeper into the Accel World and shows us just how little Haru knows about what's really happening there. The story of Chrome Disaster and his cursed armor could have come straight out of Norse mythology, but the way Kuroyukihime relayed it via a sort of shared VR memory download was kind of cool. I was only disappointed that Niko didn't sit on Haru's lap after claiming the short cable. Kids today – confusing cable length with intimacy…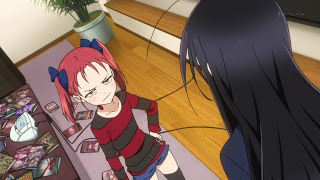 There really wasn't any one element here that blew my away, but the overall experience was highly entertaining, which seems consistent with the appeal AW showed early on. This is a series about world building, quite literally – it's not really about the character interaction so much as the atmosphere. It works because if the impressive level of detail that's gone into constructing both everyday life in 2046 and the Accel World itself, and because it reflects the high-quality look Sunrise's Studio 8 typically produces. This is definitely a show at its best when it doesn't take itself too seriously, though I don't especially dislike any of the characters – I just don't think the writing is at its best when it reaches for gravitas. And there was certainly no danger of that this week…