Grizzly-san ED stays. He's bad to the bone.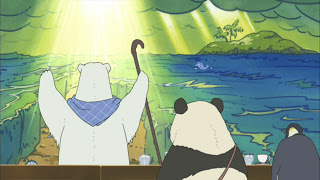 It occurs to me, watching this week's Shirokuma Café, that Polar Bear may be one of the biggest trolls in anime since Prince Baka from Level E, and the puns are just the tip of the iceberg. It's the way he, Panda-kun and Penguin-san compliment each other with so little overlap that really makes this series work. While this wasn't as funny as some of the better of the first six eps, it was a real showcase for Polar Bear's ruthless devotion to taking the mick. Some of my favorite moments:
The "Mask/Vegatables/Heavy" gag. Taking a pun to that level shows a real dedication to frivolity.
Dating Licenses and Love-Love Licenses. Actually, not a bad idea.
Polar Bear with twintail braids
Panda-kun taking a break from his PSP (what, no Panda cover?) to sing a lullaby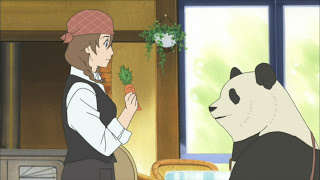 I have to ask – just how does Penguin reach the pedals? I thought when he started with him in Polar Bear's lap we were going to skirt the issue, but no. Someone needs to raise the hard questions. If I'm not mistaken, this was our first look at Penko-san that didn't come from Penguin-san's fantasies – so at least we know she's real and she really does work at the bakery. Selling Pen-pan, I wonder? And while we're on the subject, how does Penguin make a living, exactly? Panda works part-time and lives at home, Polar Bear has the café of course, and all the other creatures seem to have full-time jobs at the zoo – hell, even Penko-san works at the bakery. What about Penguin? What do you see as his career, I wonder – not a salaryman, I don't think. Perhaps his family is independently wealthy.