Hey Babe, take a walk on the wild side…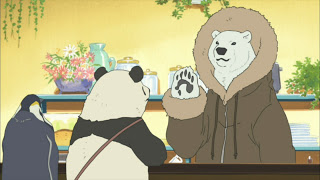 Once you surrender yourself to the central conceit of Shirokuma Café, stuff like what happened in this week's episode in almost at the level of genius. This might have been my favorite ep so far, because it had a cohesiveness through the episode that I really liked and managed to strike a perfect balance between warmth and sarcasm (which I find is the essence of quite a few of the better anime comedies). I guess there's a "you had to be there" quality to trying to explain why this is so, but the notion of wild animals who work at a zoo struggling to get in touch with their wild side – especially the way Panda-kun did – strikes me as exceptionally clever stuff.
Some highlights this week:
Panda-kun's "Rocky" dream sequence, complete with raw eggs

Polar Bear drinking single malt scotch (it fits)

The Siamese fighting fish in the preview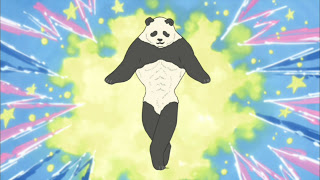 The first half of the episode, Panda-kun on a
diet
, was clever and funny but mostly served to set up the second half when Polar Bear suggested Panda's "
Dream Panda
" looked like a bad guy. I loved everything about the next skit, starting with the "
Grizzly Bar
" and it's proprietor
Grizzly-san
(
Nakamura Yuuichi
, another big name cutting loose and having fun). Grizzly-san tells Polar Bear to get a tan, and Panda-kun to make up his mind whether he's black or white (an indecision that extends to his coffee). Grizzly runs a bar full of
large predators
, and roams the world on his Harley Davidson – a real wild animal. He even serves Panda-kun Irish Coffee – I guess you can get away with showing minors drinking in anime after all, as long as they're minor pandas…
I hope we see more of Grizzly-san, who makes a fine addition to the cast – he even gets his own ED.
ED: "G-Rock"