I confess I'm quite baffled as to where Gundam AGE is headed with this final arc.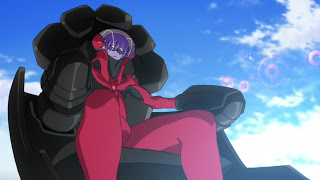 Gundam has, over the years, mostly earned a reputation as an anti-war franchise. In my personal view that's a bit of an oversimplification, but it's more or less correct most of the time (how's that for non-committal?). But with this arc, well – I'm just not sure. I'm still not finding anyone to root for – certainly not Flit, though he does continue to do the heavy lifting to keep the utterly incompetent Earth Federation from being decimated by the nearly as incompetent Vegan. And certainly not the Vagan, who think nothing of murdering countless civilians in the pursuit of Ezelcant's goals.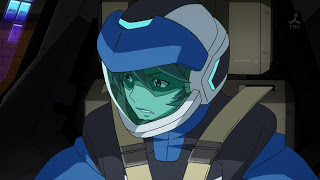 I'm sure I can't have been the only one horrified when Kio blew up a ship full of Vagan and then grinned like he was opening a present on Christmas morning – but the thing is, I'm just not sure I was supposed to. Maybe it's because Kio is so much younger than the first two protagonists of AGE (again, he's the youngest ever in Gundam along with Uso Ewin of Mobile Suit Victory Gundam) or maybe it's because Flit is hanging around him like a vampire, but the whole conflict in this chapter seems grotesque to me. Again, maybe that's the point and I'm not giving the show enough credit – but it just seems to me that there's a desperate need for someone to be whispering in Kio's other ear, an Obi-wan to Flit's Palpatine. It's not as though Kio had any choice about defending his planet – but someone needs to tell him that killing dozens or hundreds of people is something to be mourned, not celebrated – necessary or not. He certainly became annoying at times, but AGE has never needed Asemu more than now. I hope he flies that pirate Gundam back home as fast as possible.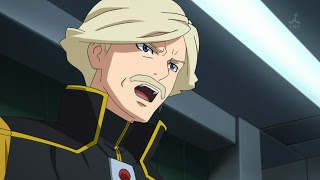 As for the nominal heads of the armies themselves, "pathetic" is the word that comes to mind. Can there have been a more preposterously terrible military commander than Zaeheart? Seriously, he's awful – how many battles has he lost? As for the "good guys" we have a military-industrial complex so corrupt and clueless than it takes a retired hate-monger and a pubescent in a leisure suit to save their home world, and even then they still almost manage to screw it up by sending the aged Diva out under the most useless crew ever (apart from Rody Madorna, thank goodness for Kio). It's a team of seeming misfits and malcontents, under the command of "Captain" Einus Natola (Satou Rina) who only got the call because of nepotism. I feel terrible for some of the characters here – first a "Yurin", and now "Einus"? You'd think for a language with so many words borrowed from English, certain pronunciations would have set off a red flag in the writers room…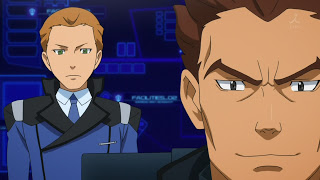 A breath of fresh air in all this is Seric Abis, the mobile suit commander we met last week. As played by Takemoto Eiji he brings a much-needed sensible competence to all his scenes. Maybe he'll even be enough to get Einus through her complete lack of confidence and competence as the ship's captain. With Big Ring apparently destroyed, I suppose it's time for yet another shakeup in the Earth Federation hierarchy and new incompetents to screw up the war, while the same incompetent Vagan will still be screwing up theirs. My assumption is that Kio will be joining the Diva crew, and hopefully without Flit – he needs a chance to hear some different perspectives, even if they are from the unlikeliest crew in the Federation.