Sometimes the term "femme fatale" can be taken quite literally.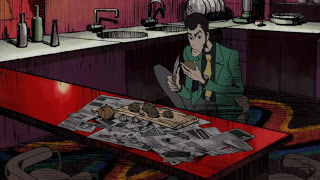 Just a brief check-in with Lupin III this week I'm afraid, as I'm trying to front-load the schedule as much as possible in preparation for Fanime this weekend. I was very interested to see Okada Mari's old pal Nishimura Junji (True Tears, Simoun) brought in to script this week's episode. It's an interesting one, focused on the fortune teller Shitouto Chandler (Taniguchi Takashi) who seems to be able to use a mysterious lithograph to tell people their day of death. This is of special interest to Lupin, as all of Chandler's clients (or victims) seem to be those who Lupin has stolen from in the past – and to Fujiko, who steals the lithograph with the intent to sell it back to Chandler. Also in on the caper is Jigen Daisuke, hired by one of Chandler's victims as a last act of revenge, to get to the bottom of the situation.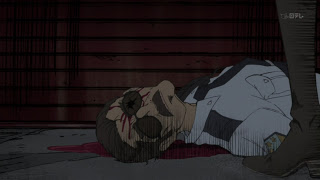 I may be showing my relative lack of knowledge of the Lupin franchise, but I don't remember Count Lewis Yew Armeid anywhere from the mythology. He's apparently the one who who hired Chandler to go after Lupin's old victims as a way of "testing" him to see if he was good enough for Fujiko. Perhaps he's a new wrinkle of perhaps I just don't remember him, but what's certain is that Fujiko certainly does – and the memories are distinctly deep-seated and unpleasant. Equally unpleasant is the way Fujiko puts an end to Chandler, showing that she's as hard as a week-old baguette. Overall this was a solid and unspectacular episode – as usual some really stylish and smart visuals, and it's always nice to see Jigen and Lupin weave their magic together as a kind of film noir Felix & Oscar. Still to be decided – will we have an episode where we don't see Fujiko's bare breasts?