This episode felt like the first time, if you were really paying close attention, that Jormungand revealed the essence of what it is as a series.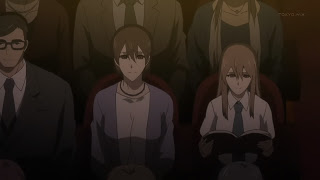 There's a funny quality to Jormungand for me, in that rather than 22-minute episodes weekly, it feels as if things are happening 24/7, and they just happen to have the cameras turned on for this 22 minutes. It's more jarring in the anime than in the manga, where once could more or less pace oneself as they read through the story. What we end up with is episodes that feel like glimpses inside a moving train, rather than full self-contained narratives. It's as if instead of saving up the good stuff for the cameras, we just get what we get – if it starts in the middle of something and finishes in the middle of something else, c'est la vie.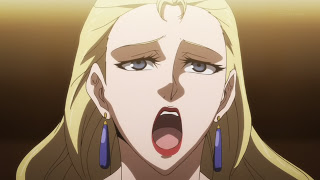 Though an inconvenient gust of wind managed to keep certain secrets under wraps, I still felt as if this was the most revealing episode of the series so far. Certainly, even if Koko's whispered words to Chinatsu weren't audible, she told us a lot about herself. It's a salient point about this show that you really have to listen to what the characters are saying, because they reveal everything you need to know about them, and predict most of what will happen in the series. It's most important – and easiest – with Lehm, because he's the most straightforward and openly philosophical of Koko's army. But it's not limited to him, and as the other two main characters are Jonah and Koko, you should assume nothing they say is a throwaway line. That's easier with Jonah as he doesn't say much, which lends more weight to his rare speeches of longer than a few words. With the boy, you have to watch what he does more than listen to what he says.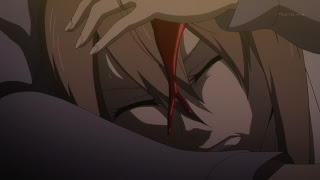 But then there's Koko, with that frozen smile and those panda eyes. I keep hearkening back to the first ep when Jonah asked Lehm why he followed her, considering that he's the strongest, best-trained and most terrifying skilled member of Team Koko. I was pleased they left her speech about how 60% of the world's guns aren't in the hands of the military, but the public – 10% of the world's population is armed – because it says a lot about her mindset. "Modern-day Saints carry assault rifles, and spread the word of God with their bullets." On the one hand she praises Jonah for his kindness – much of it directed towards her – and tells him that he fascinates her because his bullets carry "both coldness and kindness". But with the other she scolds him that kindness is weakness – even kindness directed at her. This entire sequence tells us more about Koko than the first three eps put together – about why Jonah fascinates her, and why she does what she does. This odd education she provides Jonah as the series progresses is quite unique to anything I've read in manga.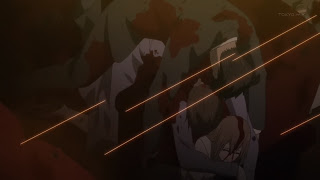 As is so often the case in these sorts of series, the guest players are important for the light they shed on the regular cast as much as for themselves. After considerable buildup last week, Shishio was out of the story pretty quickly – gunned down by Lutz (Hatano Wataru) after a waterside firefight – and a brief flashback to his first encounter with Chinatsu. That massacre at the opera (that's two opera-themed anime episodes in the last week) was pretty outlandish even by Jormungand standards but certainly stamps Shishio as an unabashed lunatic. What was interesting for me was the fact that given the opportunity, Lehm declined to take Chinatsu out – even ordering Lutz not to target her.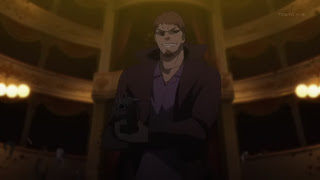 I think the take-away from all this is that there's a difference between what Koko does and what Orchestra does, that for all the seeming recklessness of their lifestyle Team Koko is very, very careful and plans ahead. Whether that means snipers on the roof (which never occurred to Shishio until it was too late) or a deal in place with the local police commander, there's always a plan. The latter certainly came in useful in shielding the team from CIA operative Scarecrow (Ono Yuuki) who has it in for Koko – not that this is anything unusual, as she collects enemies like Mayuri collects Upas. This careful planning also means that she's ready when Chinatsu comes for her, on the roof of the hotel where the team is temporarily confined while the police commander covers up the mess the Orchestra incident created.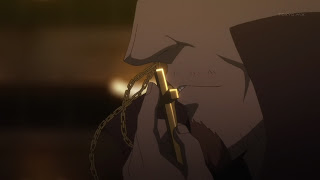 That final rooftop scene is one of those where many, many things are happening at once, some just on the fringes of our awareness. Koko is offering Chinatsu a chance to join her, to be "fed and petted". Koko and Chinatsu are asking each other questions, one seemingly trivial, and the answer to the other drowned out by that gust of wind (but as is so often the case it's the question – as Koko re-states it – that's more important than the answer). Chinatsu is refusing Koko's offer, and dying, and Lehm – who almost never says anything that's not worth remembering – is giving his disciple Lutz a lecture on kindness to match the one Koko gave Jonah, and the difference in their teaching reveals much about each of them. And as Koko is doing what she does – moving on and making the situation work for her – Jonah is standing unnoticed, thinking about the answer that we weren't privileged to hear, but that he was…