List of people not to piss off:
1. Killua Zoldyck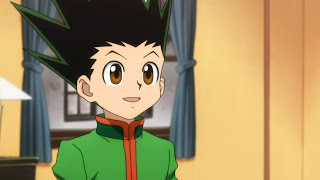 I can't recall the last time I laughed so hard at something non-comedic as I did at the last scene of this episode of H x H. It wasn't so much that it was funny, but it was just so bodaciously awesome – off the charts GAR. This episode was without question Killua's greatest showcase in the anime so far – not so much because he displayed how insanely strong he is, but he showed just how far he's come along in terms of self-control and discipline. Being paired up with Gon has certainly helped, but I don't think it's any coincidence that this maturation has coincided with his taking up Nen.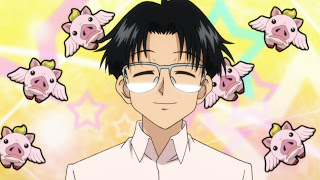 But that's the end, and there was an awful lot if interesting stuff building up to it. In the first place I'm finding this whole Nen thing is something like Youtube – you go looking for one thing, you find it, but along the you find something else interesting and chase it down the rabbit hole, and two more interesting things there… And eventually you've daisy-chained together a ridiculous string of videos and the alarm clock is going off (or more likely, Siri's telling you to wake up). This time we learned about In – an advanced type of Zetsu that allows the user to totally conceal their Nen aura. That is, unless the other person knows Gyo – a powerful Ren technique in which the user concentrates their aura into one body part. In this case the operative body part is the eyes, because that allows the Gyo user to see what would normally be hidden by In.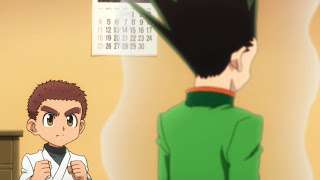 The practical application of all this comes as Wing-san turns to teaching the boys the secrets Hisoka used in killing poor old Kastro (succeeding where the CIA failed 17 times). I believe in Wing's essential goodness, but I trust very little of what he says – because I can't think of a single instance where he hasn't withheld valuable information or outright lied. In this case it was the promise thread he made for Gon – for Gon's own good and safety – which he imbued with his own Nen such that if Gon broke his promise, the string would have broken and Wing would have known about it. But hey, Gon kept his word and so did Wing, and the training renewed with a viewing of Hisoka's fight.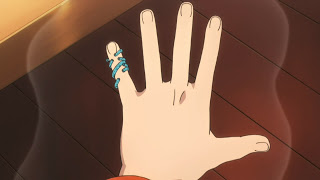 I enjoy the scenes with Zushi and Wing, and not just because Zushi is ridiculously adorable. There's a lot of subtle character interaction going on It's obvious to everyone that Gon and Killua have the talent to surpass Zushi, but the subject is never really raised – Wing is always careful to praise Zushi (and I'm sure it's genuine in that Zushi is clearly even younger than Gon and Killua after all). Killua and Gon never throw their mastery in Zushi's face – they've already developed a sort of big brother relationship with him – but Zushi can see them mastering techniques in a day that he trained on for months, and it's obviously hard on him. This is an unusual sort of relationship in modern shounen anime, and I like seeing Gon and Killua cast in this role, which is a sort of reversal from what we see with Kurapika and Leorio.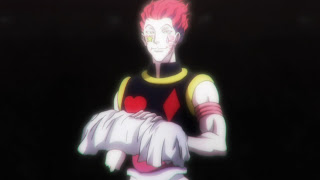 This all sets up the drama of the ep nicely, as the three lowlifes of the 200's decide they're going to use Gon and Killua to pad their win totals – specifically Sadaso, in this case. Gon and Kil are more than willing to fight but they've promised Wing they'll wait till their last eligible day – June 9 and June 10 for Kil and Gon respectively – and it's obvious that Sadaso has been ducking fights for fear of being whupped, and must fight by May 29. Their plot to use poor little Zushi as a hostage to get what they want is rather pathetic, but Killua sniffs it out quickly enough and follows– even offering Sadaso a free win as long as he keeps his word and returns Zushi safely. Sadaso would have been much better off to keep his word, but he gets Gido to threaten Gon using Zushi's shoe as proof they've captured him – and extracts a promise of a fight from Gon, too.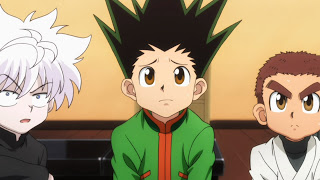 It's hard to overstate just how well this episode demonstrated Killua's growth. Even his simple muttering, "Not killing is hard. This clean living is tough." says a lot about the self-awareness he's developed. Whatever the reasons, Killua is trying to rise above what he was – a killer, plain and simple – yet he still doesn't hesitate to take matters into his own hands when necessary. When Gon and Killua show Wing that they've (naturally) mastered Gyo already, he relents on their earlier fight dates – after they tell him a little white lie about the reason – but Gon is still worried that Sadaso, Gido and Riehlvelt will use Zushi against them. "Don't worry." Killua tells him, simply – and those words tell you so much about where the character is at the moment. I think Killua sees himself as Gon's protector to some extent – though it's not a question of greater strength, but the fact that Killua is willing to get his hands dirty in order to spare Gon from having to do so himself. Kil is willing to walk the darker path so Gon can walk the brighter one – but he still spares Sadaso, not killing him but terrifying him into utter submission. The depth and breadth of the way he owned Sadaso was breathtaking – it was complete and total, and left absolutely no room for any resistance to survive. It was certainly no surprise when Sadaso no-showed for their fight – the one Killua was willing to let Sadaso win in a walkover, had he just not gotten greedy.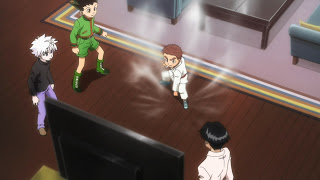 I'll say it again – that last scene and this whole episode is what makes shounen such an exhilarating experience when it's at its best. The GAR was so thick you could have cut it with a knife – and Killua didn't even have to use his knife. Forcing a total submission of will is far more GAR than just killing the enemy, and I think Killua enjoyed the feeling of doing to Sadaso what his brother did to him far more than he would have enjoyed killing him. This is no boy scout, that's for sure – he even went for a sort of chibi gangsta look this episode – but Killua is learning to channel his power in less destructive ways, and I think he enjoyed being able to do so in the compassionate act of protecting a defenseless friend in Zushi. With Gon continuing his own path of unreal growth and mastery of everything he attempts – including Nen – it's clear that these two are every bit as terrifying as Wing thought they could be.
Gon & Killua's Hunterpedia: "Sadaso"