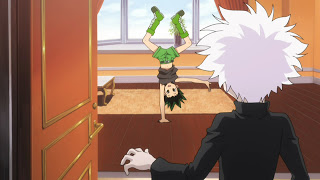 Considering the truly massive shadow Hisoka casts over everything and everyone in this series – our hero most especially – he's been remarkably little in action of late. That's the thing about Hisoka, though – he doesn't need to fight to have an impact, his aura is sufficient to freak people the hell out and get them to effectively behave exactly as he wants them to. His true power is such that he can manipulate people with his presence, and destroy them with his talents. This is a fearsome beast, indeed. So when the time came for him to actually take the stage again, it obviously gets the adrenaline flowing for everyone concerned.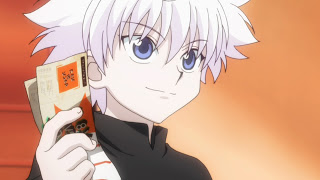 Not least of all that applies to Gon, of course. It's no secret that Hisoka is every bit as important to Gon as Gon is to Hisoka, and it's funny to see how they actually have the same physical reaction now when the other is mentioned (smile, uncontrollable shaking). And the thing is, Gon is afraid of Hisoka – he's not stupid – but it's not in spite of that fear that Gon quivers with anticipation at the thought of fighting Hisoka, it's because of it. With Gon's freakish talent and impeccable bravery I doubt there's ever been much that's scared him, and being afraid of Hisoka is the most thrilling thing he's ever felt. I'm not sure Gon could have smiled when that fear hit him full-force for the first time, during the "final" phase of the exam, but he can now – as witness his reaction when Killua was explaining the details of Hisoka's record in the 200s. His mouth said "I'm in trouble" – but that mouth also sported a grin I doubt the boy was even aware of. As Kil said to himself, "You don't look like someone who thinks they're in trouble."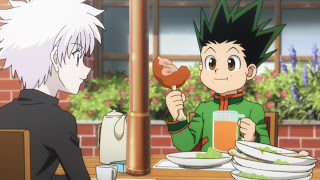 It must be said in Gon's defense that he's taken his promise to Wing quite seriously, and intended to honor it in spirit as well as letter. It was he who suggested that attending Hisoka's match (more on that in a minute) might violate Wing's prohibition of studying Nen – and indeed, Wing shows up (coincidence?) just at that moment to affirm that. When the time came and he was unobserved in his room, Gon turned the TV off – and it's good to see that a promise given in earnest means something to him, and he has honor as well as martial spirit. He also has freakish healing ability (and appetite) too – his body having fully recovered from his injuries in a quarter of the time his doctor suggested. Gon was already a quick healer, and the knowledge of Ten and Zetsu can only have helped that.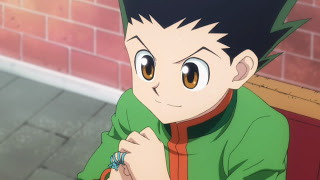 Hisoka's record is certainly impressive – 8-3 with 6 KOs – all kills – and all three losses by forfeit, matches he only registered for to avoid being kicked out of the 200s. What's clear is that Hisoka only fights when it's worth his time to fight – and that's damn rarely – which is why Gon is such an object of fascination for him. These two really are mirror images in many ways, with Hisoka being a dark reflection of Gon – something that can't be lost on Wing, as he trains Gon to fulfill his potential. It wouldn't take much to nudge Gon down the dark path, and Wing surely knows this – but if he doesn't teach him, could he end up learning from someone worse?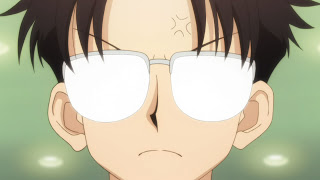 As for Hisoka's opponent, that's Kastro – who's 9-1 record in the 200s leaves him only one win from being a Floor Master (something Hisoka seems to have no interest in whatsoever, just as Gon and Killua don't). The only loss was to – well, you can guess – but he was also the only one to score points against Hisoka. His mysterious ability to disappear fascinates Killua, who sneaks a quick peek at him before the match – though Kastro senses the disappearance of the aura Killua is trying to hide. Kastro seems a pleasant enough fellow, and his mysterious ability seems to serve him well against Hisoka – he scores the first 4 points of the match, and even manages a knockdown.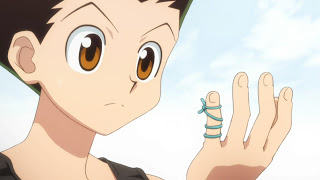 It's fascinating to watch this match play out, even though I have a pretty solid notion of how it's going to end. Even Hisoka isn't quite able to figure out Kastro's ability at first, but as he's taking hits and dodging he's analyzing – and eventually susses out that it's actually a doppelganger – Kastro is creating a double using Nen, which attacks while he hides. It's impressive, though it does elevate the mysticism quotient in H x H to another level – and there are some inherent flaws, not least of which is that it takes energy to sustain a double's existence. Eventually Hisoka seems to let Kastro sever his arm to learn the true nature of the trick – though I suspect this is some sort of gambit by the magician, as I can't imagine even Hisoka surrendering an arm with such casual good humor (disdainfully using it to scratch his back was classic Hisoka). As I said, I'm pretty sure I can guess how this is going to end (nice knowin' you, Blondie) but the interesting part will be seeing just how Hisoka finishes the job. He summed it up pretty well in his own words – "You'll have my best shot when I deem it necessary." Chilling, and very Hisoka – and I suppose Kastro deserves credit at least for having Hisoka decide he was worth killing.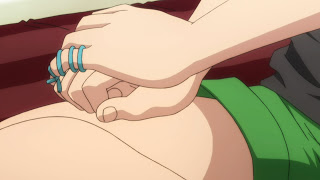 Of Kurapika there was nary a word this week, so one assumes he's off training in the woods somewhere. In hindsight, it does seem coincidental that both Gon (and Killua, by association) and Kurapika found teachers of Nen at just about the same moment. Is it possible, I wonder, that Wing's master is in fact Netero, and this is all tied in to the true final phase of their Hunter exam? Given the mind games that are always at the heart of this series I certainly wouldn't be surprised if that were the case, though I wouldn't swear to it – though I would to the fact that Wing definitely knows a whole lot more than he's letting on.
Gon & Killua's Hunterpedia: "Riehlvelt"