Why do I get the feeling that this series just started?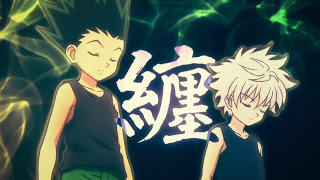 Every time anime blogging begins to feel a little too much like work (and I know I'm blogging too many shows this season) it's Hunter X Hunter I crave, because it's like a vacation. This show is just too damn easy to love, interesting and subtle without being too much work to watch and analyze. It's just fun, in the same way Rurouni Kenshin and Hikaru no Go and FMA are fun – they're all dark and serious at times and smart all the time, and some of the best-written series manga and anime has to offer – but the experience of reading or watching them is exuberant and they invite you inside their worlds like few series can. That, for me, is the most fundamental and elemental and instinctive experience as a fan of the medium – that's what truly great shounen can do like no other genre can.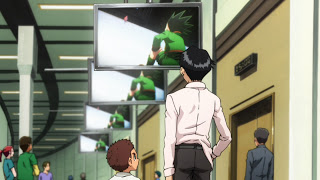 This was a truly great episode on so many levels, even though in terms of raw action it can't compete with some of the most thrilling H x H eps. The sense in watching it was that worlds were colliding, that greater forces were in motion and truths were slowly being revealed, and that everything was about to change in a big way. It takes talent to get that across without spelling it out, but 30 episodes in I feel as I'm getting to know Togashi-sensei pretty well – in fact, I sometimes feel as if he's including hidden messages in every episode, and when I spot them he's chuckling and winking at me and asking "What took you so long, Baka?" And this episode was chock-full of those secrets and winks, and when the tense and exhilarating 22 minutes drew to a close, the phrase that kept entering my mind was "buckle up".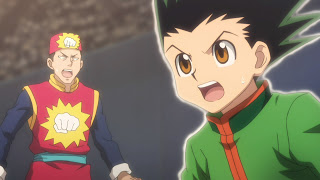 What stands out? Well, what doesn't – starting with Hisoka's reaction when Gon spontaneously used his Zetsu in the midst of his match with Gido. That arm shaking, that 0 K grin – there can be no question that in his own way, Hisoka adores Gon to the point of obsession. He sees what Wing sees – a beast, still a baby just learning how to walk, but with potential that's terrifying to contemplate. Except for Hisoka, Gon represents the ultimate thrill, a challenger that he can wait for and groom and a coming battle he can anticipate and savor for as long as he's willing to be patient. I still feel as if boredom is Hisoka's greatest enemy in life, and in Gon he sees the 4'10" embodiment of bordeom's enemy – the one he's probably been awaiting for years, the one who can both entertain and challenge him at last. And in setting himself up as Gon's great nemesis, he has the boy exactly where he wants him – for maximum entertainment, Gon needs to be as obsessed with Hisoka as Hisoka is with Gon.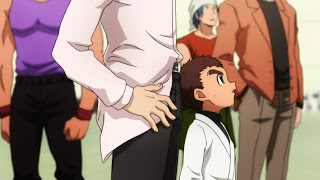 As for Wing, my feeling more and more is that he's another one of those tip of the iceberg characters. The theme of the unseen world is very prevalent in H x H, I'm finding – and in Nen, Togashi has found his perfect metaphor. What we see in this world is only a tiny fraction of what's really there – characters say things they don't really mean, and the truths they tell you are Trojan horses full of unspoken lies. Our heroes passed the grueling Hunter exam (seemingly) without having a clue that Nen even existed, despite the fact that for those with real power in this world it's the only weapon that matters. Wing started his training of the boys with a lie, carefully seeded with a grain of truth, and he's certainly not telling them the whole story. The gripping question with him is certainly this: who is Wing's master? Is he someone we've met, or an unknown? Wing seemed genuinely concerned for Gon, and angry with him for his reckless behavior (I loved the fact that he and Killua used the exact same language to chastise him) but he's clearly a man holding many secrets, and some of them likely dark ones.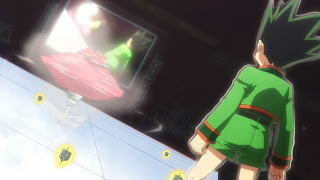 Another outstanding impression this week is the depth of the friendship between Gon and Killua. Take, for example, Killua's refusal to train until Gon serves the two-month "suspension" Wing imposed on him (and I believe this promise, solemnly given, Gon will honor), despite Wing's offer. Even the two-months' number (vital for Gon's ability to stay in the 200s) is a favor from Killua and a lie, as Gon's Doctor told him it would take four months to heal from the broken bones Gido's tops gave him when he used his Zetsu. Gon is as ever a vexing character – his recklessness seeming to have no end, yet equally so his talent. For him to have taught himself Zetsu on his own while hunting Hisoka, without even realizing it, is perhaps the most astonishing thing for Wing, and the most thrilling for Hisoka. Gon's willingness to sacrifice his body just to try and learn his limits in the Gido match is either incredibly brave, incredibly stupid or both. Killua no doubt understands him better than anyone, but even he's beginning to realize that Gon's mind works in ways that aren't totally visible to him.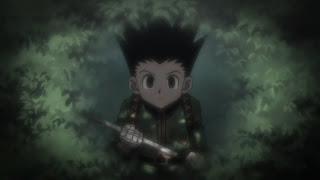 As if all that weren't enough, we finally have the circle closed on the Hunter exam, and the full extent of just what Satotz meant when he said the exam wasn't really over. As the new "Hunters" stumble around half-blind, with no idea that the massive power of Nen is all around them, I suspect the last phase of the exam is simple – will they survive long enough to see that hidden truth? A fool with no Nen and a Hunter's license must be an irresistible target for every nefarious Nen user on the planet, and stick out like a sore thumb. Gon and Kil (though he's no Hunter) have found their truth in time, seemingly, and now it's Kurapika's turn – rejected at the Hunter employment agency because of his blindness. He seems to have found his Sensei in the scruffy-looking but formidable man called Mizuken – a man who either takes pity on him, sees potential in him or seeks to take advantage of him – I can't say which for sure, but I can say that he thoroughly outclasses Kurapika and could have kept the stolen Hunter license if he'd chosen to, with Kurapika helpless to prevent it.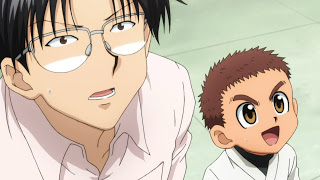 If indeed the first 29 episodes were basically the prologue, it was a hell of an introduction – but that's definitely the feeling I'm getting. The onus is on all of the new Hunters to have their eyes opened before it's too late – which of course makes me wonder what Leorio is getting up to, studying for those exams. It's not just in Heaven's Tower that great dangers await those who aim too high without being prepared for what they'll face, and I suspect none of the survivors of the exam will need to seek out mortal danger – it'll find them soon enough if it hasn't already. Netero and his cohorts are certainly cold-hearted bastards, guarding membership in their fraternity so zealously that they'd turn these innocents loose upon the world without a clue of what awaits them – instead of giving them a license, he may as well have just painted a bulls-eye on their backs…
Gon & Killua's Hunterpedia: "Hunter Agency"