I dare anyone to watch a few episodes of this show and not love it. Because if you don't, your cold, dead heart has surely shriveled to the size of a prune.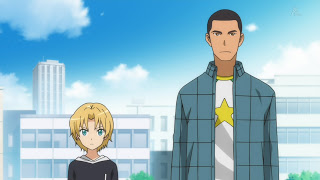 I can say after 7 episodes that Ginga e Kickoff pretty much as every base covered (sorry, wrong sport analogy) as a sports series. It's funny. It has lovable characters. It's well-animated, with a great soundtrack and cast. It's insanely fun. And it gets the sports pretty much just right. It's the kind of soccer anime you can love even if you're not a soccer fan, the kind of sports anime you can love even if you're not a sports fan, and one you'll love even more if you happen to be either or both of those things. If you are, shame on you if you're not watching this – and for that matter, shame on anyone who isn't watching it. It's your loss!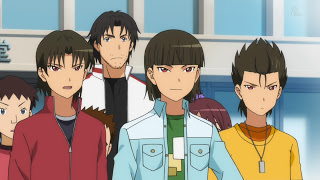 I confess I didn't expect to hear "Hey – don't eat the triplets!" but Ginga does have the ability to surprise. The humor in this series is often like that – it comes out of left field (damn, are all my metaphors baseball-related?) and scores points for being unexpected. I was also intrigued to hear Furuya Ryuuji's comment to Kaguera that "All countries with Emperors are doomed to fall" – it seems like a very interesting choice of words for a Japanese audience. Kouta continues to be the most interesting of the Trips for me, though. The revelation that he hates Takuma Aoto-Gonzales because he scored three goals in their championship match the year before doesn't speak to well of him. Petty jealousy is an ugly thing.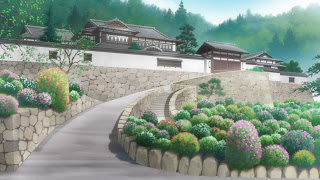 The object of much of Kouta's derision is Reika-chan, fully supported by Shou and Erika but getting no love from the Triplets. I thought Kouta's comment that the team was "bearing a heavy burden" was especially petty and mean-spirited, but Reika fortunately isn't the type to give up easily. This ep was really more about fleshing out (sorry, but it's the only word that fits) her character more. She's an ojou-sama, with a detached but pleasant mother who seems content to leave most of the parenting to the housekeeper Matsushima-san. That's a good thing, as Mama thinks her little girl is taking piano lessons while Reika is actually practicing soccer, and Matsushima-san is covering for her.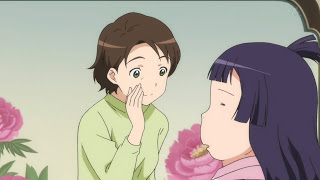 Again, this is an area where GeK scores major points over Area no Kishi. We get to see just how hard this is for her – not just the abuse she takes from Kouta, but how physically hard it is for her to keep up with the other kids. How hard it is for her to not be afraid of the ball, and how scared and embarrassed she is about letting everyone down on the pitch. I really think this is a rare and positive thing in anime – an overweight kid not played for laughs, whose quest to get fit is neither miraculous not comical but a relentless, difficult slog. The Furuyas can be hard to love and never more so than when they make her life difficult, but that's the reality of school life and youth sports.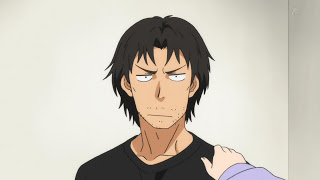 Speaking of, the soccer in this series generally and this episode generally is excellent. In the first place Masaru-san is a terrific coach – he knows the game, but he also doesn't smother the kids with too much strategy and technique. He delicately spares Reika the embarrassment of playing before she's ready and give all the players a chance to play every position in practice (you can see the joy this gives Shou, who's no doubt been pigeonholed as a defender for his entire playing life). Masaru let's the kids be kids, giving them basic formations to work on and then letting Shou – an alarmingly bright little field general – give direction on the pitch. And the formations are perfectly realistic, too – "Yoi", the all-out downfield attack where everyone gets involved and movement is free-form. "Big Tri", where the Furuyas form a triangle and pass the ball in order to stretch the defense and clear shooting angles. And "Build", a sort of FC Barcelona style where the team keeps possession through short, continuous passing and slowly works their way up the field. And as for Reika, it's Shou who's able to show her a way she can help the tem now – be a "wall". It doesn't matter if you can't stop the opponent – be in the right place and slow them down just enough. Her time to do more will surely come soon enough.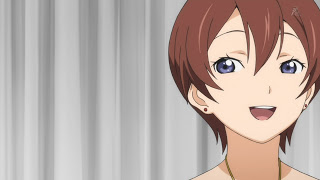 Another element of this ep that I really loved is seeing the kids too excited to sleep the night before their first match. I flashed back to my baseball days, and how excited I was the night before a game – that's exactly what youth sports should make a kid feel like. And how great was it to see Haruka-san tell Shou she was proud of him for being the Captain – the "Prime Minister" as she nicknames him? It's damn rare in anime to hear a parent tell a child they're proud of them – and I like the fact that in this series Shou actually gets some reward for being such a good kid (he'll be earning that praise trying to keep the Furuyas playing as part of the team, I'll wager). If I seem to be praising a lot it's because I'm nuts for this show – it's rare to see a series that just gets everything right, and one that's so good-hearted and positive at that. I love Urobuchi Gen, but it's great to have a series that just makes you happy, too. If there's any show that can turn that desiccated prune back into a heart, this is the one.