I'm afraid I have to rethink all that good stuff I said earlier about Ginga e Kickoff. It's actually better than I thought.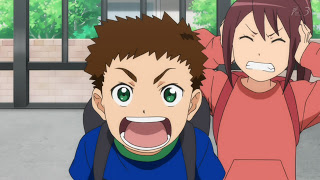 I'm about to pay this series a very high compliment indeed – this is the first show in years that makes me think of the first season of Major. I'm not going to put it on that level yet, but even to invite the comparison is a huge achievement in my book, because I hold that season of Major (a show I like an awful lot generally) in the highest regard. Shou is filled with what the Japanese call martial spirit – the stuff they hang up carp streamers and bathe with iris leaves on Boys' Day to pray for. Shou's very different from Honda Gorou in many ways, but what they both have is a sense of enthusiasm and determination that's not only unstoppable, but sweeps you up with it. That's the secret ingredient of a great kids sports anime, and Ginga has it in plenty.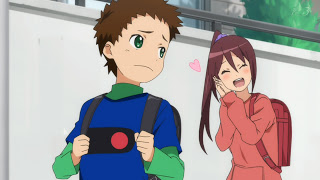 I joked on ASF that Shou would convince Masaru to become the Marauders (Dandelions?) coach by "sinking his teeth into Masaru-san's ankle and refusing to let go until he agrees to his demands." I was only half-kidding but the truth turns out to be closer to that than even I expected. As it turns out Masaru indeed has good reasons to be reluctant, though it's not quite what I thought. He was a star striker who had to retire from his team due to a back injury just as they were promoted to J1 (Japanese First Division) – which is about what I guessed. The surprising revelation was that he was the coach of an elementary-school team afterwards, and blames himself for the serious injury suffered by one of his players.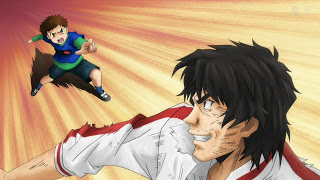 That's a serious issue, of course, but I love the combination of seriousness and mirth the show went about "the hunt" with, starting with the suggestions for changing Masaru's mind: having Erika-chan kiss him (Shou – serious) and blackmail (Erika – kidding). Ultimately it comes down to Shou sinking the figurative teeth into the proverbial ankle – the boy simply doesn't know when to give up. He gets surprising assistance from Kyouko – who sees that this is something Masaru needs – when she cleverly uses a sumafo app to report Masaru's location to Shou at all times. The chase itself is hilarious, including stops in the pachinko parlor and the men's room ("He forgot to wash his hands!")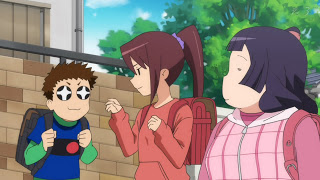 Last time I said "Ginga may not surprise you with its plot too often, but it'll make up for that by surprising you constantly by how damn good it is" – and this ep is the perfect example. I wasn't surprised that Shou would be camped outside Masaru's apartment when Kyouko arrived – it was the only thing that felt right. Likewise that Erika finally "womaned-up" and realized that Shou was doing all the work, and she needed to help him out. It was clear in the pick-up game that the Furuyas cooked up to show Masaru their skills that the "Oji-san" still had a love for the game – and never clearer than from his reaction to the pure joy Shou displayed when he outleaped one of the Trips to score on a perfect header. This game also featured the best-animated pure soccer moment I've seen – when Masaru killed Kota's shot with the sole of his boot, teed it up and unleashed the "Lightning Light". It was the most natural-looking soccer play I've seen in anime.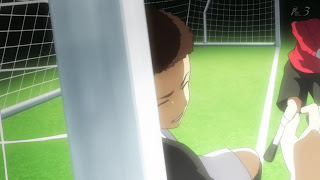 Given all that, it can't be any surprise that (after one final Benny Hill-style chase) Masaru finally gave in – it was fate. But once again Ginga went right where I thought it should, with the Triplets insisting that Shou be the Captain (his first decree – "We'll be the best in the galaxy!"). It's a role he's not only earned, but proved his best-suited for – the Captain isn't always the best player, but he or she should always be the heart and soul of the team, and it would have been criminal for anyone else to wear the armband. With Shou's persistence so satisfying rewarded, the series can now turn to filling out the rest of the team – the 3-U will surely rejoin, and I think we can count on blondie Takuma Aoto-Gonzales – but it finally struck me who that other girl in the OP is. Could it be… Reika-chan (Tazawa Riiko)? That would make yet another fun and interesting turn, if so.