It can't be easy, believing you're God.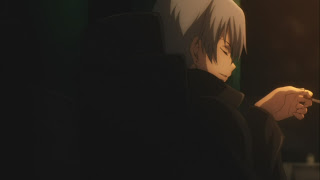 It's a given that anything written by Urobuchi Gen and animated by ufotable is going to be good, at the very least, and interesting too. Add voice talent like Rikiya Kamiya, Miyu Irino and Watanabe Akeno and you're obviously going to get authentic and emotionally complex performances. So there was never any doubt, really, that this two-part flashback was going to be slick, well-made and altogether admirable. My question, though, is whether it can be termed successful as a component in the series. And I guess the answer depends on what you think its purpose was.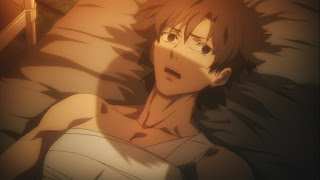 We'll get back to that question, but I think I need to begin by saying that whatever you think the answer is, and whatever you think of the character, putting Kiritsugu's backstory as a two-parter at this point in the series feels like a misstep. There are a couple of reasons for that, the most obvious – though no less significant for that – being that it disrupts the narrative flow of the story for an extended period at an extremely crucial time. We've been building a typically elaborate yet elegantly logical Urobuchi plot for a season-and-a-half, and if I'm going to be torn away from it for two full episodes it should be something that fundamentally changes the dynamic of the story. And even then, I'm not so sure I'd want to see 15% of the season dedicated to what's effectively a side-story.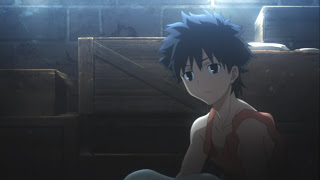 And there's the second reason I see this as a problem, and it's inseparable from the question of whether this diversion was a success. I don't really see this as changing Kiritsugu's role in the story in any way, and I don't see it changing our perspective on him as a character in any way, either. Certainly it's interesting (in a vacuum) to find out how Kiritsugu got to be the way he is – he's obviously a complex and tormented soul. But we pretty know how he is – we know his underlying principles and goals, and the way he views every situation in life. Did we see anything in the wayback machine that changes that perception? Not for me, at least. I have a better idea of why Kiritusgu is broken – but I already knew he was broken, so no matter how interesting that is, I don't feel as if it was worth the extended detour it commanded. Not this far down the road, anyway. If this had occurred in the first season – or even as an OVA between seasons – it might have come early enough to cast Kiritsugu's S2 persona in a subtly different light, and it wouldn't have been as disruptive.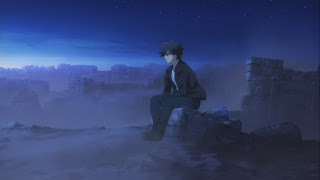 Of course any episode of any series needs to be viewed as a self-contained entity as well as for its place in the larger whole. In that respect, the second half of this story was definitely stronger than the first, for me. Ei Aoki has proved himself a wonderful director – to be so successful with series as different as F/Z and Hourou Musuko proves he's a major talent – but I felt last week's episode wasn't his best work. Part of the problem was that it felt half-heartedly written by Urobuchi's high standard, but the pacing was also off, and the moments that should have greatest impact felt oddly flat. This episode felt much more like Fate/Zero to me – Even if there was still a little "monster of the week" quality to Odd Varzak and his bees. The dialogue was layered and full of subtext, and there were several camera shots during the episode that absolutely blew me away. It was Urobuchi and Ei-sensei back on form, which is an impressive thing to see.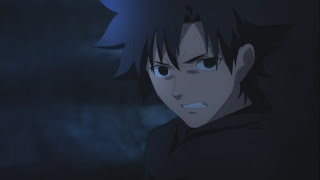 Of course the episode is centered around its ending, with everything leading up to it designed to give it greater impact. I imagine that even among the anime-only viewers, I'm probably not lonely in having figured out the ending as soon as the situation on the plane became clear. There was a moment where I thought, "he wouldn't" – and then I saw Kiritsugu get into the boat and heard him say he had a solution, and I remembered this was Urobuchi-sensei we were talking about – and the die was cast. That's fine, because a Greek tragedy is still a tragedy, even if there's no surprise in the ending. Natalia probably suspected it herself, on some level – she knew the boy she'd raised better than anyone. This was the key exchange of the episode for me:
N: "You had too much potential. Far too much…"
K: "What does that mean?
N: "The ability to cast aside your feelings and pull the trigger is a skill most killers take years to develop. You've had it from the start. It's a hell of a gift… If you think only of what you should do, and neglect what you want to do, you're merely a machine – a force of nature. That isn't how a human being should live."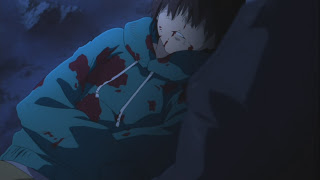 A very telling exchange, there – and fascinating that a cold-blooded assassin like Natalia could see that Kiritsugu fundamentally lacked something – a filter, a restrictor plate, whatever you call it – but she knew. She knew that someone who blindly follows an ideal in any situation, thoughtless of anything else, wasn't a complete human being. She feared it because of what someone like that might do, but even more so because she knew that someone she loved could only be miserable in the end if he chose to live his life by that model. The final conversation between Natalia and Kiritsugu was typical Urobuchi brilliance – sad and powerful – but as it relates to to Fate/Zero as a story, that exchange was the part that really mattered.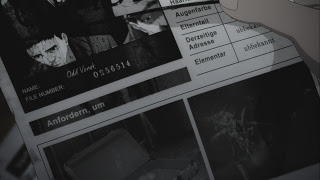 So again, in the end, we always get back to this – did these episodes change the way we view Kiritsugu, and was it worth it if they didn't? Speaking only for myself, my opinion of Kiritsugu hasn't changed. I don't hate him more for what he did to Natalia – it's exactly what I would have expected him to do – but neither do I feel the remotest increase in sympathy for his position. I certainly pity him for the misery of his existence, but I already did to some extent – and I only feel more strongly now that he's the most dangerous person in the Grail War, because he's made himself a God. His entire philosophy is built around the notion that only he knows what's best for humanity, and that he can never be wrong. Kiritsugu learned a lesson from the trauma of his youth, but it was the wrong lesson – and he's spent the rest of his life punishing himself for the very human mistake he made as a child. He's a tragic, forlorn figure worthy of pity – but he's no closer to being wise (and no less terrifying) than he was before this window into his past was opened.