A list of the series Koyama Shigeto has worked on is a veritable Hall of Fame for modern anime.
Seirei no Moribito
Neon Genesis Evangelion
Tengen-Toppa Gurren Lagann
Eureka Seven/E7 Astral Ocean
Ghost in the Shell: Stand Alone Complex
Oreimo
Panty & Stocking with Garterbelt
Star Driver
Heroman
Michiko to Hatchin
There are certainly artists with longer resumes, but I can't think of one with a better batting average. Even the shows on that list I don't consider classics are visual standouts. Today's panel was focused on the character design side of Koyama-san's career, though he did touch on the mecha design side as well.
What an amazing experience this was. I was seated in the front row in between someone from Viz and somewhere from Pixar, there as guests of Koyama-san. He's a tremendously funny and unassuming person – obviously passionate about what he does, and a huge fan of American animation as well. Basically, he had his laptop connected to the monitor and the audience got a chance to see everything on there – the original rough sketches from Star Driver, proofs of the magazine cover drawings he recently did for Ayanami Rei and Asuka Soryu Langley, sketches with editor's feedback notes – you name it. Sadly Koyama-san asked that we not film or photograph any of the images, but it was quite a trip. He even hopped onto the net to show us examples of points he was trying to make, occasionally pulling up some hentai by mistake (which drew quire a reaction every time).
In between chugging Five-Hour Energy and doodling (that's Panty he's working on in the video, and Spiderman in the left of the threesome) in Photoshop, Koyama-san had many insightful things to say:
In anime, the most important element in character design is the hair "(80% of the time, hair is key.") You must be able to differentiate the characters by hairstyle, and be able to do so in silhouette.
Don't waste time detailing stuff like shoes too much, because the audience will hardly ever see them.
The silhouette and the hair color is the way he tries to establish a character's personality.
When he was doing the character designs for Stan Lee's avatar in Heroman, Stan became upset because some of them had him angry or scowling. He insisted that Koyama-san only draw him smiling, but Koyama-san sneaked in one with a frown so his director wouldn't reject them.
When a character's hair curls inward towards the center of the face, they're an introvert. Among the examples he cited were Joey Jones and Ayanami Rei.
When a character has their hair clipped or pinned, that reflects that they're holding a part of themselves in check. He cites Eureka and Anemone as examples, but notes that Eureka took off her clips after her relationship with Renton liberated her, while Anemone never did.
When a character's hair is completely wild and unruly, they're a free spirit. Examples: Psy and Holly.
When a character's hair curls outward, they're generally an extrovert.
When he designs mecha, he thinks of them as people rather than machines (citing Wall-E as the ultimate example of this in American animation).
When he was designing Samekh from Star Driver, the motif he used was a castle with a golden crown.
Samekh was the largest and probably most detailed mecha he's ever designed. He felt the need to apologize constantly to the animators for the excruciating levels of detail he used in its design.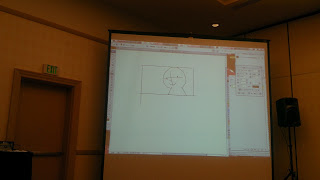 Astonishing Detail
Afterwards, there was another raffle – and this time I got lucky. I won a signed copy of Koyama-san's doujin "Blue" from Heroman – featuring Lina and the other characters. It's signed on the back, with a greeting and drawing of Joey Jones. Pretty awesome, I must say. I'm not a huge fan of the series as a dramatic enterprise, but the art is a fascinating blending of American and Japanese styles. It's obvious that Koyama-san takes a lot of pride in Heroman, because it's the one series where he was the exclusive character designer, and he's drawn a couple of doujinshi to further explore the visual styles of the characters (including "Yellow", which Arabesque mentioned in the comments of the previous Koyama post).
Sadly Koyama-san was having so much fun with his laptop there was no time for Q & A, so I didn't get a chance to ask him what work he did for Moribito. Next time!
| | | |
| --- | --- | --- |
| Greetings from Joey | | Chug! Chug! Chug! |