No, it's not Independence Day or Guy Fawkes Day – that noise you hear is the popping blood vessels of Zetman manga readers everywhere.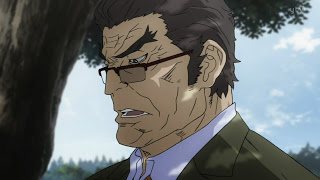 Welcome to another time skip, which as far as I can tell encompasses about 35 chapters in addition to two years on-screen. Again, I'm glad not to be a manga reader here (though I suspect I will read it once the anime is done) so that I can at least try to appreciate the anime without apoplexy. And while I would rank this as the least compelling of the four episodes so far, I still do appreciate it – I think Zetman remains a very solid superhero anime that really understands the genre that it's paying tribute to.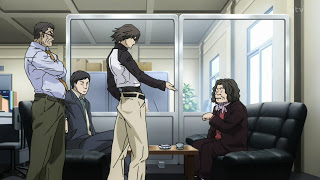 In addition to the nuance of character that's lost with this insane pacing, there's some context lost too. For example, I have no idea who The Sweeper (Koyama Rikiya) is really, if I'm supposed to or not. His role – self-appointed or not – seems to be to act as a sort of vigilante/beat cop to make sure the Players don't get too far out of line (and, I suspect, draw too much attention). He's obviously quite powerful as he takes down the Player who'd given Jin his share of trouble with no problem – and Jin appears to be his next target. Nor do I have any idea why Mitsugai appears to be so obsessed with Jin's zet form turning red, or why Hayami is so obsessed with egging Kouga on in his playing at superheroes.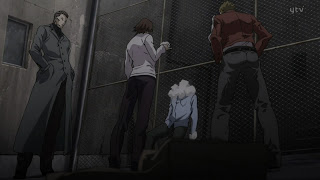 In spite of that, the superstructure of the story is still pretty apparent, and I guess this is just about the only way to try and adapt a huge manga into 12 episodes and give it a real ending. Jin appears to have a love interest at last (which was inevitable) in Tanaka Hanako (Ise Mariya), who stumbles on the latest act of murder by a Player gone wild, this time the one Inspector Sayama is calling "The Sand Monster". Hanako looks more than a bit like a young Akemi to my eye (though that could just be Katsura's character designs) and seems like a genki type, and smart enough to sense that Jin is her best chance at protection in this mess she's gotten herself into. And indeed, it's in his saving her from the Sand Monster that he draws the attention of The Sweeper onto himself, with unknown consequences.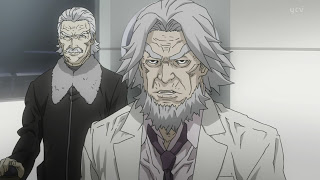 I'm just wondering how many different distinct interest groups are fighting it out here. Mitsugai seemed quite happy when The Sweeper showed up, but that could just be due to the fact that if the Sand Monster hadn't been killed, Jin would apparently have overloaded or something – perhaps this is the result of chewing the foul-tasting "Zet activating gum" he'd been given, as he was unable to turn human again until the Player was dead. From Jin's perspective the challenge seems to be keeping himself isolated and avoiding putting a target on the back of those close to him – he keeps bumping into old friends like Konoha and Sayama and making new ones like Hanako. Jin, despite his rugged exterior, clearly isn't especially keen on being alone all the time. I know this would be much more poignant if we were given all the time the manga has to develop the relationships in his life, but a sense of that is still getting through – and that's providing the main emotional connection of the series. As long as I focus on what the show has and not what it doesn't, Zetman remains an enjoyable ride for me.