Trying to get a handle on this series is like trying to hit a moving target.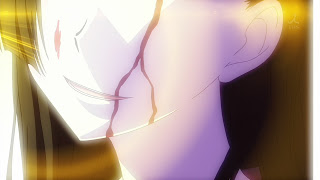 Sankarea is another one of the weird but fascinating shows this season, quite unlike anything else I've seen. Sometimes I find myself wondering, "Can this possibly be DEEN?" as I watch the gorgeous landscapes and spectacular character animation – not to mention that we got an actual SHAFT head tilt this week, in case anyone was still in doubt about that connection. And now that I think of it, how is it that zombies can blush, exactly, without any blood circulation? Do the laws of moe trump all?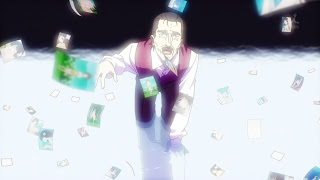 Mostly though, the issue is that every time I feel as if I'm close to getting at what this show is really about, it completely changes course and leaves me in the dust. There were some moments this week that were as close to the kawaii factor of Denpa Onna – which probably sets the modern standard for adolescent cuteness in recent anime – as I've seen. But many of those moments involved a girl who'd just died a horrible death, escaping her abusive and demented father by getting her intestines ripped out of her body falling from a cliff. Then there are the supporting cast – Wanko, who's exploited for fanservice at every moment. Mero, a sort of classic snarky imouto who's being played by Iguchi Yuka as an exact vocal clone of Chihara Minori's Chiaki from Minami-ke. Grandpa, an over-the-top slapstick ojii-san (who may be a zombie himself, as he eats hydrangea leaves). And Chihiro's two friends – the oversexed and obnoxious Yasutaka, who plays like a reject from a bad 90's school romance, and the absurdly feminine Mogi, who I'm really beginning to think might be a trap because really, could that actually be a guy in high school?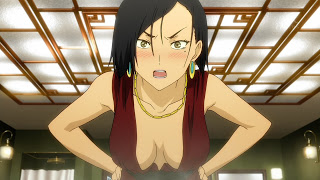 The point is that I can't make them all fit together – the characters in this series feel like they were plucked from six different anime and thrown together in a box to see how they'd interact. And the tones of the series are no more consistent, as each cast member seems to carry their own mood with them like a fog bank – Dan'ichiro's menacing sickness, Aria's bitter, alcoholic rage, Rea's innocently sexy sadness, Chihiro's offbeat teenaged-boy fetishism. What's strange is that this all somehow works, though whether that's in spite of the dissonance or because of it (I suspect the latter) I'm not wholly sure.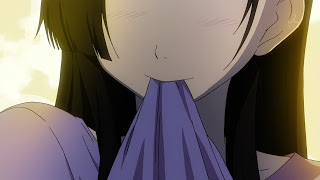 A good example would be Rea's shower scene. It makes us uncomfortable because she's a zombie, and we know it – yet she's quite natural in marveling at the nature of a working-class bathroom, and hilarious in trying to figure out what a loofa is for. No, it's not for exercising boobs – but all of the different reactions that action conjures in the audience are remarkable. At the very least it's a clever and stylish visual touch, which the series is full of – like Mogi sliding down the embankment to sit next to Wanko – but we also get extremely disturbing imagery like Rea sewing her guys back inside her body and smiling because it doesn't hurt.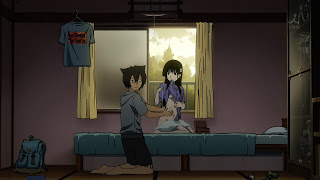 Fundamentally, the most challenging question the series asks of us is what we make of Chihiro's fetish, and his current situation. Finally he confronts this head-on – nosebleeds at the thought of having a zombie girl in his room at last (and a sexy one at that). When she began to put the moves on him though, was some small part of you wondering if she'd take a bite out of his face instead of kiss it? And what if they had kissed (curse you for interrupting, Wanko!) – what would that act represent, and what would we feel about it? We have a boy with a zombie fetish who has a sweet, beautiful dead girl in his bed – and rigor mortis is setting in. Don't get too comfortable, Chihiro – or audience. What is his responsibility here? He certainly caused this to happen by trying to raise Babu, but he just as certainly had no idea that Rea was thinking of using the potion herself. And then there's the matter of psycho-Dad (Ishizuka Unshou at his creepy best, giving us a great Yin/Yang of performances this season with this and his superlative Lehm in Jormungand) declaring his intent to revenge himself against Chihiro, and take Rea back into imprisonment.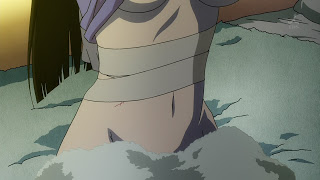 The mechanics of the story actually seem almost predictable compared to the character side. It seems obvious that Rea will need to eat hydrangea leaves to stave off the decay of her body – Babu seems to have known this, animals having better instincts than humans even in death – though what this implies about Grandpa isn't clear (nor is the question of whether him misremembering his late wife's name is a joke, or important). Babu seems to indicate that there's a settling-down after a few days of zombiehood, based on the fact that his eyes returned to normal, and there's no indication that the dead need to feast on the flesh of the living here (I really hope not). The most interesting practical question for me is Rea's "living" arrangements – Chihiro can't keep her a secret in his room forever, and that's not even considering her father's interest in getting her back. However all that plays out, I think it's a safe bet that it'll be entertaining, disturbing and emotionally impactful.