The more things change, the more they stay the same.

OP: Zutto" ("Forever") by Tomohisa Sakō
Japan's five most metrosexual teen boys are back, and that means more slumber parties, more random cat shots, more genki Irino Miyu, and quite a few laughs. This series does for male slice-of-life what Ookiku Furikabutte did for sports manga – presents idealized teenaged boys drawn from an obviously female POV – but as was the case with that series, that's not necessarily a bad thing. Both shows are entertaining (Oofuri is quite excellent, in fact) and while it's nice to have an occasional show like Danshi Koukousei no Nichijou to offer a more authentic male perspective on high school, Kimi to Boku is certainly likable and fun.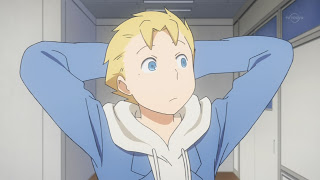 I didn't always find it that way, as you'll know if you read my early-season posts from last year, but there seems to be some sort of nexus point (for me it was probably the arrival of Chizuru) where your resistance wanes and once you accept the strange frame of mind this series puts you in, it becomes almost engrossing. Very little has changed from last season, it seems – this is still very much a slice-of-life, the lads are still sensitive and gender-neutral, and the humor is still fairly sharp. I think Chizuru is a bit of a divisive character among the viewers, but for me he's essential to add some vibrancy and energy to this incredibly low-key cast – and I think Miyu-Miyu has really nailed the genki boy character in a way no seiyuu has done before.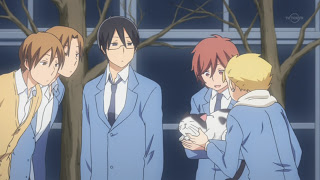 Some of my favorite moments from the premiere: when Chizuru told Kaname's Mom she'd "make a fine wife someday". I also loved the sequence when all the seiyuu did their Toyonaga Toshiyuki impersonations (Ono Yuuki's was the best, but that might just be because it was written that way). The sequences with Kaname-mama were generally quite funny, with Uran Sakiko providing a solid comedic performance especially in the eavesdropping scene– though some of her dialogue was a bit hinky, even for this series ("I might have a chance"?). And indeed, seeing Chizuru with his hair wet was worth a few laughs on visuals alone.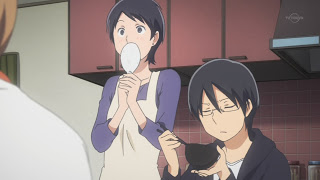 I won't speak for anyone else, but this show certainly isn't all that relatable to my high-school experience – we didn't peep on each other in the bath during sleepovers, that's for sure – though there are definitely moments of universality like the trip the convenience store, with Chizuru's exuberant "We're staying up all night!" that ring true. I really imagine (and this may be as idealized a view of the female POV as I think the show is of the male) that this is how women imagine teenaged boys act during sleepovers – saying sweet things about their brothers, peeping at each other in the bath… It's exactly the same feeling I got with Oofuri, that this was how girls imagined the camaraderie of high school ballplayers. It's really an interesting thing to speculate on who the target audience is here, since the manga runs in a nominally shounen mag whose most popular titles are the likes of Kuroshitsuji, Pandora Hearts and Nabari no Ou. Well, whoever they are, they're getting a pretty decent show – and even as idealized as these guys are there still aren't many school life shows about high school boys of any type, so Kimi to Boku is nice to have around.
ED: "Kimi to Boku no Banka" ("Elegy of You and I") by Yū Sakai