While there was an awful lot of mystical terminology thrown around this week, it didn't stop Hunter X Hunter from being effective and unsettling – and it certainly didn't undercut the episode's big payoff.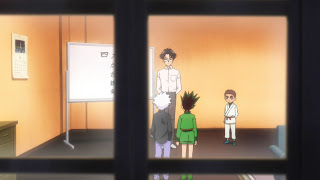 In a week where there's been so much good anime my head is spinning and on a day when Fate/Zero set the top spinning on moral ambiguity, you'd think a good old fashioned Shounen like H x H would offer a welcome contrast. But while it does in the sense that it's easy to watch and appreciate, it doesn't exactly offer the audience a whole lot of black and white. Togashi-sensei stealthily hides his mind-screwing inside the trappings of traditional shounen – cute characters, challenges, GAR-driven charges towards adulthood – but the screwing is still there.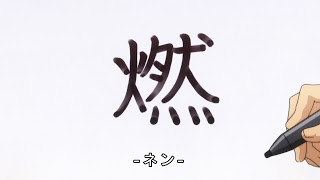 Case in point… I don't think anyone would disagree that Killua is, if not a "hero", at least one of the two main protagonists in this series. Yet he casually reveals to Gon that he unleashed his full force on Zushi during their fight. Step back and consider: if he considered that rationally, Killua would surely expect that to kill Zushi as we've seen him kill with a lot less than his best stuff. So Killua struck out at a child younger than he, who had at least taken the first steps towards becoming a friend and certainly not shown any premeditated malice towards him, with the full intent to kill him – for no worse offense than failing to be defeated easily enough. Yes, Killua surely did so in a fit of rage (he admits this himself) and not in a moment of cold calculation. But does that make him less scary – or more?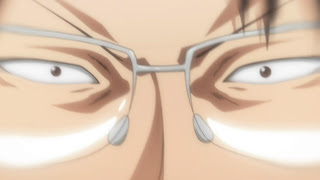 The funny thing is, I like Killua and I can't bring myself not to – even knowing all of the above and already having plenty to feel skeevy about before. That's part of Togashi's genius I suppose, that he can create characters of such charisma who are also so dangerous and disturbing. Gon is dangerous too, in his own way, and I would argue perhaps even more so than Killua – but the difference is that even at 12, Gon is more in control of his rage thank Killua is. For all his talk of the assassins techniques he's mastered, the self-control, Killua is actually a very typical child – easily prone to peevishness and anger, lashing out blindly when frightened. The problem is when he lashes out, people die. Just how deeply does Gon understand what a terrifying boy his friend is, I wonder? He's seen "Kil" kill, certainly, and seen the damage his upbringing wrought upon him. But does Gon really understand how broken Killua is, or is this still a game to him on some level? At the very least Gon believes that he at least – and perhaps only he – is safe from Killua, that nothing could push Killua to kill him at least. I suspect he's right, but it'd still be enough to keep me on edge.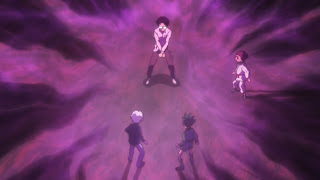 The twin pillars of the episode are the unraveling of Nen, and the return of Gon's nemesis. Wing-sensei is certainly a mysterious sort – innocuous in appearance and soft-spoken – but clearly a man of formidable talents. His first go-around at teaching the boys is straightforward enough – he gives them a little speech about how Nen is the burning of one's own soul, to test strength of will. Gon and Killua listen attentively, but Killua immediately realizes that Wing was lying – that it wasn't mere willpower that allowed Zushi to survive his full-strength attack. Zushi notices too, of course, and it's none too surprising that Wing wouldn't give away all his secrets to two kids he's barely met. His methods are to give just enough of the truth to nudge the student along, but clearly he's underestimated the true nature of these two students.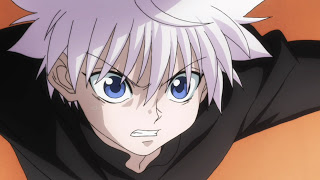 This comes to a head with Gon and Killua's arrival on the 200th Floor, still unchallenged. This is the place where the fights are no holds (or weapons) barred, and the only prize for victory is glory. And when they get there who should be waiting for them but Hisoka, and he's as creepy and badass as ever. It would be easy to argue that he's obsessed with Gon and Killua to the point of stalkerdom at this point, having hacked their online purchases and figured out where they were headed. He appoints himself as the guardian of the 200s – there to tell the boys that they're arrived much too soon, and that he won't allow them to pass. I'm not totally sure of Hisoka's motives here, to be honest. A very big part of it could simply be that he loves messing with Gon's head (and he's obviously good at it). It may simply be that Gon is the most interesting person he knows, and he hates being bored. Or there may be more nefarious motives – some obvious and some less so – in his mind.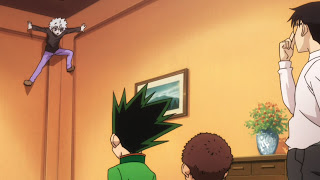 In the end this leaves the boys with a problem, because if they back down from Hisoka's challenge and don't register for a fight by Midnight, Gon goes back to the first floor and Killua is banned from the tower for quitting twice. It's Wing who grants a reprieve, pointing out (quite correctly I suspect) that Hisoka is right, it's too early – they have no defense for his Nen. As Wing elegantly puts it, they're two people standing naked in the snow and wondering why it's so cold. But is Nen such a discipline that he can teach even brilliant prodigies like Gon and Killua enough about it in three-plus hours to give them a chance against Hisoka?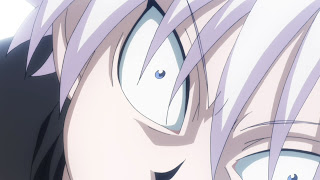 As Wing describes Nen it sounds deceptively simple, with four precepts: Ten (keeping the body's aura flowing around the body and not away from it; a shield, and a preserver of youth), Zetsu (cutting off the flow of aura altogether; a method to rejuvenate and to conceal one's presence), Ren (increasing the flow of aura; the offense to Ten's defense), and Hatsu (the release of aura to carry out a specific task; "paranormal" powers). But my suspicion is that like so much else in Hunter X Hunter it's much deeper and darker than it first appears, and I can't see even Killua or Gon (though the latter seems more likely) mastering it enough in a few hours to defeat Hisoka. It will certainly be fascinating to see what happens when the boys get back to the 200th floor, because it's much too early in the story for Gon to gain the upper hand against his arch-nemesis.
Gon and Killua's Hunterpedia: "Wing"