Everything about Mysterious Girlfriend X is extremely odd and seemingly mismatched, but I was absolutely and utterly fascinated by the premiere.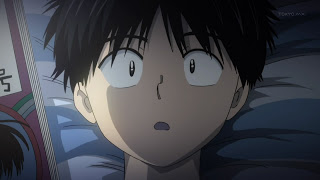 I'll say it up front – I loved that episode unreservedly. It was that head-shaking, talking to yourself kind of love that really great first episodes give you sometimes, and not at all the reaction I expected. I'm not at all sure how people are going to react to this series – I suspect I may be on an island in my adoration for it, perhaps as much as I was with R-15 – but if that's the case, so be it. I thought the premiere didn't put a single foot wrong, and continually surprised me with its stunning creativity and wit.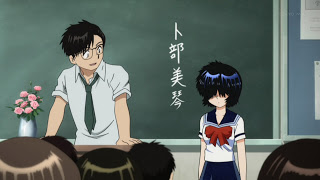 This is a series that's full of weird contrasts. I confess I find the central conceit – the tasting of the drool – extremely gross and distasteful. But in spite of that I'm totally won over. You have the contrast between the extremely experienced and accomplished Miyu Irino playing main character Tsubaki Akira and an absolute rookie, 20 year-old Yoshitani Ayako (who also sings the OP and ED), playing female lead Urabe Mikoto. Then there's Irino-san as the lead and Kaji Yuuki as his best friend Ueno Kohei – talk about the extremes of seiyuu talent there! And there's the matter of director Watanabe Ayumu, best known for Doraemon and also directing this season's highbrow (and superb) Uchuu Kyoudai running this very edgy teen sex comedy. And studio Hoods Entertainment's repertoire is basically mediocre ecchi like Seikon no Qwaser and Aki Sora.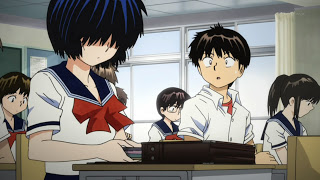 Put that all together, and there's no way this should be good, never mind the triumph that the premiere was. But that's the final contrast – it was a triumph. I'll assume a bunch of the credit goes to mangaka Ueshiba Richi (whose Yume Tsukai I also liked). If you read my Spring Preview you know I recognized this series only because I'd bought a doujin in Akihabara based on liking the artwork, and this adaptation is almost unbelievably faithful to the original in terms of character design and overall look. But there's so much more that was great, starting with the BGM by industry veteran Hasegawa Tomoki – it's theatrical and full of whimsy and does exactly what BGM should do – create atmosphere and enhance the mood of what's happening on screen. The premiere was full of interesting visual quirks, right up to the quick reveal of what's under Urabe's skirt and the moment when her eye opens in the ED. I love the way the faces are framed, too, and the use of light and shadow.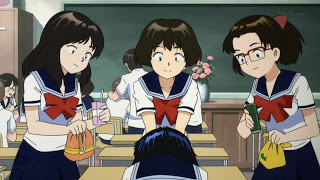 I should also point out that in addition to the stylish flair, the look of this series is very, very retro – I'm talking seriously old-school here. If you did a quick double-take you might almost think you were watching a Takahashi or Adachi adaptation from the 80's – that's how old-school the look is, both in terms of color and character design. That might not work for you, but I loved it. I also loved (surprise, surprise) Irino-san as Tsubaki-kun – no male seiyuu is able to get to the truth of the emotion like he can, be it comedy or drama. In addition to everything else likely to be love-hate, I think Yoshitani-san's performance will divide the audience. It might recall Omigawa Chiaki a bit (another divisive seiyuu) but Yoshitani is herself – her voice is very natural and unforced, without a lot of professional polish. It's different from any performance you'll hear this season – whether you take that as a good thing or not is up to your taste.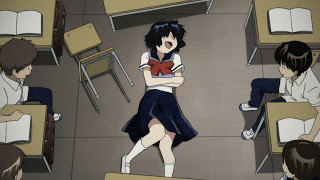 Again, this is very weird. The whole drool thing is something I had to get past, and there are going to be other eccentricities to follow. But as in R-15, I found an essential sweetness (and not in the drool) at the core of this relationship underneath all the kinky stuff. Urabe is very strange (and will get stranger) but I like that about her – her total unconcern with fitting in. It was certainly refreshing the way she came right out and asked Tsubaki if he was a virgin, and then told him she daydreamed that he'd be the first boy she'd have sex with. In another time and setting she'd be called a Bohemian, but whatever you want to call Urabe, she's unique. Tsubaki is also more bold and straightforward than the typical male lead, and Miyu-san never settles for the standard reactive pushover in his performances. It's a treat to watch and listen to Tsubaki as he incredulously takes Urabe – so different from anything or anyone he's ever seen – in. He's still a leaf boat being buffeted about in Urabe's stream for now, but I think Tsubaki is up to the challenge.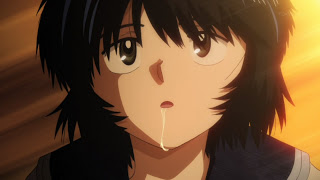 So there you have it – another interesting first episode, and most of my top picks going in haven't even premièred yet. It's shaping up as a very deep season at the least, though it's too early to say if we'll also see above-average quality at the very top rank. This one was certainly on my radar screen, somewhere in the second tier, but I never expected to be bowled over by the premiere the way I was. Now I'll sit back – somewhat tremulously – and see if the rest of the world thinks I've lost my mind.
ED: "Hōkago no Yakusoku" (放課後の約束) by Ayako Yoshitani