It really does seem sometimes as if I'm destined to never get a break.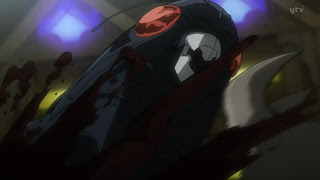 Zetman wasn't prominent on my radar screen as we headed into a crowded Spring season, but if the first ep is any indication of how good it's going to be, it looks as if I'll have no choice but to watch it at the very least. I don't know too much about the manga except that it's loaded with graphic violence, and the first episode doesn't disappoint in that regard. In many ways this seems like a classic setup for a grim superhero tale, American-style, though there was a stylish flair to the writing in the premiere that I rather liked. The visuals were impressive too – though the fight scenes weren't spectacular, I like the character designs and the shot composition. There's a veteran team behind this adaptation, and it shows.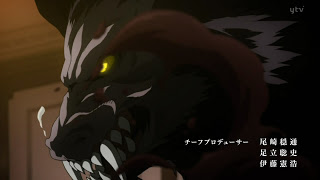 Of course, there's also the matter of this being a rushed adaptation – a long manga being crammed into one cour – and the breakneck pacing is the biggest narrative flaw in the opening episode. There's also a major timeskip coming, and thus no guarantee my affection for the series will be sustained in full force – but I'm curious to find out. We got what was apparently a fairly substantial prequel arc crammed into one episode, telling the story of young Jin (Romi Paku, great as always) who was apparently spirited away from a kind of fight club for mutants known as "Players" when he was a baby by Gorou Kanazaki (Senda Mitsuo) some sort of scientist working for the people responsible for this travesty. Gorou raises the boy as his grandfather, living in a kind of Hooverville for the homeless, but is killed when one of the mutants goes on a killing rampage, apparently with Jin as the target.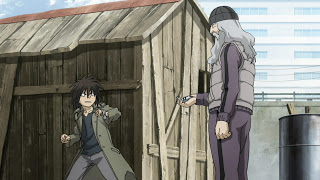 The scenes where the hopelessly naïve and sheltered Jin, who has no idea what death is, wheels the dead Gorou around in a shopping cart and the grieves for him in the company of call-girl with a heart-of-gold (and apparently a son she's lost) Akemi (Hayamizu Risa) are pretty heartbreaking – especially when she's later maimed and nearly killed by the same beast. Jin also has two friends who live on the other side of the tracks in a huge mansion – Kouga (Kaida Yuki) and his little sister Konoha (Hanazawa Kana), whose father prohibits them from seeing Jin again. He's also connected to the evil corporation behind the Players, it seems, though I sense the web of connections – if we were supposed to grasp much of it at all yet – was swamped by the sheer volume of action in the episode.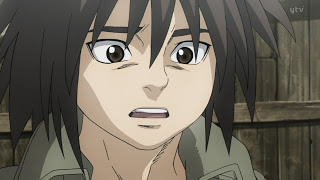 Given that what we've seen isn't the "real" plot yet, just the setup, I'm withholding judgment on Zetman until I see how I like these characters as young adults. Presumably the series is going to get even more violent now that the hero has been aged several years. Jin obviously has extraordinary powers even by Player standards – he's the "Charisma" – which seems to make him a target for interested parties on all sides. I'm also interested in seeing whether the now grown-up Kouga will be an uneasy ally or an enemy, and assuming that Konoha will be a love interest. In any case, what's clear in the first episode is that the folks behind this series have serious skill, the artwork is interesting and the writing is smart and witty – or can be, anyway.
OP: "dots and lines" by You Hitoto & Mummy-D