Damn it Japan – why are you trying to kill me!?
OP: "Tsurezure Monochrome (徒然モノクローム)" by FUJIFABRIC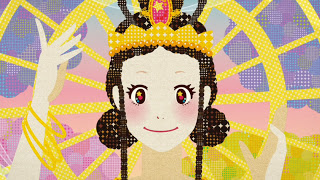 This was always the day that was going to give us our biggest clue about the potential of Spring 2012. By today it was clear this would be an above-average season, with a significantly larger number of good to very good series than usual. But what really makes the great seasons – the Spring 2007s – is having multiple classics. NoitaminA needed to come through in a big way, in based on early returns it's done so. And with it, added two more must-blog series to my hopelessly overcrowded schedule, which has more worthwhile shows than I can possibly cover.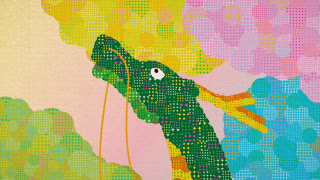 It's funny that NoitaminA seems to have gone from its worst season ever to quite possibly its best, if things pan out. I liked Tsuritama about as much as the masterful Sakamichi no Apollon, though the two series could hardly have been more different. NoitaminA has made the wise decision to turn the Spring Block over to auteurs – directors who bring their own sensibility to any project. It hasn't always worked with Nakamura Kenji, but even his failures – his most recent effort for The Block, C, among that number – are interesting, creative and have something to say. In Tsuritama we have something recognizably Nakamura, but quite different in feel and tone than anything he's done before. I think what's really fascinating here is that while this is still distinctly Nakamura – surrealistic, intellectual, visually creative – it's his most human work by far. I think what he's done here is taken every teenaged boy neuroses and idiosyncrasy and built a farcical anime around it.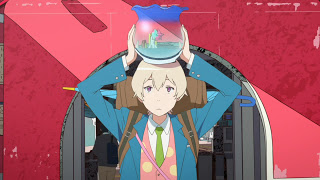 I don't think Nakamura-sensei is capable of doing a series that either boring or conventional visually, and Tsuritama is no exception – starting in the pre-open with an impishly humorous twist of his Ukiyo-e woodblock style from Mononoke to tell the story of the five-headed dragon menacing Enoshima, and the sky princess whose smile charmed it and saved the world. This immediately transitions to traditional – and with Nakamura I use the term loosely – and the introduction of Haru (Irino Miyu, the go-to guy for genki blonde boys in anime) who proclaims himself an alien and walks around Enoshima with a fish in a bowl (Katou Emiri) on his head, whom he calls "Onee-san". Haru wanders about the town with a big smile on his face and demonstrates quite an affinity for fish at the aquarium.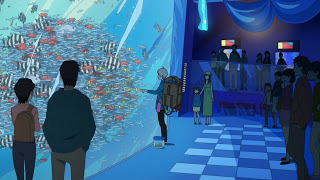 I – and the story – will loop back to the fascinating Haru shortly, but my favorite moments in the premiere belong to Sanada Yuki (Ohsaka Ryota). Funnily enough, Yuki is the second boy in NoitaminA today who transfers schools constantly, and suffers panic attacks. Yuki's are quite a bit more hilarious thank Kaoru's (from Sakamichi) though – every time he's being stared at he envisions himself slowly being swallowed up by as rising wall of water, his red hair sticks straight out and a fierce look crosses his features. As a result poor Yuki is branded as strange everywhere he goes and makes no friends. Yuki's travels seem to be the result of the fact that he lives with his Grandma Kate (Hirano Fumi) an eccentric and sprightly lady whom Yuki adores, and whose work as an artist or calligrapher moves her around a lot. Her current gig is working at Samuel Cocking Garden, a tropical plants garden on whose grounds Kate and Yuki move into a very large, sugoi old house.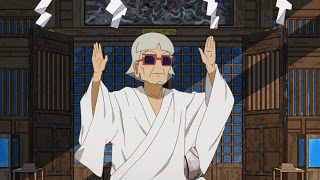 There's so much of Yuki's first day in Enoshima that struck home with me, as did the character as a whole. Nakamura has really nailed it with Yuki's panic syndrome, which so many teenagers can identify with, and he's a kid full of eccentricities and idiosyncrasies that Nakamura lovingly reveals. I loved the way he excitedly ran from room to room in the new house, and how the camera stayed with him the entire time, showing us what he was seeing. His near-breakdown on the train when'd deciding whether to give up his seat to a man not quite old enough not to be insulted – maybe. I enjoyed the way he Googled everything he saw on his smartphone obsessively. And his first day at the new school, trying so desperately to make a good first impression at last, was both nerve-wracking and hilarious – he planned out every word carefully, but stumbled right out of the gate when his voice broke, got ahead of himself and off his script, and felt the tide of panic rising before Haru arrived on the scene and distracted everyone's attention.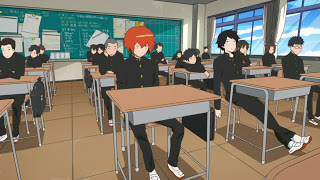 Things are plenty weird here – a deep sense of randomness pervades everything that happens. Haru finds Yuki's house and happily announces to Kate that he'll be living there from now on – and she agrees, contingent on a promise we don't get to hear. Watching this through binoculars is a boy wearing a turban (Sugita Tomokazu) who's very suspicious of Haru, has four turbaned servants bowing to him and a white duck named Tapioca. And then there's the boy Yuki sees on the train and meets in class, Usami Natsuki (Uchiyama Kouki) – a boy known as "The Fishing Prince", as Yuki finds out later when Haru squirts him with a water gun and he wakes up in a fishing shop with Haru, buying a rod and reel. Haru, apparently, can squirt anyone and they'll black out and wake up later, wherever Haru has dragged them. Later Yuki is stunned to find Grandma has happily invited Haru to live with them, and Haru happily invites Yuki to join him in saving the world.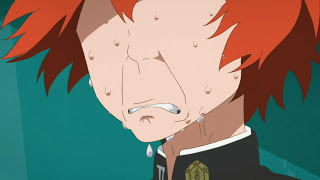 I certainly can't explain everything that's happening here, and that's just fine – experiencing it was great fun. We have some huge names in the cast here – Miyu-Miyu and Sugita reunited after Danshi Koukousei, and he and Kouki (who starred in C) having worked together in Kimi to Boku. But it's mostly-unknown Ohsaka who stands out in the premiere with a very funny and endearing performance – I can't find his bio anywhere but I suspect Ohsaka-san is a young man, because he's extremely authentic playing one here. Tsuritama is really adept at creating an atmosphere, combining the zany premise with a gorgeous, modern, bright and highly stylized visual palette than combines lovely backgrounds with frequent bouts of surrealism. Also helping the cause is a terrific BGM soundtrack by Kuricorder Quartet, every bit as whimsical and bright as the series itself. It marks an interesting change for Nakamura, feeling much more upbeat and humanistic than his earlier work, but still retains his oddly halting narrative style and a flair for the bizarre. Tsuritama is the perfect foil for Sakamichi no Apollon, and looks to be another triumph for NoitaminA, which today proudly reclaims its position at the epicenter for daring, beautifully crafted anime.
ED: "Sora mo Toberu Hazu (空も飛べるはず)" by sayonara ponytail