If this is what saving looks like, I'd rather not be saved, thanks.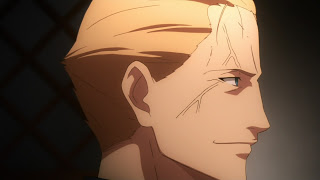 Obviously, that was a mighty powerful episode, easily the best of the second cour. There's no question in my mind that episodes like this one are where Fate/Zero shines brightest, because they're the ones that best show off Urobuchi Gen's massive talents as a writer. He can do big action set pieces like the one that dominated this season, but you can almost sense him going through the motions a little when he does – that what really excites him are the great philosophical debates that drive this series. So when you have scenes like the one that finished this ep or the Summit of the Three Kings last season, all you can do is watch in astonishment at the kind of dialogue this guy is able to deliver. I know some viewers rail against these moments as too dialogue-heavy, but for my money they're F/Z at its best.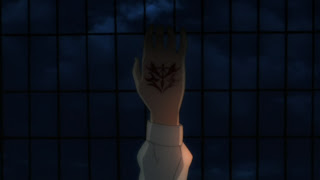 We had an interesting little discussion here last week about alignments and how they apply to the servants and masters here. I won't re-hash it, but it certainly is interesting to try and capture these characters using that model – and Kiritsugu is the most interesting of the bunch. I love moral ambiguity, and clearly so does Urobuchi-sensei – but you'll rarely see it elevated to the level of art that F/Z does. I never liked Kiritsugu to be honest, because I'm never ascribed to the moral relativism that guides his life. In brief, I believe once you start down the road of self-justification he travels, there can be no limit to the atrocities you commit in the name of whatever goal you claim is paramount.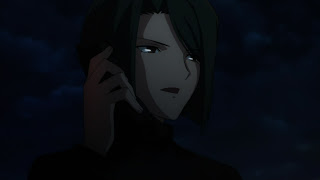 Heck, Kiritsugu even admits this himself – "If I must stain my hands with every evil in the world, I don't care." Urobuchi is obviously intrigued by this world view and characters who espouse it (Kyuubey certainly fits the mold almost perfectly) and it definitely makes for interesting television. There are so many holes in Kiritsugu's line of reasoning I can hardly begin to list them, but here's one – what if you're wrong? What if this goal you're so sure is worth committing evil under the sun turns out to be the wrong goal? Kiritsugu's philosophy is fundamentally a one-man religion that worships his own ego, and I feel no sympathy for his perspective. He's an evil man who couches his evil in terms of necessity, and justifies his actions by the surety of his own essential rightness. Hitler, too, surely thought he was doing the right thing for humanity – he just happened to have a very specific definition of humanity that didn't include a good chunk of it. Kiritsugu is not Hitler, but once you devote yourself to the path of winning at all costs, there's no stopping that train – the brakes simply can't handle the grade.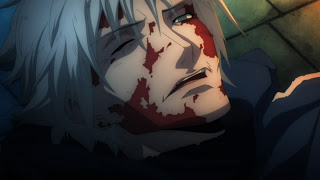 Mind you he's certainly not totally wrong in his disdain for the Code of Chivalry, as defined here by Arthur and Diarmuid. Whether you agree with Saber's memorable line, "If you commit evil out of hated for evil, rage and hatred will merely birth new conflict" is up to you, but I do share Saber's view that there must be some underlying code of morality that governs our actions if we're to attempt to live in a world governed by justice and decency. But Saber's view is, on the whole, too idealistic and Kiritsugu is quite right that it's the kind of moral certitude that she espouses that has led countless young men to horrible death on the battlefield – and Urobuchi clearly avoids the juvenile naiveté that commonly exists in anime, celebrating this viewpoint unquestioningly. Where Kiritsugu's gone wrong is that his hatred for Saber and her ideals has twisted him into a monster incapable of being governed by decency or reason. His laughable assertion that he "never lets personal feelings interfere" is only further proof of how disconnected from reality (and self-awareness) Kiritsugu is.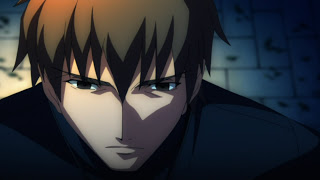 Urobuchi continues to demand much from the audience here, and pushes us to choose what we believe. Certainly Rider has called out some of the same flaws in Saber's philosophy that Kiritsugu has, but he still lives under a moral code – it's just a different one from hers, a kind of Church of Personal Greatness. He and Archer probably present something of a middle ground in this moral debate, different as they are from each other – both are egoists but also pragmatists, with Rider's ideals pushing him more towards the view that what's best for the King of Conquerors is ultimately best for the world, whereas Gilgamesh seems fundamentally interested in ruling all because he should, and in using the world as his plaything because he has every right to do so. The dead Caster and Uryuu represented pure animal savagery, blood lust and cruelty for its own sake, but ultimately they were at least predictable – and thus, never really a threat to win the game. Nero and Caligula were some of the worst Emperors in the history of the Roman Empire for a reason.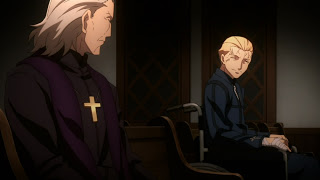 I wonder if we're looking at a "death of the week" pattern now, though with 10 episodes left the numbers don't add up exactly. I presume we're looking at a "last man standing" scenario and we have four servants and five masters left, though as Kiritsugu pointed out if a master dies a servant can theoretically contract with someone else. This week's tragic events were certainly impactful, though I do worry about emotional fatigue if someone gets offed every week. That seems to be a bit of a box Urobuchi has written himself into here, and I'll be interested to see how he navigates it. With Kayneth and Sola eliminated along with Lancer, the other death of interest was Risei's at the hand of Kayneth. With Risei dead and Kirei obviously wavering under Archer's seduction (the thrill of disobeying his master by saving Kariya is going to act like a drug) Tohsaka's safety net is tearing all around him and I can easily see him being among the next to die, though what that means for Archer I'm not sure.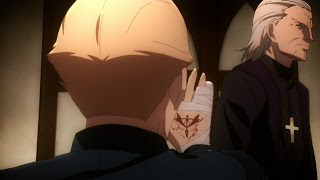 I can't wrap without talking about Lancer's death, which was something I've been expecting for a while but still kicked pretty hard. I've really loved this character from the beginning, as his tragic story is one of the most compelling of the bunch. I don't dispute his honor for a moment – I think he's even more committed to personal honor than Saber, actually – but fate is incredibly cruel to him, denying him over and over the chance to redeem the honor he lost in life. Some would have called him a fool for giving Saber her Excalibur back (though he did so for the greater good) and her one for refusing to use the left hand restored through Lancer's chivalryto kill him – but I think both deserve at least respect for their consistency, and being willing to die as they lived. Fool Diarmuid may be, but he deserved better – a better master than the foolish and vain Kayneth, and a better demise than at the hands of the twisted ghoul Kiritsugu, a man completely devoid of honor himself. Diarmuid's way might not be realistic, but it's noble – and his death is the cruelest moment in the series so far. I suspect Kiritsugu will give us many more cruel ones before it's over.