Ladies and gentlemen, boys and girls, let the shipping wars begin…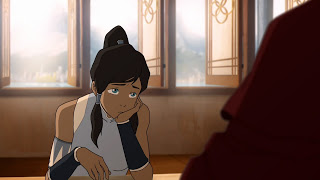 Borra? Kolin? KoKo? Marra? The possibilities are endless, though it remains to be seen if the "Avatar" fanbase will embrace their favorite pairing with the same passion they did with the first series. One thing's for sure – almost everyone who watches will end up being in the camp of one of the two bending brothers, the elder firebender Mako (David Faustino, of Married with Children fame) or younger, earthbender Bolin (P.J. Byrne). Mako (pronounced Japanese-style, "Mah-ko) is of course named after the beloved Japanese actor who played Uncle Iroh (and passed away just before the original series ended), and Bolin ("bow-lin") – to me anyway – sounds like one of Tolkien's dwarves (and thus the bending style seems fitting). The personalities seem to match the discipline – Mako is hot-tempered and opinionated (his counterpart in the "Avatar" universe seems to be Zuko) and Bolin is solid, "earthy" and even-tempered (a little Sokka-ish).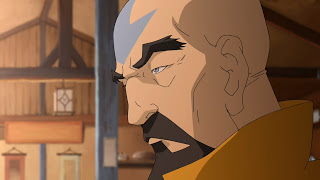 For my money, I think I prefer Bolin – he seems like the underdog in this triangle, anyway, which is usually enough to get me rooting for a character. If the flags Bryke are sending up are to be believed though, it definitely seems like Mako and Korra are being set up as the future couple – the ending of the episode with them staring across the bay at each other from their respective towers was about as subtle as a kick in the nuts. In any case these two are clearly a vital part of the story, not only for the entry they provide into the world of professional bending, but as they seem to be at the core of Korra's new "Aang Gaang" (now accepting nickname submissions). And they add a nice element to the chemistry of the story, too – I thought the dialogue between they and the MC was pretty sharp, especially in Bolin's case.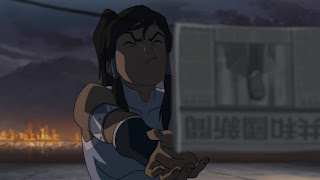 As to professional bending, that in itself is an interesting plot element. The idea seems to be teams of three, one from each of the disciplines (with airbending still being almost unpracticed) which implies quite a restriction for Korra once she talks her way onto the brothers' "Fire Ferrets" team. The sport is apparently quite popular, with the masses tuned in on radios that continue the 1930's-style technological bent of the series, complete with an old-school announcer offering play-by-play. Unsurprisingly Tenzin is opposed to the sport as an atrocity, beneath the dignity of bending – but in a too-neat resolution of his brewing feud with Korra, he realizes that she can actually learn some useful skills from it.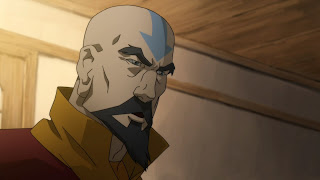 This was a better ep than the first one, with generally sharper dialogue that had some nice laughs – including the banter with Korra and Bolin ("Oh, you implied it.") and the conversation between Tenzin and his daughters on the subject of their teenage years. I thought the family dynamic between Tenzin and his children was generally good, but I'm less pleased at the chemistry between he and Korra. Their mentor-student relationship seems very formulaic and generic to me thus far, and their scenes together haven't been especially enjoyable. Again, their disagreement over Korra's refusal to follow his direction was resolved much too neatly and predictably, and I think her behavior throughout the episode should have made him even angrier than it did. Indeed, I think Korra is the weak link in the show so far – I'd already grown to like Aang a lot by this point. Fairness dictates that I mention that Aang is supposed to be more likeable than Korra is, but even so, I'm not feeling this Avatar so far. She's yet to break free from the bonds of trope-hood and emerge as an individual. But there's still time.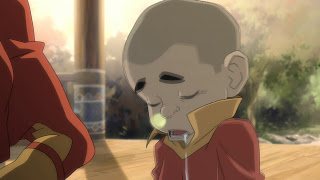 I can't wrap without mentioning the soundtrack again, because it really adds so much to the series. The Track Team's work sounds authentically Asian without descending into the kind of cliché that most American movies with an Asian theme succumb to. So far the best thing about Korra for me is the universe itself, this interesting pastiche of Avatar mythology, rollicking 1930's American and the exoticism of an Asian port city like Shanghai or Yokohama. If the characters haven't caught up to the setting I'm not too worried, because Mike and Brian have certainly earned a good degree of patience from their audience on that score. As they find their sea legs I suspect the character dynamic and dialogue will become more natural, though I confess I do worry about Korra as a main character.