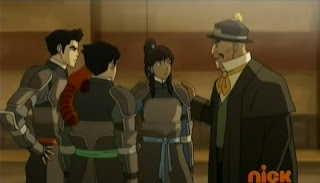 My take on "Korra" is pretty much the same after this week's episode as it was after the two pre-airs – I'm finding the plot a lot more interesting than the characters. That's rather unusual for me, as I almost always focus on character first, but that aspect may come around in time. For now I'm finding most of the performances rather flat (including J.K. Simmons, oddly enough) and the dialogue mostly on the generic side. I'm just not feeling this cast like I did the first one (and yes, that connection happened from the start last time) and the voice talent seems to have that peculiar disease that's endemic to American cartoons, a mixture of overacting and flat line readings that the first show seemed to do a better job avoiding, despite it's mostly inexperienced cast (and indeed, maybe that was the secret). But it's still early days yet, and characters can grow on you.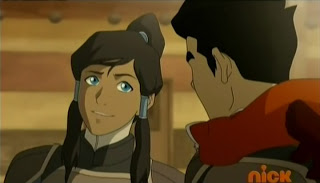 One thing I find sort of amusing is that Bryke seem to have sucked all the air out of the shipping wars before they can even begin this time, intentionally or not. I never cared too much about the romance side of the first series but the wars themselves were fun to observe, and it really seemed as if Mike and Bryan fanned the flames on purpose. Here, it appears as if the ship sailed in the second ep – there's no effort being made to hide the fact that Korra and Mako are the future couple. The gaze at each other across the bay from their respective towers, they dream about each other, they sleep on each other's shoulders. I don't see a lot of chemistry with them yet, but the deal appears to be closed. I don't have much of a rooting interest – I like Bolin better as a character so far (perhaps he's destined to marry a woman named Anne) but I'm a little worried be may end up the designated buffoon, the guy there to make the others look smart and formidable. Of course it looked like that might be Sokka's fate too, and he grew into one of the more interesting members of the original cast.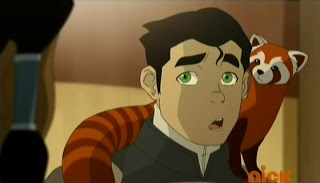 In terms of premise I'm much happier with the way things are going here. I'm enjoying the world-building that's been happening for these episodes, right down to the very clever newsreel-style episode recap at the beginning. Seeing the Avatar dynamic in a kind of steampunk 1930's setting is really delightful, and it's fascinated to see technology and what's effectively Eastern mysticism butt heads in a very direct way. And it's not as though professional bending has given Benders any kind of refuge – they may be watched and listened to by the masses, but they're still being exploited by a sleazeball getting rich off their abilities.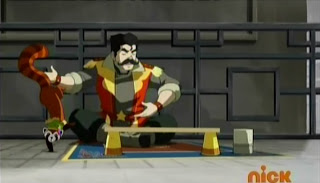 Most of the drama – for the first season at least – looks like it's going to come from Amon, the revolutionary and "Equalist" with his army of "Chi Blockers", and the political firestorm he's brewing up around himself. I like the moral ambiguity of this setup, as it's clear that Amon's POV is not entirely wrong – and we see he actually has a commonality with Bolin and Mako in that both their parents were killed by rogue firebenders. The plot involving Bolin being kidnapped by Equalists while working for the "Triple Threat Triad" (yes, this Avatar universe has street gangs) was strictly routine, but it gave us a fascinating look inside Amon's cult of personality (and Korra looking very cute as a flapper). He's apparently developed the ability (previously limited to Avatars only) to permanently take away a Bender's ability, and claims that the Spirit World has spoken to him and told him to restore balance. I think it's fair to ask – does this world look like it's had balance brought to it by Avatars and Benders? Will it be worse off for the gangsters who were Amon's test subjects to have their bending taken from them? Amon's methods are certainly dubious, but if I were a non-Bender in this world, I think I'd find his message very tempting. And his speech about "all wars through history" having been caused by bending certainly has echoes in the real world.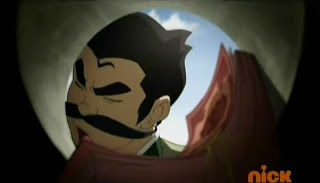 It's interesting to blog an American cartoon obviously influenced by anime in the midst of all the anime I cover – the differences really are striking. Japanese actors really approach seiyuu work so differently than American actors do, and there's much more willingness to demand more of the audience. I think that's a function of the fact that apart from sitcoms and the "Adult Swim" styled pot humor on Cartoon Network, even the best American cartoons (and there's no better right now than "Korra") are still viewed fundamentally as kids' entertainment, where in Japan animation is simply another medium for telling a story. It must be said, though, that the art and animation (and music for that matter) on "Korra" are really stunning. The difference in budget is clear, and the fight scenes this week were beautifully animated and nicely choreographed. There's no American cartoon closer to the anime experience than Avatar, but it's still so fascinatingly different.