Wow – that sure got down to business pretty quick.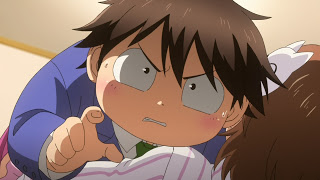 I'm not at all sure what I make of the events of this episode of Accel World. We start off where we left off, with Haru exploring Chiyuri's backdoor (stop that). His cable may not be as long as Taku's, but it's what you do with the cable that counts – and I must say, Haru managed to get an awful lot of productivity out of those 30 CM. That scene finished out like it started, i.e. pretty effectively. Not knowing where Chiyuri stood with regards to the Cyan Pile situation colored the interaction a bit, but she certainly seemed sincere in her regard for Haru and there was a melancholy air to the entire sequence that was quite involving.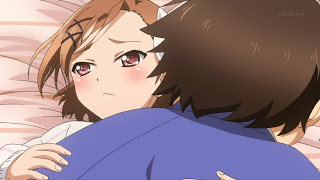 So – all well and good so far. But that's where things took what struck me as a very strange turn. I wasn't too surprised that Haru took the tone he did with Kuroyukihime, as he had plenty of reason to suspect she might be using him. But the scene itself – both before and after the random revenge attack by Araya (the bully from episode one) felt almost surreal. First of all I confess I find Haru's relentless self-loathing to be a little tiresome, and I have no problem with Snow Black getting upset with him for his tone – in demeaning himself like that he was extremely insulting to her. But everything that follows made me wonder if I was being trolled by the second dream sequence of the episode – it just felt off, somehow. Kuroyukihime making such a long and dramatic speech declaring her undying love, with orchestral music rising in the background… I don't know, it felt too early in the story and it felt too over the top. These are middle schoolers, not the Royal Shakespeare Company!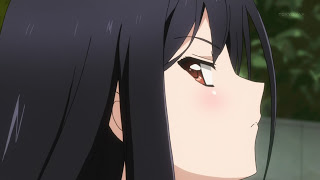 It's hard for me to get past that moment, because it was so obviously the heart of the episode – and when you're wondering if a scene you're watching is really happening, that's a bad sign in terms of credibility. Perhaps if her confession hadn't been so total, or her self-sacrifice so selfless and heroic, it might have sat a little better. In defending it in my mind, I suppose the answer is that Snow Black is as royally screwed up as Haru, and that's not such a stretch I suppose. And I suppose it isn't a total stretch that she might be attracted to someone who's genuine and not interested in her for public persona, both inside the Burst Link and out – if this is designed to play as an otaku fantasy, at least. But between his grandiose self-hatred and her martyrdom, it never managed to feel real to me.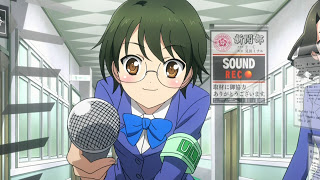 In terms of the big reveal, not a huge surprise – I said here last week that I got skeevy vibes from Taku but that hardly required an address on Baker Street to figure out. With Snow Black 99% down on points and her physical body near death due to her "Physical Full Burst" sacrifice, it falls on Haru to Burst Link and defend her from Taku A.K.A. Cyan – but what happens then? Does he tell Chiyuri what he knows? Surely she won't end up with the baddie and equally surely Kuroyukihime won't die, so we would seem to have two very legitimate love interests for Haru – who can't bring himself to believe any girl would cross the street to pee on him if he were on fire. It's a pretty unconventional love triangle, I'll give you that, and Accel World remains a pretty interesting series. I just to move beyond what felt like pretty outlandish developments this week.