In which an awfully, awfully lot happened.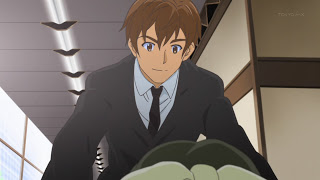 This was a bad episode to take place when I'm dealing with an absolutely crazy weekend of relatives visiting, nasty flu viruses and other miscellaneous crap that's compelling me to try and keep my posts short. Why? Well, it was full of preposterous levels of exposition, action, confusion, GAR and sadness. So I'm going to take it as read that we've both figured out the obvious stuff and stick to how the events of the episode played with me as a viewer, and perhaps just a bit of speculation about the stuff I haven't figured out yet. Some things that stood out: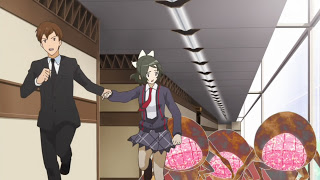 Fine', boobs of steel. 'nuff said about that. So she's some sort of ancient Celtic priestess whose genes lie dormant in her progeny until a big event – like little Tsuabasa awakening her relic 12 years earlier – wake her up and cause her to consume the current flesh bag carrying the genes. Well, that's pretty out there but at the very least it's a twist I haven't see in this form, so Kudos there. What I still don't quite get is who the "he" is she refers to on the moon, what the curse is and why she's so anxious to lift it. Blowing a hole in the mean with a giant ion cannon is ambitious, at least. I also don't quite understand why Genjurou allowed this to progress as far as he did, if he knew her identity for some time. Was he simply biding his time, trying to figure out what her game was and who she worked for? Or was it his self-confessed naiveté in thinking that the Ryoko he knew was hidden in there somewhere, waiting to do good deeds?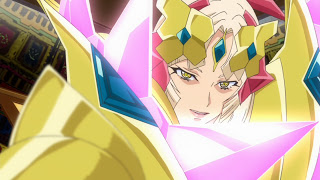 Speaking of Genjurou, we got a pretty good look at the yin-yang of physical combat prowess with he and Miku this week. As Fine' was about to kill Ogawa-san Miku showed us perhaps the weakest attack move ever, the sort-of-not-too-hard body bump – it was as if she was standing next to her on the subway and the train lurched a little bit. I was have waiting for her to say "Sumimasen". Meanwhile Genjurou once again earns his GAR stripes, by proving that as long as he's focused ancient priestesses with their relics are no match for good, honest testosterone – as he puts it, "I eat, I sleep, I watch movies – it's enough." It's a great line and befitting the straightforward and earnest bombast of Symphogear – but he also showed us the downside of testosterone, when a bit of kittenish mewling and some eye-batting from Fine' causes him to lose focus long enough to be impaled for his trouble. Why she chose not to kill him – what "satisfaction" is she talking about exactly? – isn't quite clear to me, but being the beast he is it looks as if Genjurou has avoided the death flag for at least one more week.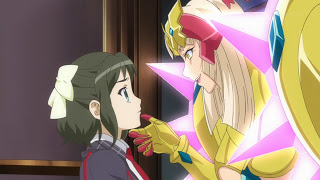 Has Kurisu been so lucky? Well, we have no preview to guide us on this and it sure doesn't look good – when the combined symphogear of the Pretty Girl Squad isn't enough to stop Fine' from readying to fire Kadingir at the moon, Kurisu chooses to offer the last, full measure of her devotion and use her swan song. Between that and her heat seeking missiles it's at least thrown a spanner in Fine's works, but it sure looks as if the ion cannon still managed to blow a big-ass hole in the lower-right quadrant of the moon – and that's not gonna be good for Earth. And Kurisu certainly looks, well – dead – she's bleeding from the mouth and plummets to Earth from an impossibly height, in a shower of sparks. But given the weight her arc has been given in the story, I can hardly believe she'd be gone so abruptly, and with two eps left to boot. Maybe Genjurou will unleash some Bruce Lee powers to revive her, but my money says she's back one way or the other. I still predict major heartbreak – but Kurisu isn't the one I see leaving us, and certainly not this early in the final arc.