Genjuro, you naughty boy – not only do you have a secret girl on the side, but she has her own apartment…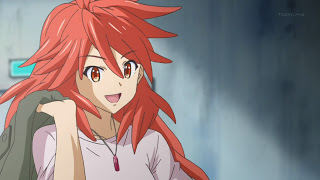 The angst level has been turned way down the last couple of weeks on Senshogear, but I can't help but think it's all just setting us up for more worship at the Church of the Suffering Teenaged Girl. Yes, whether the first minute of the first episode turns out to have been a misdirection or not, I fully expect there to be a lot more tears and tragedy before long, and it's at the point where I almost don't know how to relate to the show without it. But on balance if anyone deserved a break, it's these characters.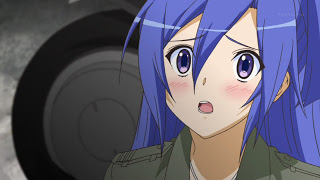 There were seemingly a couple of primary goals for this episode – one to flesh out the storylines of the adults, and the other to give the fans some serious service. And that they got, though not to much of the ecchi variety: Tsubasa, Hibiki and Miku in street clothes. Mizuki Nana singing a Japanese torch song in a karaoke club, and back on stage in front of an adoring audience. And Aoi Yuuki giving us one of her human sound effects reels as she tries to win a stuffed…something for Tsubasa at the arcade. In the end it was really Tsubasa who was mostly at the center of the episode, having been cleared for active duty and asked on a "date" by Bikkie. She seems to have truly made peace with her past now, and is even having flashbacks of Kanade that aren't horrifying or depressing. The plan now is apparently for her to go to America to sing for audiences there, though I have my suspicions of "Glazer", the American producer who's a little too interested in her.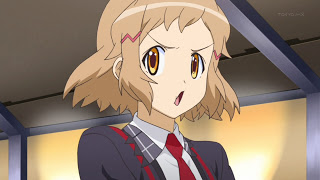 I continue to be interested in the riddle of Ryoko, and whether she is in fact Fine' – and if not, how they're related. For the first time I remember we actually got some internal monologue from Ryoko, and I have to say it doesn't come off as something Fine' would say – "Did I change myself or did someone change me?" – though that could certainly be interpreted in a number of different ways. I was almost as disappointed as Hibiki and Miku that she never finished telling them about her passionate youth, because that might have revealed something useful about her identity and it would have filled in some blanks, at the very least.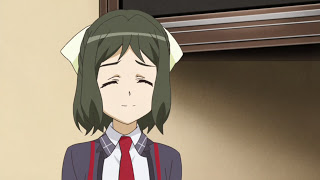 The other adult that matters is Genjuro, of course, and he seems to have taken it on himself to look after Kurisu. I continue to expect the worst for Genjuro, who's revealing himself to be a really soft-hearted guy as the weeks progress – I suspect that will be his undoing in the end. I sense that he's trying to show Kurisu that adults aren't all the treacherous and cruel sort she's used to, and he certainly did his homework in finding out the details of her past. But Kurisu has been burned so many times that trust won't come that easy, and after she's eaten Genjuro's an-pan and indirect kissed him via milk carton, she bails – only to show up at Tsubasa's festival performance to help fight off the Noise who've come to disrupt it. At this stage Kurisu reminds me of a feral cat with several humans trying to domesticate it – they want to help and they're trying to lure her with kindness and food, but she's still resisting the urge to be tamed and expecting to be betrayed. Hers is a sad story, but then this anime is pretty full of nothing but those. And I suspect we ain't seen nothin' yet.