If you add it all up cumulatively, I'm sure there's no series that's inspired as much genuine emotion in me as Natsume Yuujinchou.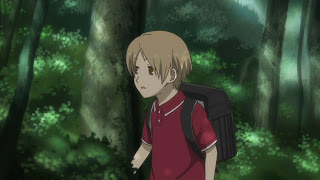 I almost don't want to talk about this finale much, because it so effectively speaks for itself. Why should I blather on in my clumsy way when Midorikawa-sensei and Omori-sensei have spun the tale in a way that needs no embellishment? I guess I have to take a stab at it, but it's not as though there's a whole lot if interpretation required here. If you feel in your soul what this series is about, you get exactly what Midorikawa was trying to say in this episode. As a series capper or a season capper, it does its job admirably.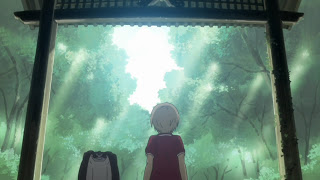 I mentioned that last week's episode was one of the strangest of the series for me, and how difficult it was to watch – and quite intentionally so, I think. There were parts of the conclusion that were just as painful, but felt more in the tradition of Natsume Yuujinchou – where last week's ep was cold and foreboding, this was simply an exploration of Natsume's pain – a warm kind of hurt and not a cold one. I don't think we've ever experienced the depth of the child Natsume's suffering the way we do in this episode, how trapped he was, how truly alone. He's battling demons that are very real, who harm him sometimes without even knowing it, and he's been left alone in the world besides.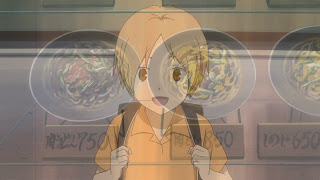 I think what really breaks my heart in the first half of the episode is the sheer distance between Natsume and everyone around him. He's caught between the human and youkai worlds, and a part of neither – a kind, empathetic boy who's capable of profound depth of feeling for others yet has no one to share that feeling with. His guardians are not bad people, and in their own way they're trying to help him – but his presence makes their life harder, and it shows in their faces and in the difference in the way they treat Natsume vs. the way they treat their daughter. This isn't the first time we've seen one of Natsume's foster families (in the last instance it was the sibling that was kind and the parents cruel) but I've never felt the quiet brutality of the experience like this. It's hard to feel much sympathy for Miyoko – she's a child and children are self-centered, but the way she treats Natsume is very hard to watch. And there's no attempt in Midorikawa's writing either to vilify her or exempt her from blame – her behavior is simply shown in all it's harsh, human and stark forms.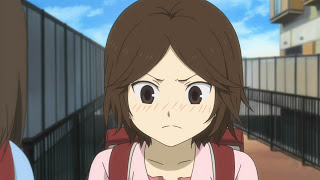 This business of running away from a painful past is certainly nothing new for Natsume Yuujinchou, but again, it felt more sharp and distinct here than ever before. The whole notion of Natsume calling out to his father who never answered, and closing himself off as a result – only to be called back from the darkness by the sound of Nyanko-sensei's voice – that's true poetry of the soul right there. I was on the edge during the entire sequence at Natsume's family home. That sad, run-down old house and all it meant to him – the flowers in the yard that were gone forever, the drawings in the closet (where his photos now reside), the turning of the key in the lock, the tears on the porch where Natsume's father dangled him on his knee, as Nyanko-sensei sat quietly by, unable to do anything but be present – my keyboard is a bit damp now just writing about it, to be honest. Midorikawa and Omori don't spare us here – the pain is very real, and it isn't all redemptive or healing – some of it just simple, brutal hurt.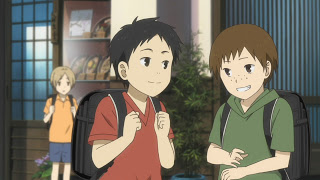 The coda of the episode and the season – and who knows, maybe the series (though I doubt it) – is handled absolutely perfectly, as we've come to expect from this show. With a simple, "Goodbye, my home" Natsume leaves the past to the past – though the memories remain – and goes home to the Fujiwaras. There's a simple reminder that in Natsume's life now, youkai can help guide his path too – and a final reflective moment with the Fujiwaras, a new picture to match the one pressed between the pages of his mind. And the best moment of all, the purest emotional truth, was when Natsume insisted that Shigeru take another photo – this one with an uncomplaining and contented (and perhaps even eager) Nyanko-sensei, who is as surely family to Natsume now as anyone could ever be.