If I was to point to one Winter series that's less like any other, it might be Inu X Boku. It's certainly unique, for better or worse.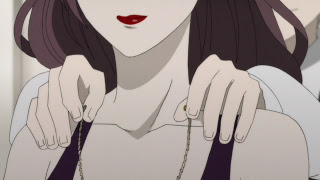 Judging by how many viewers guessed (or are manga readers and good liars) what the big "secret" that Kagerou kept trying to force out of Soushi was, it can't have been too much of a shock to anybody. Indeed, my initial reaction definitely falls into then"BFD" category. Ririchiyo certainly isn't stupid, and she knew there was no way Kagerou had written the sensitive and heartfelt letters she'd been receiving for all those years. Whether she knew it was Soushi I suppose is another matter, though logic implies that she did know it least subconsciously. Given that there has been a much ado about nothing quality at the heart of this series anyway, I suppose this anti-revelation fits right in.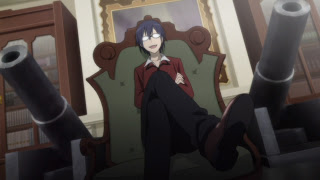 With that said, I'll give David Production credit for lending the whole episode an air of gravity that probably exceeds anything I reasonably expected, largely thanks to the patient, measured pacing, the BGM, and the performance by Nakamura Yuichi. It almost had the effect of an act of hypnosis, as I was initially somewhat bored by the narrative but was slowly drawn into it until the whole story took on a very real quality. The darkness that exists under the generally whimsical tone of this series has always been perceptible, so it was no surprise that Soushi's life story turned out to be as grim as it was. A prisoner in his own family compound, a seducer as a pubescent boy, a manipulator and liar.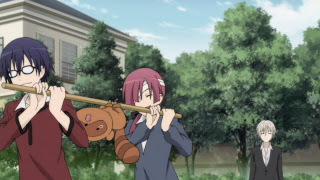 It was the with the addition of Kagerou's mother Ayame (Shinohara Emi, "Sailor Jupiter" herself) that things got really interesting. She was the first one who saw through Soushi's advances for what they were, and rejected them – yet helped him anyway, which I see as a sort of unsung hero act that the story largely glosses over. The culmination is the letter-writing campaign, of course, and while the emotional peak of the ep is supposed to be the moment when the elevator door opens and Soushi hugs Ririchiyo, for me it was the moment when Ririchiyo recognizes the honesty when Soushi writes his first letter as "himself" – it was as if that was the first moment he realized he existed as his own person, and not a construct for the benefit of others.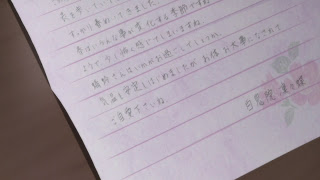 I suppose in that light, his behavior through the first ten episodes is all the more irritating – but that's water under the bridge now I suppose. It was also interesting to see Kagerou apologize in his own boyish way, an act which surely seems out of character for him. It looks as if this episode is probably about as far as the anime is going with the main storyline, as next week's finale looks like an overall reflection on the events of the series – including a major role for Renshou, who's been sadly overlooked for almost the entire series despite making a wonderful first impression.