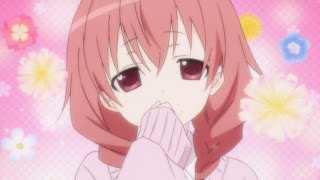 I took on a challenge when I decided to start blogging this show, because Inu X Boku SS is really hard to write about. It's so utterly outside the normal boundaries of narrative anime that it doesn't lend itself to categorization or comparison. I like it – this week's ep was a hell of a lot of fun – but it's hard to describe why. I mean, it was basically just a bunch of really dumb gags strung together with some extreme cuteness and light but oddly sexy fanservice, with only the barest attempt at a plot at either end. So why should something like that be entertaining?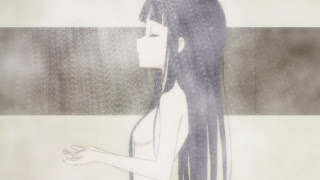 The answer – I don't know, but it is. For me, anyway. The musk/mask gag made me laugh. The way the characters gamely tried to play along with the strange signs posted all over the building made me laugh. Yoshimasa Hosoya doing his deadpan bit and Miyano Mamoru vamping for the camera made me laugh. "I want to be a pencil" made me laugh. And I could watch Karuta and Watanuki all day long. Maybe my standards are too low, but I appreciate that this series goes for broke with the pointlessness most of the time. I even like the potato bug Tokyo drawings at the end.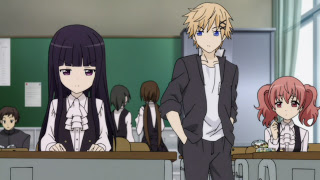 What's really astonishing is that the "drama" of the episode – the thing that drove what passed for a plot – was something so trivial as Ririchiyo fretting over her coffee "date" with Soushi. And it didn't even happen! The episode ended before eight o'clock came – I guess this event was so monumental that is commanded a two-parter. The appearance of Kage at the end explained the commands posted on the doors, anyway, and gave Sugita-san a chance to try and match Miyano-san in the overacting department. With Kage involved there's usually some nominal conflict, so I assume next week's episode is going to be a little more plot-driven. At this point I'm really not bothered either way – my expectations for this series are modest, and episodes like this one meet them admirably.