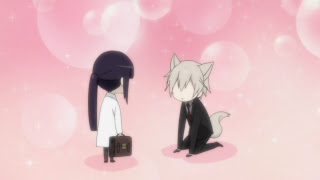 There's a basic conflict with Inu X Boku for me. Soushi and Ririchiyo have to be exactly who they are to drive the premise – their relationship is the very essence of the show. Yet their nature and their relationship – at least for me – is fundamentally unsatisfying and generally not interesting to watch. I feel as if very little has changed in eight episodes, and we're seeing essentially the same thing over and over and over – he's obsequious to the point of absurdity, and she frets about it. That we may be finally seeing some movement there is a good thing – more on that in a moment – but is movement on the central conflict (and problem) with a 12-episode series at the end of the eighth episode really something to be celebrated?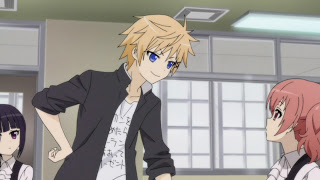 There's no question this is a show with many charms. I can think of few series that try to make so much out of so little – I find myself invariably looking back at an episode and marveling that anyone had the audacity to try and build 22 minutes around such minutiae. Sometimes it works and sometimes it doesn't, but at least there's consistency – there's almost never any real plot. This week was devoted almost entirely to Ririchiyo obsessing over the unequal relationship between she and Soushi – which is certainly the case – and trying to summon the courage to invite him to coffee. There were brief intercuts of her bonding with Watanuki and Karuta at school, especially over lunch, but that's about it. And that sums up Inu X Boku – the issue here is the exact same one that existed in the first five minutes of the first episode, and essentially still exists unchanged from what it was then.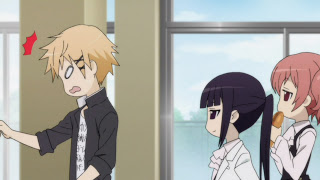 I guess I should say "existed" because at long last we finally saw a little shift between Soushi and Ririchiyo after the credits. Frankly, that epilogue went a fair distance towards redeeming what was otherwise a fairly irritating episode, because it was truly excellent and featured some of the best dialogue of the series so far. Soushi's frank admission that "I don't know how to interact with someone other than to serve them. It's how I've spent my life." was met by Ririchiyo's "I am the least qualified person to lecture anyone on how to communicate with others." That exchange felt shockingly raw and honest – and my reaction was, "Finally!" The two of them stated out loud what I've been thinking for the length of a run that's two-thirds over already, and I guess it's better late than never. It was too long in coming, but it was handled beautifully.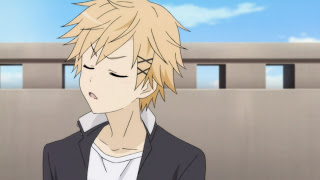 The question now, I suppose, is where the show goes with that scene from here. Is the relationship between Ririchiyo and Soushi going to fundamentally change, or are they going to have coffee together and then go back to essentially the same boring one that already existed? It looks from the preview as if next week's ep is going to be a light-hearted comedy focused on a completely unrelated subject, but I won't make any assumptions – previews can be deceiving. I do hope however that those words, once spoken, have as powerful an impact on the future as they did in the moment.