Between Hunter X Hunter and Chihayafuru, Madhouse is having one amazing season. I don't know if I'll put it on a par with its Spring of five years ago with Oh! Edo Rocket and Dennou Coil, but it's damn close.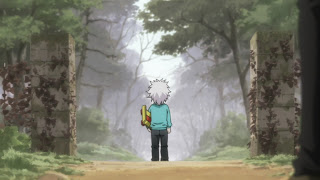 There's certainly no shounen out there quite like H x H, and as with Hikaru no Go, I'm left to wonder how, as a pretty serious anime and manga fan, these series never penetrated deeper than the outer fringes of my fan consciousness. Don't get me wrong, I'm pleased not to have the baggage from the earlier anime that would prevent me from seeing this retelling as the stellar piece of animation that it is, but I marvel at how I could not have realized for so long that these gems were out there (well, I didn't watch Seirei no Moribito until 2009, so anything is possible).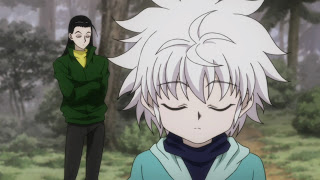 What an utterly fascinating little piece of storytelling this episode was. I can honestly say that very little of what what on inside the Zoldyck mansion went as I expected. It's a more general fact with the series on the whole but most obvious with this clan of assassins – it's hard to know when the good guys are really good and the bad guys are really evil. It all starts with Killua, himself, and what a weird and scary little scamp he is. As his own brother Miluki tells their grandfather Zeno (80 year-old Ohtake Hiroshi) he's probably the most talented member of the Zoldych family ever – in fact, it's revealed that he could have broken free of the chains and freed himself whenever he wanted. But where cold control seems to be the buzzword of the Zoldyck clan, Killua clearly is driven by emotion. He's capable of affection and empathy – but it seems to me that this also makes him the most dangerous (and certainly unpredictable) member of the family, by far. Hisoka certainly knows this – I wonder if Gon does, too.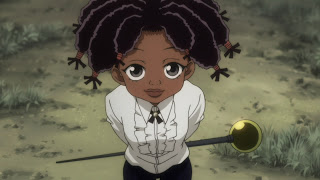 Part of Killua's softer side is revealed through the flashback to the arrival of Canary (Kumai Motoko) who, as it turns out, isn't actually dead but only stunned (what was it that Kikyou shot her with, anyway?). This seems to have been 9 year-old Killua's first venture at forming a friendship, but even here there's a sense of menace to his encounter with the girl on the eve of her destruction of Sequant and his gang, as if his mild irritation at her for already knowing the "Rhythm Echo" could easily turn murderous at the drop of a hat. This also seems to be the first time he realized fully how high the barriers between himself and a normal relationship were, and of how insanely jealous and paranoid his mother becomes at the mere though that her Kil would actually have a friend.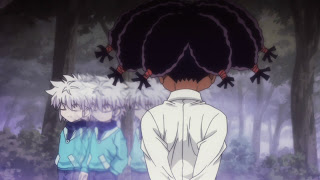 By far the highlight of the ep for me, though, was the conversation between Killua and his father Silva. First off Silva is played by Yamadera Kouichi, and one of the things I love about this series is how it brings legends like Yamdera (among his many roles are Spike from Cowboy Bebop, Ginjuro from Oh! Edo Rocket, Ryouji from NGE and Captain Harlock) back to our screens. Silva is wonderful in this scene but Ise Mariya as Kil is awfully good, too. Of all the family members we've met, Silva stands out. He's a fearsome physical specimen, dwarfing his 12 year-old son, but there's a shocking amount of tenderness in their conversation. Silva says things a real father would say, appears to show real affection for his son, and clearly understands the feelings that are causing the boy to behave the way he is. He even encourages Killua to pursue his heart for the moment, insisting only that Killua swear a blood oath never to betray his friends, and grants him his freedom.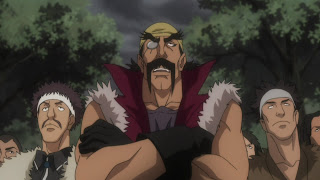 I've been mulling over that scene and the one that followed it – when a horrified Kikyou confronted Silva and he shot her down – since the episode ended, and I confess I'm still not sure what to make of it. It was pretty heartbreaking to see the way Killua's tough exterior melted under Silva's fatherly kindness, and he turned into a nattering little boy as he told his father of his adventures. What percentage of Silva's performance was just that, a performance? 10%? 50%? 100%? Silva is obviously manipulating his son with the larger goal of testing his worthiness to head the family and molding him to the purpose, but is there any sincerity there at all – was any of that warmth, humor and gentleness actually expressive of a father who loves his son? Or was Silva simply abusing the boy in a much more subtle and damaging way that Miluki was, as he hung chained in a cell? It says something about Togashi-sensei's writing here that I'm on quicksand when it comes to answering that question.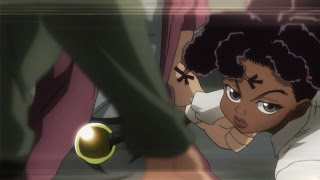 I want to briefly touch base on spoilers, as some blog readers have expressed their concern as related specifically to H x H. Please bear in mind that not just myself, but many LiA readers have not seen the 1999 series or read the manga, and keep the spoilers in the comments to a minimum. I certainly don't want to discourage the discussion in any way, as it's been some of the liveliest and most interesting accompanying any of the shows I blog. I'll just ask everyone to show a little caution when discussing specifics of the story that have not been revealed in this telling of the story yet.