Quick note to Yoshino-sensei – putting an apple in your anime doesn't make you Ikuhara Kunihiko (or the Dead Sea Scrolls).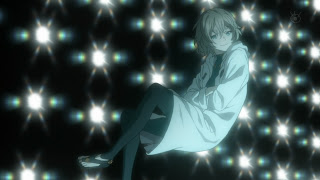 I kid, of course – but I kid from love. Well, not really, but to give Yoshino his due, he had every right to use that reference because he got the context right – we're talking about Adam and Eve here after all, and Yuu/Da'ath was playing the role of the snake to perfection by tempting Shu with the opportunity to rule all humankind in a kind of siscon paradise. For me personally I think he made the right decision – brocon is one thing, shotacon another – but when they're lusting after you while still in the womb, that's the sort of yandere you want to steer clear of.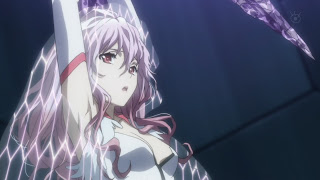 On the whole I would have to say this was a pretty decent episode, generally quite entertaining and certainly better than the last couple have been. There were issues of course, not least of which that the dialogue and much of the drama came up as pretty cornball, frankly. The lingering close-ups of the committed smiles of the heroes, the lone tear on Inori's cheek as she disappeared, Shu in full savior mode, taking the illnesses of others unto himself… There's also the matter of the ludicrous image of Shu leading his forces into the battle for mankind's future on a Segway, and the fact that pretty much everything that happened during the episode was predictable to a "T", right down the final cliffhanger as Shu and Gai meet at last.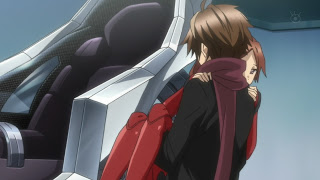 But if you set that aside, I think this was about as good a penultimate ep as anyone could rightfully expect. If the downside is predictability, the upside is coherence – as has not always been the case, the episode flowed in a clear and logical way, and it was possible to follow what was happening without being swamped by a flood of random developments and extraneous information. The pacing was crisp, but not overwhelming – a fast pace that didn't feel rushed. I liked Gai's casual "You just missed her" when Shu finally arrived at his inner sanctum – maybe more than any line of dialogue in the series it felt ironic, sharp and on-point. I liked both the dialogue and the combat between Yuu and Shu – of course it was gorgeously animated (to its credit GC has never let me down in that respect) and had an almost balletic quality to it, and this was really the first time Yuu felt grounded in the story, and his purpose was clear. I'll also credit Yoshino for transitioning away from the xenophobic quality the series had – and that seems to be on the rise in anime – and not making the internationals the bad guys in the end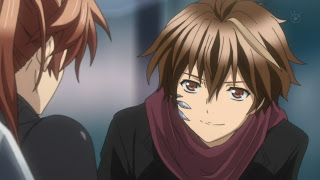 I guess all this leaves me about where I've been for most of the second cour – curious enough to want to see how Yoshino is going to wrap all this up, but not involved enough with the characters to care to a great degree. I know the tragedy of Inori and Shu's love for her are really supposed to be providing the drama, but frankly I've never warmed to either character (though she's undeniably beautiful) and even then, I always thought he'd be better off with Ayase. Obviously humanity isn't going to get wiped out, so it's really just a matter of how it's prevented. If I'm charged up about anything it's making sure Gai dies spectacularly, and the fact that we only have one more episode to make my prediction that Daryl would officially come over to the good guys come true.