It's liberating in a way to know that whatever I say about this show is going to piss somebody off. For a series so many people love to hate, it sure engenders some strong opinions.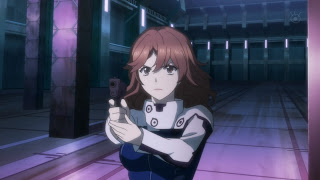 My view on episode 19 – it was better than the last two (hell, less Gai is a good head start). Still very, very silly – but better. It's an interesting choice to have an entire episode built around Haruka after she's been a minor character for so long, but it sort of works. In a show where a lot of stuff doesn't make sense, Haruka's place in the story is actually quite logical and the buildup to this point in her arc elegantly constructed by Guilty Crown standards. She's the one elements that links together all of the preposterous coincidences and unwarranted plot twists that got us here, and she looks great in a body suit. MILF – it does a body good.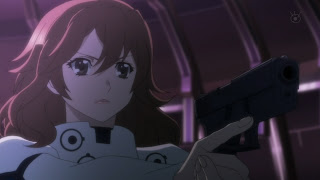 Some things were revealed this week that we already knew or at least should have, starting with the fact that Haruka is actually Shu's stepmother. I was a little surprised to find out she was Keido's sister, though. Haruka's plan was to kill Mana – who I presume is her natural daughter – but that's foiled when Mana isn't where Haruka thinks she should be. I may have missed the explanation for why she managed to escape when Keido shot at her at point-blank range, but Haruka takes off with a void genome headed to the Kuhoin residence – where her old pal Kurachi intercepts her with a warning that old man Kuhoin is dead, and the mansion is no safe haven.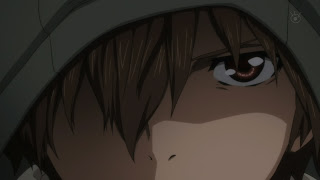 Maybe it's me, but it seems like everywhere Kurachi went, Segai and his goods showed up a few moments later. Coincidence? I wonder – but the net effect it that what remains of Undertaker is decimated pretty quickly, with Oogumo paying the ultimate price to protect Haruka. As this is happening Shu is hunting for Inori, but eventually ends up chasing down Haruka instead. There, he arrives just as Segai is about to confiscate Haruka's void genome, and decides to use it himself – which results in a major powerup, and a new arm. Shu's void is apparently the ability to absorb everything around it, including other voids and Souta's cancer. Haruka seemed to be of the opinion that using the void again would kill Shu, but for now it just has a kind of X-Men effect and he sets forth on his real mission, to rescue Inori and die as a messiah.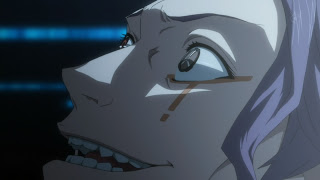 I still think there was way too much random stuff thrown in there – spinning eyes, revelations about the past, brand spanking new superpowers – and stuff like Segai's men obediently standing by and not shooting Shu's ass while he makes a speech before using the genome drives me crazy. But it's still an improvement, since things make sense at least in the narrow sense, and the emotional aspects of the episode were a little more effective for not being so bloated and grandiose as they have been lately. I still feel like I'm watching this on quicksand, as I have no faith that Yoshino is going to deliver an ending that's internally consistent and not just throw a bunch of deux ex machina BS in to get events where he wants them to in the end. But I'm not going to find him guilty of a crime he hasn't committed yet, and if the last three eps are as respectably entertaining as this one I think we should take our pleasures where we can and call it a day.