Well, what do you know – just like that, the magic is (mostly) back.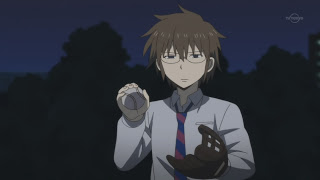 Compared to figuring out comedy, alchemy must surely be easy. Iron into gold? Forget it – try telling me why one thing is funny and the other isn't. I can speculate on why I've laughed only intermittently over the last month's worth of Danshi Koukousei and pretty much non-stop this week, but it's like trying to catch fog in a goldfish net. I do feel as if this week's ep returned to a format more like the early ones – slightly longer skits that relied on satire and clever punchlines rather than excessively on physical comedy and unbelievably esoteric payoffs that required too much analysis. But that's just spitballing, really.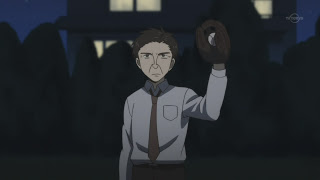 I will say that I think Hidenori – while arguably the best character in the cast – has become overexposed. The problem is that his chapters are basically all variations on the same gag, and using him so constantly has dulled the impact of the material that features him. That said, that was less of a problem this week as those skits were quite sharp. He was featured early and often – first, in a typically awkward teen boy/father (Koyama Rikiya) conversation over a rather demented game of catch. In vintage fashion the "key" was in the payoff – all the guys were locked out of the house and Mom was away on a trip (why else would either of them want to play catcher with each other?). I also liked the new twist on Literary Girl with a new Literary Girl – who was thinking exactly what Hidenori thought she was thinking when he accidentally sat next to her on the riverside. And then the real LG showed up to defend her turf…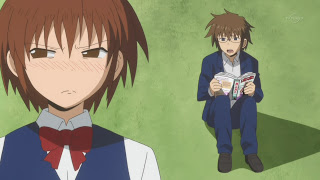 There was yet more Hidenori in the "Kick the Can" sketch, featuring yet more Mitsuo abuse. Highlights for me were the same Yoshitake-as-Kurasawa gag being recycled three times (this falls under the "so stupid it's funny" category for me) and again, the payoff – they broke Mitsuo's model because they bought him a kit of the same figure for his birthday (a knockoff, natch). At last a break from Hidenori in the next number, featuring Takahiro (Morikubo Showtaro) and his unnamed friend (Suwabe Junichi) discussing what makes a girl cute (some of the best satire in the show since early days) and follows the DKnN formula with the big payoff, Ringo's usual lack of self-awareness (and yes, she is damn cute).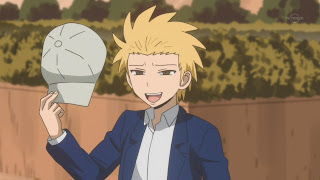 I didn't get too much out of the love letter sketch, though the girl who gets off by moving away from guys on the train did make me LOL a few times, especially when Yoshitake turned the tables. Hidenori steps back into the spotlight for the capper, which came dangerously close to expressing real feeling for a show about high school boys, but saved itself with a cynical finish. Pretty nice job capturing the nuance of male friendship in this one (though naturally, no mention of Tadakuni). Finally, "Conflict", the Funky Girls sketch, confirms that Habara indeed remains by far the scariest of the trio and that even her loud and abrasive friends are smart enough to back off when the monster is awakened. As for Tadakuni, well – he does appear in the preview and apart from a Sakura, he's all that appears in the preview – so at least his absence is going to be part of the joke in the finale, if not his presence.