I think what Ano Natsu is doing is basically telling the creators other romcom anime, "By the way, you suck. This is how you do it – watch carefully so you'll know when you see it, then go look for jobs in the service industry."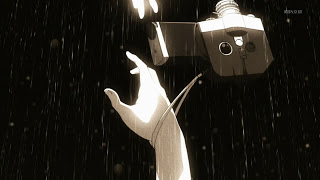 One thing (among many) that Nagai and Kuroda-sensei are displaying a mastery of here is pacing. Not just pacing over the course of 12 episodes – which is difficult enough that almost everyone screws it up – but the fine art of build-up within individual episodes. It's striking how nearly every episode of the series starts off relatively calmly, setting the stage, ramps up the tension and drama, and finishes on a resounding high note – either a cliffhanger or a dramatic revelation. This isn't a coincidence – it's happening week after week and really reflects just how good these supremely experienced storytellers are at their jobs. I think ample credit goes to Kuroda for the screenplay, but in this area I think Nagai as the director is certainly the most responsible – he's proving himself to be one of the top two or three directors working in TV anime.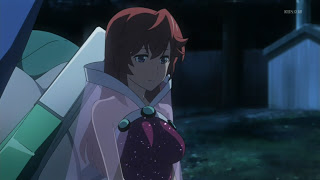 While we didn't get the specific turn of events I was expecting at the start of the episode – something more sinister and ominous about Kaito's medical condition – I'm not yet sold that the danger has passed in that area. For now though the focus was on Ichika's cover being blown, and how it impacted the rest of the cast. Remon, for her part, tells the others she's a Man in Black – and this just after they'd convinced Ichika such things didn't exist. As always with Remon it's hard to know where the troll ends and reality begins, but for now I'm guessing she's telling the truth – it fits pretty much everything. The others are suitably surprised (with one notable exception) but not unexpectedly rally to Ichika's defense, promising not to reveal her secret to the world.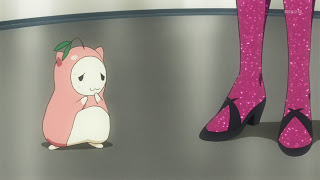 Because this series is primarily a romance and the science-fiction elements secondary, the alien revelation was most interesting in terms of how it impacted the romantic dynamic of the love pentagon. Kaito's reaction was the most predictable, and for a very good reason – on some level he'd known all along. His view doesn't really change that much – he loves Ichika and that's all that matters. Kanna seems to be in about the same boat too, pining for Kaito but with no delusions that Ichika's new status will change how he feels. In remembering how she came to love Kaito, she tells us that it was when he'd transferred in as a freshman after losing his parents – dispelling decisively the notion that she was his osananijimi and any requisite claims that might give her. Her situation comes into strongest focus at the close of the ep, but the one most immediately impacted by the new situation is Ichika herself.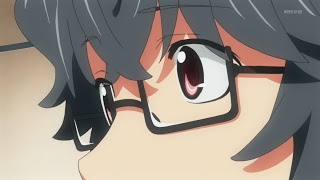 This is where most of the emotion of the episode comes from, at least until the climax – it's painful watching Ichika pull away from Kaito, even as his own feelings for her are completely unchanged. She's telling herself all the right things – that she's doing it for his benefit and for everyone's benefit, because she doesn't want anyone else to get hurt and because she'll have to leave eventually. But of course she's running away out of fear that Kaito will reject her, and all the while he wants nothing more than to be with her. The alien angle is obviously a little extreme, but the dynamics themselves are pretty damn typical of relationships – you can't be rejected if you leave first, which always makes that the safer decision. So Kaito goes off on his own with an instant camera, trying to find the place from Ichika's memories, while she hides from him by pretending to look herself.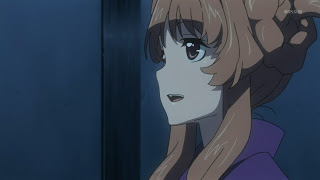 As always Ano Natsu doesn't do things by the romcom book, and that's one of the things I love most about it. The confrontation between Kanna and Ichika and the events that follow cap the episode brilliantly, and it's some of the best writing and direction I've seen in a character drama. Kanna hasn't handled things all that well sometimes, but she has every reason to be annoyed with Ichika here. She sums up everything so many series have tried to portray so well in an entire season – and failed – with one simple statement: "Just tell him you love him. Two people in love can be together – isn't that wonderful? That's an option I'll never have, no matter how hard I try." That's it, really – while Ichika dithers and frets, all she has to do to be with the one she loves is to say, "Yes." And no matter how much Kanna wants to be with the one she loves, she never can. Life isn't fair that way, and Kanna definitely took one in the teeth for Kaito here as Ichika really needed to hear it. She even did exactly the right thing in telling Ichika to go find out what Kaito was doing for her, rather than revealing it herself.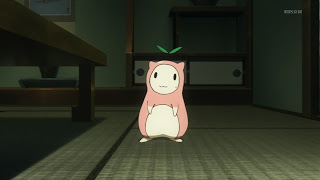 As so that's how it ends, with Ichika in Kaito's arms, and a mutual confession and many kisses. How refreshing is that, with three eps to go? Despite this little hiccup I've loved Kaito and Ichika's relationship because it's so direct and free of BS, and thanks to Kanna they've already outstripped 98% of anime couples. There's three eps to go and trouble to come here, still – either with the nanotechnology that healed Kaito, or with another rescue ship from "The League", or even Remon (pushing her and Kaito together, then filming it? Maybe blackmail is her game!) – things aren't going to be smooth sailing with a quarter of the series left, and there's still the mystery of Ichika's strange quest. I suppose it's possible – though I bet against it – that Kaito and Ichika will simply be a couple now and the dramatic climax will come from the agonizing triangle that remains. As Ichika ended up in Kaito's arms Kanna was ending up in… Tetsuro's. Ack. He always manages to be present with things are happening, this guy, and he makes his boldest gesture yet in comforting Kanna – as Mio watches unseen from behind a shed. It's a wild and tempestuous cliffhanger as only Ano Natsu can do it, and that particular mess seems no closer to a solution than when this all started.