Subtle as a sledgehammer to the face and slick as sandpaper, Symphogear somehow still manages to keep me totally engaged every week. And have I mentioned that Yuuki Aoi is a genius?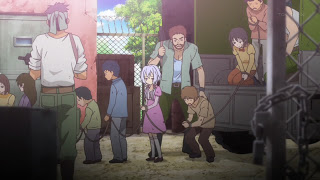 Seriously, I could listen to this woman all day. That scene in the hospital with Tsubasa – how is it that a seiyuu can manage to sound preposterously cute, be hilarious and project deep emotional pain all at the same time? That awkward laughter… Maybe I'm letting my affection for the performance color my view of the series as a whole too much, because there's no question that my total and complete buy-in to Hibiki's character and her emotional state is the key to Senshogear for me. But I really do think there's more to it than that.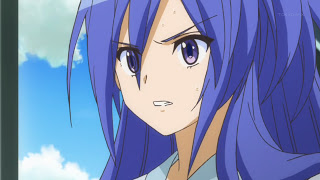 It's becoming increasingly clear that Chris is going to be a major factor in the series going forward. There are numerous archetypes for the character journey she's going through, but it seems obvious that Chris may in fact be the central figure in Hibiki's life before this is all said and done, displacing Miku (and let's be honest, Kanade will always be the yin to Tsubasa's yang). Chris' pain at the hands of "Fenie" (still no confirmation that it's Ryoko, though it seems very likely – look to the lipstick-stained coffee cup , I think it was with Colonel Mustard in the conservatory) isn't even known to Hibiki yet, but she still tries to break through the wall and communicate with the girl – even after Chris' careless attack almost kills Miku. The fact that Hibiki broke Chris' Nehushtan armor in the final scene in a highly symbolic one.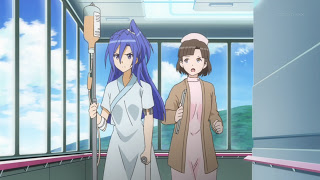 Setting aside that "I'll tell you my weight when I get to know you better" might be the most hilariously out of context line of dialogue in the entire series, I think this sequence is an awfully important one for many reasons. Fact is, Chris needs Hibiki more than Miku does. As Hibiki heartbreakingly tells Tsubasa (and us), her rasion d'etre is to try and help people in whatever clumsy way she can, and she even admits it's to try and make up for having lives while Kanade and so many died, Kanade in the act of saving her. This conflict in Hibiki's heart could be a gut-wrenching one to watch, as it's obvious Miku means a great deal to her. She does say "I've never had a boyfriend in my life" as if she'd like to have, but even if there's no romantic element to the coming conflict between Miku and Chris for the central place in her heart, the depth of feeling is obvious. I think it's inevitable that Miku and Hibiki will drift apart now that the truth is out (prologue notwithstanding) as Miku simply doesn't have a role in what's increasingly becoming the driving force in Hibiki's life. Miku is her old world, and Chris is her new one.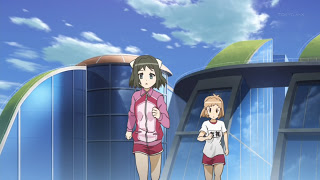 For now, of course, Chris is still an enemy and Ryoko is still playing both sides (presumably) and the political situation is getting worse with the appointment of a (gasp!) pro-American as the new Defense Minister. And Tsubasa seems to have found a sort of humility (if not cleanliness) now that she's bottomed out karmically. She even goes so far as to compliment Hibiki (which makes Hibiki endearingly uncomfortable) for the job she's doing filling in. This was a new side of Tsubasa that I liked an awful lot, the first real indication that she's come to realize the universe doesn't revolve around her. Her arc still has tragic end written all over it, but I hope she's at least able to find some peace before that happens. She seems to be off to a good start, at least.