Is it me, or are we seeing an awful lot of Nattori lately?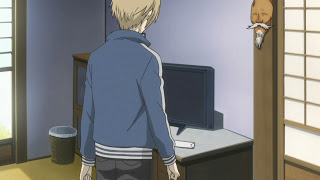 Another Nattori ep, another two-parter, more plot… As we've progressed through "Shi" it's begun to look more and more like "San". That's not necessarily a good thing from my perspective, as that was my least favorite of the three completed seasons, though I still liked it very much. That special magic that the first four eps of this season had is what I crave from Natsume Yuujinchou, and the last four haven't really had it. While this episode is a little too linear for my tastes, I see potential – this first half was good, though not life-changing in the way this series can be when it's really on.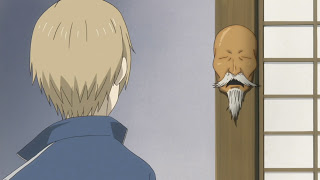 What stood out for me here was the setting. I'm a sucker for forgotten festivals and ancient Gods no longer worshipped by humans, and this ep did a nice job setting the scene for the Moon-splitting Festival, a battle between the two Gods of Mt. Misumi. It was once a major festival for the local humans, but in the rush and tumble of the modern world it's been forgotten by them – but not by the local youkai who love the splendor of the every-ten-years battle between the Gods Houdzuki-sama and Fudzuki-sama (Touchi Hiroki). There's a problem though – this time Houdzuki-sama is missing, and if Fudzuki wins, the area will be stricken by drought. A mysterious man (Taniguchi Takashi) hires Nattori to find the missing and presumed sealed Houdzuki-sama, and to seal Fudzuki-sama if he can't.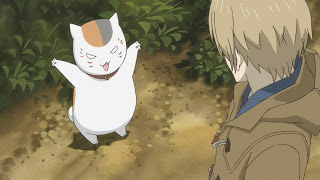 Meanwhile, Houdziki's followers – the "White Hats" – have begged Natsume to help them by pretending to be Houdzuki-sama. Natsume has trouble saying no, as always, and he tries to play the role the best he can – much the Nattori's surprise when he spots the boy in the procession at the start of the matsuri. Fudzuki's followers – the "Black Robes" – sense something is up but can't prove it. The battle – determined by a divination – is the hunting of an ayakashi that looks eerily like a silver-grey version of Madara. But where things get most interesting is when Hiiragi reveals her suspicion that Nattori has been set up – with the task of finding Houdzuki in a day impossible, the real job is to seal Fudzuki so this problem won't come up every ten years.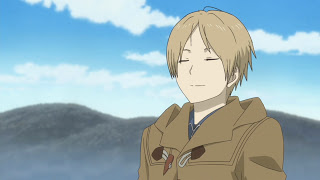 I suppose this more or less supports the growing theme of this season, which is exploration of Natsume's possible futures. Hiiragi openly wonders – even hopes – that Nattori might be growing softer, more like Natsume. Whether or not he chooses to seal Fudzuki would be quite a test of that, since Fudzuki isn't evil by his nature – just a Kami doing what Kami do. As Matoba appears to be growing more and more extremist, perhaps Nattori is growing more moderate – and if so, it's no doubt his exposure to Natsume that's causing it. Since Nattori has been set up as a possible future path for Natsume right from his introduction, the implications are obvious here, and this is interesting stuff – but it doesn't really touch the soul for me. It's always hard to say just what element causes some eps of this series to be transcendental, and some just good – it's an elusive quality. But transcendental this is not, at least not yet. There'll be three eps left after this story concludes, assuming it's a two-parter. I hope we don't get another plot-driven multi-episode arc to end the season on top of that, because that would pretty much eat the remaining time. Plot is fine, but with this show a little goes a long way.