I'm with Nyanko-sensei on this one – I love festivals.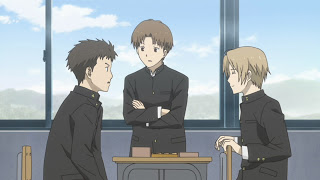 If I have any minor quibble with the fourth season, it's that it's been a little light on the Nyanko-sensei this far. That was corrected in a big way this week as Madara moved front and center for the first time this season, with Natsume trapped in a bottle belonging to a local youkai serving the powerful Omibashira, a local ayakashi apparently just released from being sealed. There was a lot to like in this comedy-heavy episode, but the best part was hearing Inoue Kazuhiko really cut loose when he takes Natsume's form. Inoue-san is a fantastic seiyuu, and his performance as Nyanko-sensei is generally one of the best in the business, but hearing him do a Kamiya Hiroshi impersonation was priceless.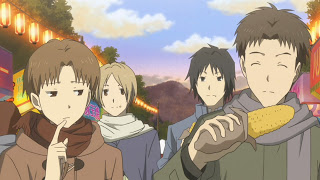 The whole mess starts when Natsume accompanies his pals to the local matsuri to claim an ear or roasted corn he's won from Kitamoto in a shougi match (with Tanuma's tutoring). There a youkai in an animal mask, Onizaru (Naitou Ryou) mistakes him for a youkai and offers him an "Omibashira has revived" flyer, and sensing Natsume's power decides he'd make a nice offering for the newly revived ayakashi. When Natsume falls for the bottle trap it's up to Nyanko-sensei to find Onizaru – the only one who can open it – but first the Fujiwaras and Natsume's schoolmates must be convinced that nothing is wrong.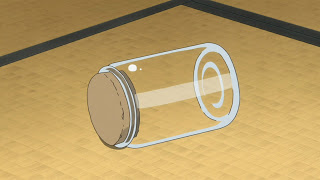 The scenes with Madara masquerading as Natsume are pretty much all successful, and subtly poke fun at Natsume's "good boy" nature ("Smile! Be polite!"). Nyan-sume eats like a pig cat, uses colloquial slang, scowls and generally gives off a completely wrong impression to everyone he meets. My favorite scene, though, is when he chases Sasada all over the school from room to room, trying to pin her down for information about Omibashira. Sasada is easily my favorite among Natsume's human friends, and it was an act of pure genius to show Nyan-sume give her all the impression in the world that he was going to confess to her. It's no wonder she ended up "passed out at her desk".
There is a slightly serious side to this two-parter though, and it relates to Natsume's continued fear for his friends and refusal to share the truth with them. As he says, "The closer someone gets to me the more scared I get." That's quite sad and it's a shame Natsume feels that way, though given his history it's understandable. When Tanuma becomes involved in the situation – he being smart enough to realize Natsume wasn't himself and for once not having to hear Natsume refuse to let him help – Natsume's worst fears are realized when he's attacked and knocked out by Onizaru's ally while Onizaru lures Madara away (or vice-versa). From the looks of things, it appears Tanuma is about to get a much closer look at the youkai world than any of Natsume's close human friends ever has – it'll be interesting to see if that changes the dynamic in his relationship with Natsume, or Natsume's attitude overall towards sharing his secrets.